Trying To Cope With Things That Aren't Human (Part One)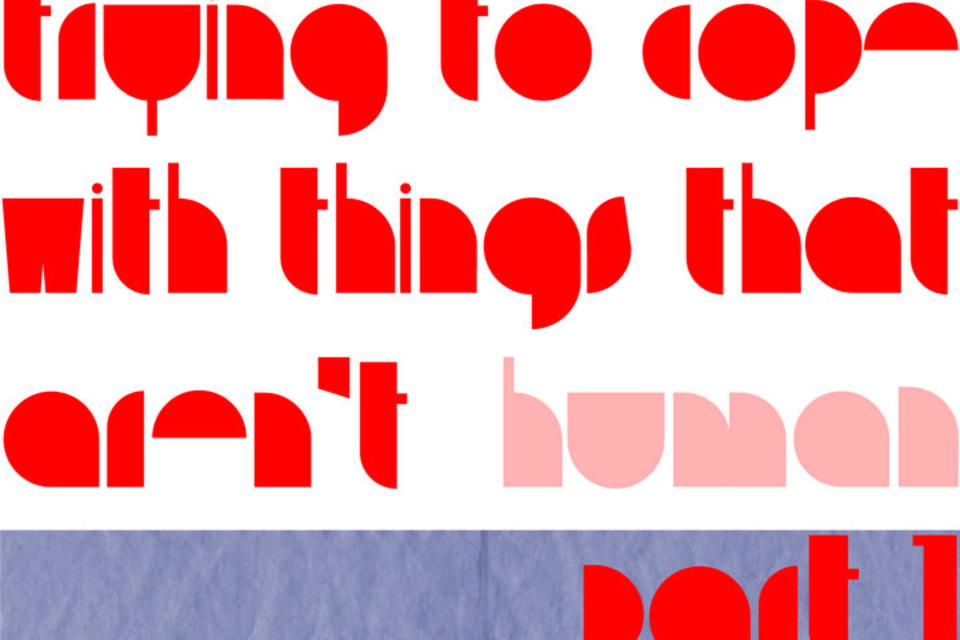 In association with Air Space Gallery, Staffordshire, and David Cunningham Projects, San Francisco
Outdoor Film Screening Thursday, 1st October 2009 7.30pm featuring Marcus Coates, Richard T Walker and Alex Pearl
This is the final in a series of exhibitions, which started at David Cunningham Projects, San Francisco in January 2009. The accompanying publication, comprised of specially commissioned artworks by Paul Rooney, Heather and Ivan Morison, Richard T. Walker, Annika Ström, Ian Brown, Ryan Gander, Francis McKee and Alex Pearl, will be available at Cell Project Space. 
'Trying To Cope With Things That Aren't Human (Part One)' places us in a familiar position, one where we often struggle to deal with the things around us, unable to completely understand how technology works but simultaneously unable to truly understand the beauty of nature. We remain confused but still standing - between the things that we have made and the things that we have not, what could be called the invented world and the natural world. To the extent that it discusses difference, this exhibition also tries to find the common ground, or indeed the threshold, between our ability to cope with the things that we have created, to make our lives easier, and our struggle to relate to the wonders of the natural world. It is maybe only right that both the invented world and the natural world could also be equally and simultaneously called non-human. Often viewed as a dichotomy, technology and nature have a fluid relationship, one which judders and jerks all the time, rubbing up against one another. 
Ian Brown will use the gallery space and the street outside. A car is parked outside with a sun strip window sticker declaring the first part of a statement 'Eventually I will rust and die'. Inside the gallery a scale replica of the same car continues the text, on its own miniature sun strip. Ian Brown's practice investigates advancements in technology and tests the progression and optimism associated with these developments against the problems of our everyday usage of them, taking into consideration the relationship between the invented world and the natural world. The work raises issues surrounding the automobile as a tool to access the wilderness but also one which is capable of destroying parts of it.
Ian Brown has had exhibitions in Iceland, Sweden, USA and throughout the UK. Brown is also part of the collaborative artist's group, Common Culture, with David Campbell and Mark Durden. Common Culture have had recent shows at 'Void' in Derry, 'The Photographers Gallery', London and have shown work as part of the Liverpool European City of Culture events in 'Variable Capital' at the 'Bluecoat Gallery'. They exhibited in the '6th Shanghai Biennial' and were also selected by curator Hou Hanru to be part of EV+A, Limerick 08. Common Culture are represented by 'Third Space Gallery', Belfast
Richard T. Walker offers us a never-ending cycle of photographic slides bearing witness to the artist engaged with the landscape in front of him. As if addressing an old friend in 'It's hard to find you because I can't quite see what you mean to me' he waves his greeting and farewell to the sunset and sunrise. Walker uses photography, collage, text, video installation and performance as part of an evolving investigation into the natural landscape and its use as a contextual tool to mobilise thoughts and self-reflection. With strong nods towards the European and American Romantic periods, Walker uses spoken dialogue, music and performance to facilitate engagement and analysis that is both contemplative and active. Walker's work questions how we perceive nature as well as how we imagine nature perceiving us. Walker's other work for this exhibition, 'Everything goes as if it is always away', offers a letter discussing plans for a grand but unfulfilled adventure accompanied by an image of a mountain from a book. The image has the notation 'What could have been' written onto it, accompanied by a forlorn and emotive musical refrain.
Walker currently lives and works in San Francisco. His work has been presented in numerous exhibitions in Europe, Japan, China and the USA. He was the recipient of the 2007 fellowship at Kala Art Institute in Berkeley California and is currently and Affiliate Artist at Headlands Centre for the Arts in Sausalito California. He is represented by Angels Barcelona.
Heather and Ivan Morison will also refer to the world outside by placing an ambiguous text within the general announcements section of the classifieds of the Hackney Gazette. Its sense and its absurd function are established once the work is displayed both as a framed object and as a stack of newspapers in the gallery. In 'Earthwalker – Eugene', a three dimensional geometric form floats on the surface of an image of the landscape, disrupting and bringing into focus our relationship with our use of sciences and the natural world.
In 2007 they represented Wales at the Venice Biennale and have worked with Milton Keynes Gallery, Barbican and The Whitechapel Gallery in 2009. They live in Arthog, North West Wales. They are represented by Danielle Arnaud Contemporary Art, London.
Alex Pearl makes mini epic films, video installations, sculpture and books. Throughout his work there is a sense of an acceptance of failure or disappointment as important parts of the human condition. Using readily available materials and software the films are made from: suddenly apprehended ideas, discovered objects and impromptu processes. They are comparable with the sketch or doodle, an initial throwaway idea made visible. They make light with big issues and are in turn haunting and funny. His sculpture is fragile, temporary and has the appearance of being on the verge of collapse or already broken. The work displays playfulness with its own limitations and a hopeless desire for greatness. For this exhibition Alex created two Automatic Films (7 and 8), works created by simple machines, which investigate and navigate the confines of indoor spaces, and spaces outside of the gallery, creating and solving problems as they feed back information via small remote cameras.
Pearl has exhibited throughout Europe, UK and USA. His solo show 'Goodbye to most of my daydreams', will be shown at ICIA, Bath and began at BCA Gallery, Bedford. He is currently working on newly commissioned work for the next Whitstable Biennale.
It is Mariele Neudecker's attempt to take in the enormity of environmental and technological advancement by highlighting the relationship between ourselves and the natural landscape, where the sculpture '400 Thousand Generations', 2009 forms a context for our romantic encounter with mountain ranges. This work was commissioned for this show and exhibited at AirSpace Gallery, Staffordshire for the first time. The work depicts a fabricated mountain-scape inverted through eyeball like spheres emphasising the struggle for humans to really understand or take in the scale and impact of the planet. The second piece, 'Final Fantasy (flight recorder)', in some ways presents the antithesis of the monolith in Stanley Kubrick's 2001: A space odyssey. In Kubrick's adaptation the giant body of black solidity represents optimism, here the dense resin rapid prototype model of a flight box recorder sits quietly like another type of monument. This feels more like the embodiment of silence, encapsulated forever. Placed on a plinth it compels us to observe and contemplate an object which records catastrophic technological failure and the resulting devastation.
Neudeker is represented by Galerie Barbara Thumm, Berlin and will appear in 'GSK Contemporary, Earth: Art of a changing world' at The Royal Academy in December this year. 
Marcus Coates has constructed hand-rendered wooden shoe-like objects, which shift his weight to match that of a stoat. His attempt to achieve equilibrium and balance on this tottering and improbable footwear creates an incidental symbiosis with the erratic physical movements of the animal. Much of his work is based around the idea of inter-species behaviour and the evolution of human/animal culture.
Recent exhibitions include the Whitechapel, London, Baltic Centre for Contemporary Art, Gateshead and Altermodern at Tate Modern. He is represented by Workplace Gallery, Gateshead.
Johanna Hällsten's sound piece produces animal and mechanical alarm calls which compete or converse as the sounds are emitted from speakers placed amongst the greenery outside in the gallery yard. The audience becomes embroiled in what could be perceived as a dispute. Through a cacophony of sirens and animal shrieks. 'The onlookers doubt' explores how humans and animals occupy territory and how they lay claim, inhabit and police spaces through dialogues and warning systems. Hällsten's practice is often location-specific and she is interested in notions of translation and mediation occurring through duration within our relationship with the environment we inhabit.
Hällsten has shown in London, Stockholm, Kunming, and Princeton amongst others. Alongside her art practice she presents papers and writes (IAPL, Wuhan University, US, IIAA, Finland etc), she is included in several books and journals.
Alan Currall's newly commissioned work, a wooden head, carved in such a way as to keep all of it's tree-ness, engages in a teleological argument delivered by an erratic computer generated voice. In this work it is the conflict between nature and machine, which is brought to question. In its broadest terms Corral's art practice is an investigation into human nature. It deals with questions of belief and identity, and the limitations of our capacity to understand these concepts. He is best known for his performance to camera single channel video works. These are often simple actions or monologues, such as 'Word Processing', included in this exhibition, where a close-up of the artist's fingers issue instructions to a bug-like microchip, teaching it how to do its job.
He has had solo exhibitions at GOMA, Glasgow, Millais Gallery, Southampton and The Jerwood Gallery, London. He has exhibited in Melbourne, Australia, Malmo, Sweden and New York. He was selected as Critics! Choice at FACT, Liverpool in 2004 and was part of the touring show "Reality Check; Recent Developments in British Photography and Video' in 2003/4. He is now an Academic Researcher at Glasgow School of Art where he has lectured since 1997, currently in the department of Sculpture and Environmental Art.
Ryan Gander's 'Substance' takes its starting point from a formalist experiment in typography; where language and communication as invention are disrupted by another type of creativity; design. New Alphabet, designed by Wim Crouwel in 1967 was a radical attempt to alter the recognisable characters of a language through the filter of a design structure. The New New Alphabet is Ganders typeface of additional marks, which when imposed on Crowell's original, creates a more accessible and readable typeface. This subversion of utopian design creates a tension between the possibilities of invention and the functional and democratic nature of language. The work was created in conjunction with typographer Rasmus Spanggaard Troelsen. 'Substance' highlights how communication and language, which is imbedded into the human psyche and is key to how we function effectively is a human fabrication in itself. The characters and fonts of typographic design are an additional layer to this human intervention.
Ryan Gander is represented by Tanya Bonakdar Gallery, New York and Lisson Gallery, London. Gander's recent solo exhibitions include the Stedelijk Museum Bureau, Amsterdam in 2003 and 2007, MUMOK, Vienna, and CCA Wattis Institute for Contemporary Arts, San Francisco in 2007. In January 2008 Gander's solo show, 'Heralded as the new black', curated by Nigel Prince, premiered at the Ikon Gallery, Birmingham. The exhibition traveled to the South London Gallery, London, 2008, and to the Boijmans Museum, Rotterdam, 2009
In 'Dark Side', a meticulous breezeblock garden wall is reconstructed by Richard Hughes, demonstrating another level of design, although completely upstaged by trapped tennis balls and a discarded banana skin, to form an image alluding to a human face. A disruption of another kind where suburban decorative architecture has been customised by the flotsam and jetsam of urban waste. Hughes makes meticulously crafted resin replicas of the objects of our everyday life, man-made discarded objects that find a new relationship with the effects that nature has on them, outside of the safety of our homes. Hughes replays the cultural meaning of familiar ephemera with a new and altered significance. For his second piece in this exhibition, an upturned shoe with a dappled sole offers the words 'Slow Death' where a logo or patterned tread would occur.
Richard Hughes has had recent solo exhibitions at Anton Kern Gallery, New York, Michael Benevento, Los Angeles, Sadie Coles HQ, London and The Modern Institute Glasgow and exhibited in Life on Mars - 55th Carnegie International, Carnegie Museum of Art, Pittsburgh. He is represented by The Modern Institute, Glasgow and Anton Kern Gallery, New York
Annika Ström's songs, text pieces and films all touch on the question of inadequacy – if not miserable failure. The content and aesthetics repeatedly play with the notion of imperfection. Ström's text pieces are clearly hand painted, the videos include shaky, blurred images, and her rhythm-box compositions flirt with an amateurish Eurovision aesthetic. Her relationship with the means of production is calculated to form an inherent problem between technologies or tools and her own manufacture. For this exhibition Ström presents two works. The video piece 'Min Mobil (My Mobile)' investigates the everyday usage of cell phones in relation to the promises that technologies such as this are imbued with. During the video the artist's mother discusses where she keeps her cell phone safe in the house when she goes out and why she rarely turns it on. The second work is a text painting, 'Remove Please Me From Your Mailing List', addressing the frustration of Internet communication from outside of a digital format.
Her first major monograph "Annika Ström Live" has been recently released, published by Onestar press and Fälth & Hässler. She is working on her first feature film and its new soundtrack. She is represented by c/o Atle Gerhardsen, Berlin, Galleria Sonia Rosso, Turin and Galleri Charlotte Lund, Stockholm.
Both Francis McKee and Paul Rooney have contributed to the accompanying publication
Francis McKee is a lecturer and research fellow at Glasgow School of Art, working on the development of open source ideologies.From 2005 – 2008 he was also curator of Glasgow International, a festival of contemporary visual art. He is now the director of CCA, the Centre for Contemporary Arts. He has curated many exhibitions including This Peaceful War, The Jumex Collection for the first Glasgow International in 2005; Zenomap (together with Kay Pallister), the presentation of new work from Scotland for the Venice Biennale in 2003; Words and Things for the relaunch of CCA in 2001. For the past ten years he has written extensively on the work of artists such as Christine Borland, Willie Doherty, Ross Sinclair, Douglas Gordon, Matthew Barney, Simon Starling, Catherine Yass, Joao Penalva, Kathy Prendergast and Pipilotti Rist. Previously, Francis McKee worked as an historian of medicine for the Wellcome Trust and as Head of Programme at CCA. A recent collection of essays has been published in Lithuania.
Paul Rooney practice focused from 1997 to 2000 on the music of the "Rooney! CD's and performances. Rooney achieved an appearance in John Peel's Festive Fifty in 1998, and a "Peel session! in 1999. Paul now primarily works with text, sound and video, focusing on the "voices! of semi-fictional individuals, voices that often reveal the difficulties of representing historical memory. The works use or reference narrative forms such as short stories, songs, audio guides and sermons. Paul has had residencies at Dundee Contemporary Arts/University of Dundee VRC and Proyecto Batiscafo, Cuba, and was the Tate Liverpool MOMART Fellow for 2002-2003, the ACE Oxford-Melbourne Artist Fellow for 2004 and the United Artist's Fellow at the University of Wolverhampton for 2004-2007. Paul has shown recently at Tate Britain, London; Museo Reina Sofia, Madrid; Kunst-Werke, Berlin; and at the Shanghai Biennial, and in British Art Show 6 which toured around the UK in 2005-2006. Other recent projects include a 12" red vinyl record broadcast on Radio Lancashire, Radio 1 and BBC 6 Music, a video for Film and Video Umbrella touring to fourteen cities around Europe, and a short story published by Serpent's Tail. Paul has had solo shows at Matts Gallery, London, and Collective Gallery, Edinburgh, in 2008.
For more information and to request a copy of the accompanying publication, please contact
info@cellprojects.org