Columbidae
Curated by Laura McLean-Ferris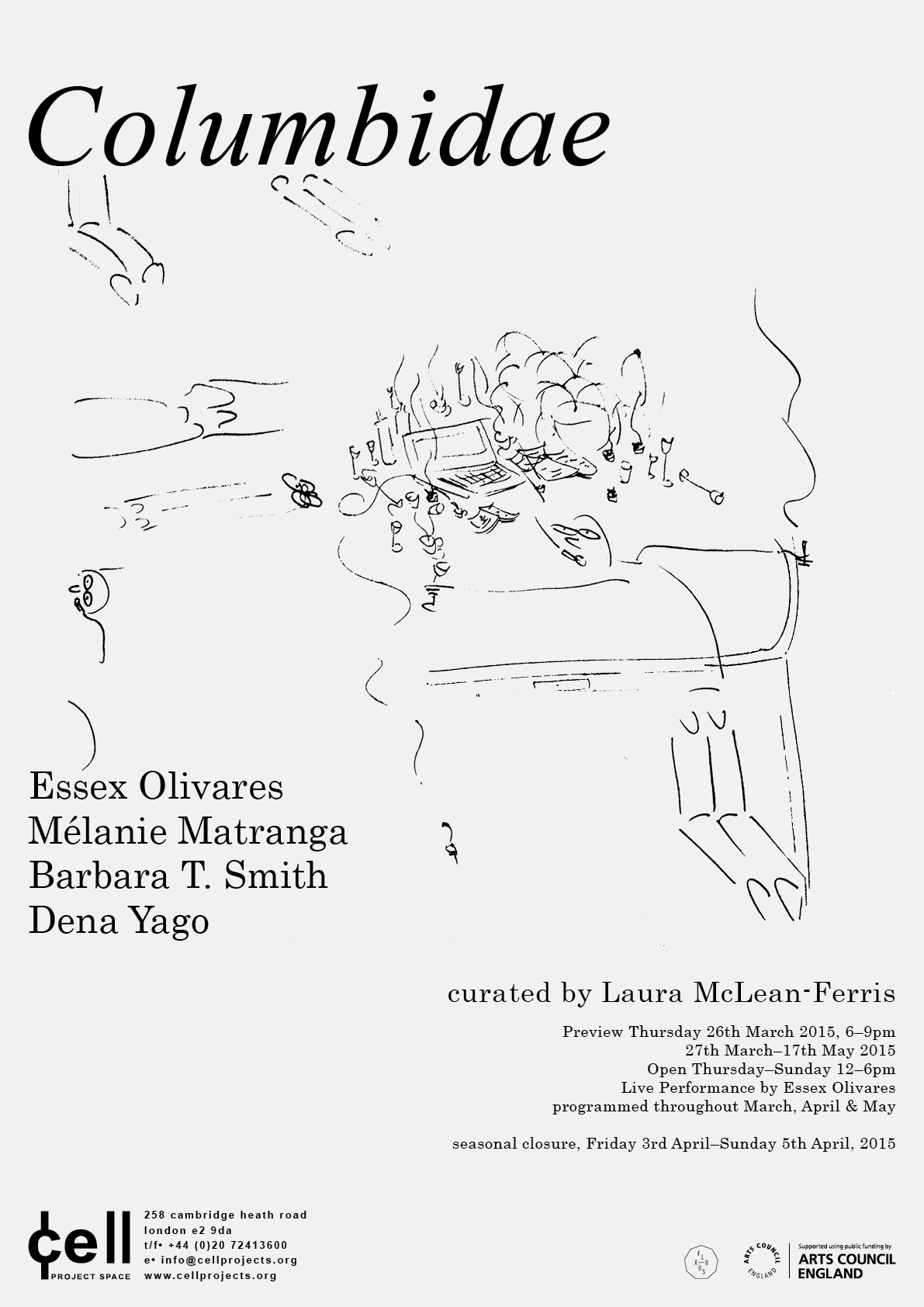 Performance, Office Riddim, by Essex Olivares is programmed on selected days throughout the exhibition.
Columbidae takes the administrative labour historically associated with the office as a starting point and includes the work of artists who have traced the various impacts of this work on the body, the mind and the home. At a moment in which workers are increasingly likely to carry their professions on their bodies at all times, the exhibition includes artwork that negotiates the architectures, tools, equipment or language of the office, pointing to moments of aspiration and depression as work continually collapses into life.
The historical starting point for the exhibition is in 1965, when Barbara T. Smith leased a Xerox machine and installed it in her home following the rejection of her print proposal from a prominent lithographers in Los Angeles. Photocopying whatever was available to her in her kitchen cupboards and garden, as well as her own body and children's toys, Smith created Xerox poetry sets and printed collages that formally experimented with this new technology. Smith's dual roles as both a Pasadena housewife and an emerging artist in the mid-1960s literally collide in the prints, performing the tensions between public and private space, and paid and unpaid labour.
Dena Yago's flatbed scanner images, including high resolution capture of lemons, apples or copies of The New York Times, have a clear dialogue with Smith's Xeroxes in that they also employ the tools and objects readily available to the artist in her working environment. A poem made by the artist on her BlackBerry in the elevator of the legal firm where she worked, also installed in the exhibition, was made as a strategy of blocking awkward elevator conversation, whilst also fitting a writing space into the restrictions of a day job. Formally exploring the phenomenon of the office startup, Essex Olivares' Office Riddim is a performance installation in an administrative environment that demonstrates the stress and virtuosity of enforced collaboration, flexibility, creativity, and other such corporate directives by employing a choreography in which water coolers and bulldog clips are collaborators. Finally Mélanie Matranga creates seductive sceneographies such as doors that hang from the ceiling out of reach, and unfired clay sculptures that summon the 'soft' environments and 'friendly' tools epitomizing the realities of homeworking conditions for freelancers today. Her subjects are seen stressed out on sofas, covered in wires, chain-smoking, drinking, exhausted.
Following her inclusion in the group exhibition Barbara T. Smith's full Poetry Set will be shown in the gallery from 28th May –  5th July 2015
Notes:
Columbidae is the name for the bird family that includes doves and pigeons.
Laura McLean-Ferris wishes to acknowledge a number of artists, curators and writers whose conversations were instrumental to developing this exhibition, in particular Tyler Coburn, Josh Kline, Nicola Lees and Cally Spooner.
gif image: Mélanie Matranga, 'Columbidae', 2015
Artist duo Essex Olivares are Eve Essex (lives and works in New York, USA) and Juan Antonio Olivares (lives and works in Düsseldorf, Germany). Selected exhibitions in 2014 include 'The Chicago Effect: Redefining the Middle', Hyde Park Art Center, Chicago, USA, and 'In Practice: Chance Motives', at SculptureCenter, Long Island City, USA, where they launched a newly commissioned app, 'Incorporate'. In 2013 'Office Riddim', was installed at Lisa Cooley Gallery, NYC, USA, as part of group exhibition 'The String and the Mirror'.
Mélanie Matranga lives and works in Paris, France. Selected group exhibitions include 'The Issues of Our Time', Artists Space, New York, USA, 2014, which was initially exhibited at Castillo/Corrales, Paris, France, in 2013. Her work was included in 'nuit blanche', Tripod Nantes, 2013 and in 2012 'Les hommes ne vivaient pas comme des mouches collées à un mur vertical', at BETC, Paris. In 2014 Matranga became the first recipient of the inaugural Frieze Artist Award, and was nominated for Prize Fondation d'Entreprise Ricard / Art Contemporain.
Based in Pasadena, USA, artist Barbara T. Smith was primarily involved in F-Space, 1960s-70s with artists Chris Burden and Nancy Buchanan. Recent solo exhibition include 'The Smell of Almonds: Resin Works, 1968–1982' in 2015 and 'Xerox: Barbara T. Smith 1965 – 1966', The Box, Los Angeles, CA in 2014 with her recognized solo exhibition 'Radicalizations of a '50s Housewife' which was exhibited at the University Art Gallery, University of California Irvine, CA in 2012. Smith's work was included in earlier survey exhibitions such as  'Out of Action: Between the Performance and Object, 1949-1979, MOCA, Los Angeles, and 'The Birth of an Art Capitol', and 'WACK!: Art and the Feminist Revolution', which both toured extensively across museums in the USA including MOCA, Los Angeles, PS1, New York City, and The Pompidou Centre, Paris. 
Dena Yago lives and works in Los Angeles, USA. Recent solo exhibitions include 'You and You're People', at Boatos Fine Art, Sao Paulo, Brazil, 2014, and 'Dena Yago', at White Flag Projects Library, St. Louis, USA, 2014. She collaborated with Laurie Spiegel in  'caelo usque ad centrum' at Cubbit Gallery, London 2014, and with Mathew Lutz-Kinoy in 'Meadows on the Grid Float' at Deweer Gallery, Ghent, Belgium. In 2013 she had solo exhibitions 'Day Before This Place', at Tanya Leighton, Berlin, Germany, and in 2012 'A car ride driven topless taken alone…,' at Sandy Brown, Berlin, Germany. Selected group exhibitions include 'evelry…,' Kunsthalle Bern, Bern, Switzerland, 2014, 'Photographs I Like', Andrew Kreps, New York, USA, 2014, and 'Bathrobe Baden Baden', Staatliche Kunsthalle Baden-Baden, Germany, 2013. Yago is one of the founding members of the art collective K-HOLE.
Generously supported by FLUXUS and The Arts Council Of England