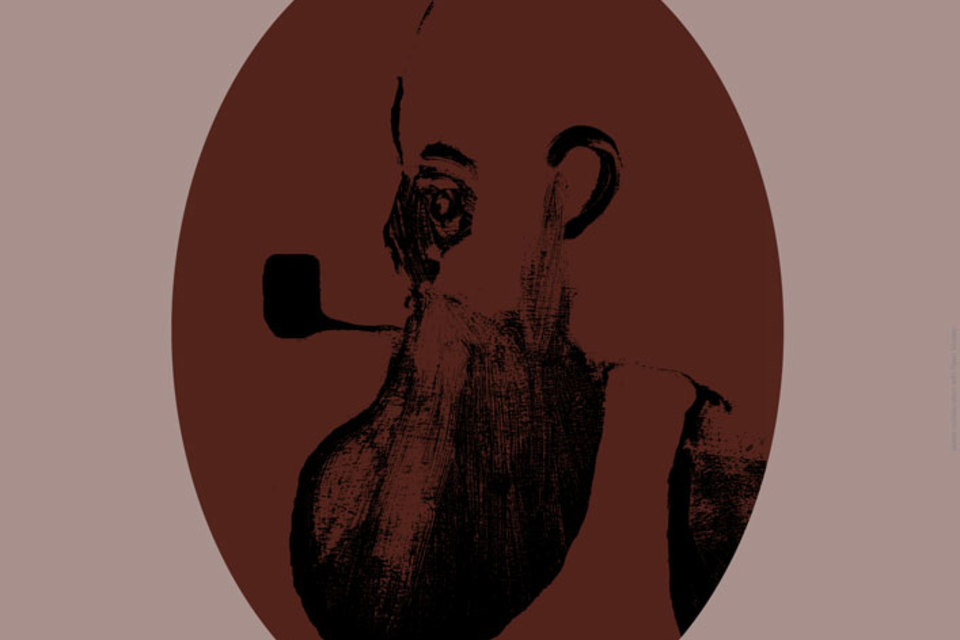 Moravia is in the imagination, now non existent as it was, but is actually somewhere between the Austrian border and Poland. A celebrated region which drew a romantic fascination for 19th century intellectuals.  Its a fictional birth place of untraditional lifestyles of artists, writers, musicians, and philosophers, carrying with it the myth of arcane enlightenment associated with more unorthodox and anti-establishment viewpoints. The notoriety was mythical rather than actual, however the fictitious literary Bohemian is still present within the subconscious of artists today. This exhibition considers the physical layering of ideas to represent new histories and narratives. Artist/ gypsy, drifter or neo hippy using piracy as a strategy to remake and recreate 'Moravia'

Andrew Child
recodes images from contemporary culture. He reduces them down to their component parts, meticulously rebuilding these fragments and slotting together the linear and tonal edges with a reassuring precision, finding shapes and characters, which fit together to create an alternative logic. Images seem determined to undermine themselves as if bent on creating some altered narrative or allusion in the exploration of an alternative reading. By collaging found stylistic images Child engages with the modernist ploys that occur within 'Cubism' and 'Surrealism' although placed in a contemporary context, the sheen of the re painted photograph retains its aura of glamour, whilst simultaneously his piecing together of them operates as an exotic 'artefact' or a kaleidoscopic viewpoint.
Andrew Child was included in 'The Tract House'. Contemporary Museum in Baltimore, curated by Lisa Anne Auerbach, in 2008. Selected group exhibitions  include 'Shredder', Galerie Martin van Zomeren, Amsterdam, NL, 'Kjarvalsstadir', Reykjavik Museum, Iceland and 'Group Show', Vilma Gold, London.

Hiding behind grotesque masks and black-hatted portraits of gentlemen the disfigurement of Ryan Mosley's figures appear to have succumb to the sophisticated pipe smoke wafting throughout his hallucinatory scenarios. Utilising the tinted hues of 'Ensor'and 'Klimt' his works characterises the gentle light of early nineteenth century parlours whilst his figures grotesquely contort and perform for our entertainment neither macabre nor comedic they hover somewhere between 'the interpretation of dreams' and the harsh reality of a Victorian curiosity. Mosley's masked figures have been described as endeavouring to show the multiple aspects of the subject by literally including them all in the same head. He posits a hyper-figurative psycho-cubism, a new way of picturing the complexity that lies at the heart of the human psyche.
Ryan Mosley graduated from the RCA Painting School in 2007. Group exhibitions in 2008 include Summer School, Ibid, Cory Michael Projects, and Wassail, Cell Project Space. He has had a solo exhibition 'Census' at Engholm  Engelhorn, Vienna. and is scheduled for inclusion in 'Newspeak' at The Saatchi Gallery in 2009. 

In 'Smoking is indispensable if one has nothing to kiss' Sam Plagerson explores the drive to collect and the compensatory nature of collecting. By appropriating this psychological encounter with the reproduction of the portrait bust of Sigmund Freud the repetition of this prolific image compounds but also negates the authority of the subject matter. The soft pastel tones in glossy porcelain render the portrait head into a grotesque and hideous artefact. Plagerson's work explores and questions reproduction and the psyche of contemporary imaging in a post industrialised society.
Sam Plagerson graduated from RCA Sculpture School in June this year. Since his graduation he has been included in 100 years, 100 artists, 100 works of art, Art on the Underground, Rochelle  School in October this year to be followed by 'Pop will eat itself' Piccadilly Circus Underground Station, Art on the Underground, curated by Sally Shaw in November 2008.
Related press