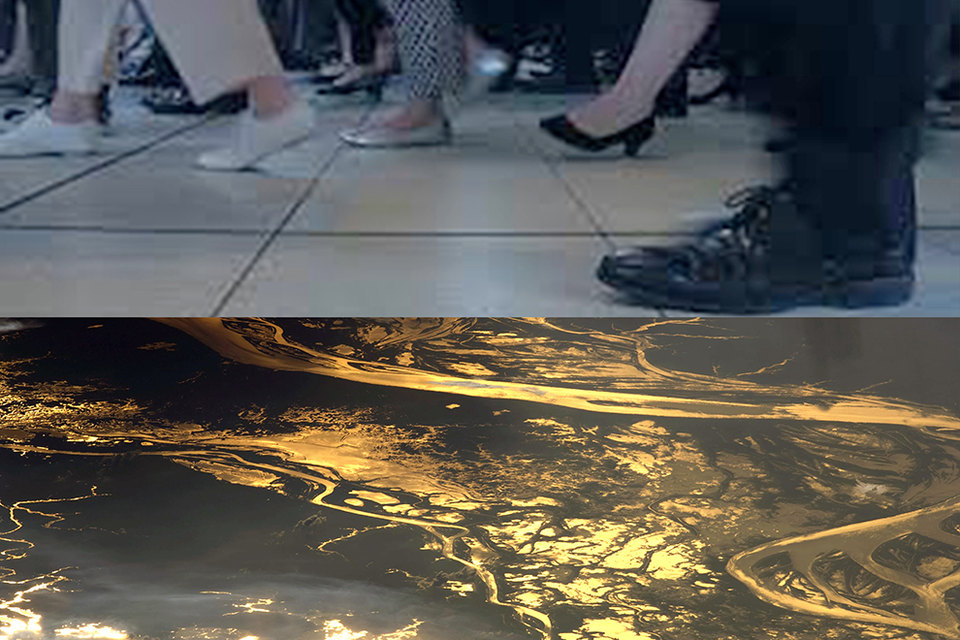 Performance Afternoon, Saturday 28th April 2018, 4-6pm
Hergest: Nant is a collaborative project between Angharad Williams and Mathis Gasser. The exhibition is their third collaboration within the "Hergest" cycle and takes the form of an installation with all new works and a performance presented during the opening. 
The exhibition takes the form of two distinct spaces, a waiting room and office space. A waiting room is a transitional space in which people pass and time slows down. The architecture keeps time in a situation where figures are forced to coexist momentarily.
Behind the waiting room is an office in stasis, vacated and prefabricated, referring to the bureaucratic procedures and structures of power. Whilst both rooms refer to existing institutional spaces they also function as imprecise placeholders for these structures. 
"Hergest" is used as a name in Welsh and recalls the Red Book of Hergest, one of the most important medieval manuscripts written in the Welsh language which includes the Mabinogion. It is also the name of an elongated hill which traverses the border between England and Wales.
Their first collaboration Hergest, was shown at Glasgow International as part of the group exhibition Rough House organised by The Woodmill, 2016. Later in the same year, the artists showed Hergest: Haid at WallRiss, Fribourg, Switzerland. 
Hergest: Nant is the outcome of an ongoing conversation between the two artists, working over shared interests and sensibilities, such as forms and tropes from science fiction, folklore and mythology.
Curator Tim Steer
Angharad Williams (b. Bangor, Wales) currently lives between Rotterdam (The Netherlands) and Berlin (Germany). Recent projects include SYB Writers Programme, Beetsterzwaag; Clerks Quarters, KW, Berlin (2018); Houses are really bodies, Cubitt, London; Radiophrenia, CCA, Glasgow; Scattered Disc, Futura, Prague; LEFTOVERS, 3 137, Athens (2017); Assemble Relatives, TENT, Rotterdam (2016). Forthcoming solo exhibitions will take place at Youth Club, London and Liszt, Berlin.
Mathis Gasser (b. Zurich, Switzerland) lives in London and is currently on a residency at Istituto Svizzero in Rome. Recent solo exhibitions include Centre Culturel Suisse, Paris; Cordova, Barcelona; Chewday's, London; Kunsthaus Glarus (2017); Piper Keys, London; Centre d'édition contemporaine, Geneva (2016). Forthcoming groups shows include Foundation Painting Show, Glasgow International and a solo exhibition at Weiss Falk, Basel.

Developed with the generous support of the Mondriaan Fund and the Swiss Arts Council Pro Helvetia.