CYcLORAMA
FIVE SOLO PROJECTS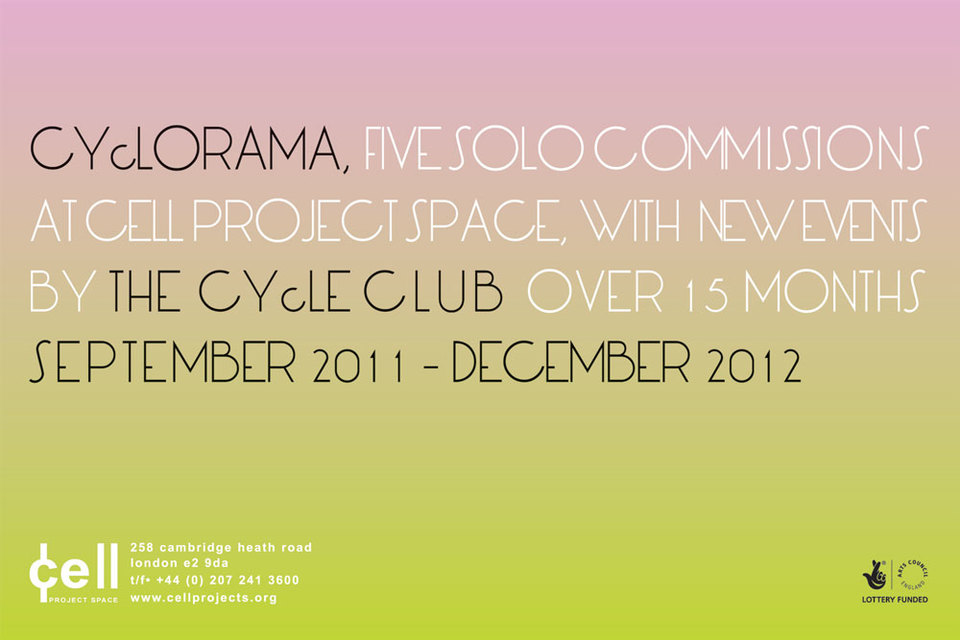 In September 2011 Cell Project Space will launch a new series of five solo commissions, CYcLORAMA which will continue into 2012. Supported by Arts Council of England, the programme aims to expand the gallery's mission to support artists at a pivotal point in their career, making an artist's vision become a reality. The project will establish the gallery as an exploratory space for artists, and offer an opportunity to disseminate new knowledge, ideas and research to a wider audience. 
All five projects within CYcLORAMA will present various hybrids of the moving-image event, removing the conventional cinematic experience to present new modes of presentation through constructed space and distribution. The programme acknowledges the expanded cinema practices of Gill Eatherley, Malcolm Le Grice and Annabel Nicolson and the 'Filmaktion group of 1970's,  who explored the potential of the medium and broke down the 'fourth wall' convention of the cinematic experience,  experimenting with the material qualities of film, in opposition to developing a narrative, developing  immersive environments and performative happenings. Film was used as a tool, and its aparatus as a vehicle, to explore the formalistic qualities of the material nature of the medium itself. 
CYcLORAMA explores new notions of expanded moving image in direct response to the accelerated affects of more recent technological advancement, exploring the transformative speed of digital technology, modes of distribution, display and its various methods of consumption.  Throughout the programme moving image will be sited in a multitude of formats, using the potential of the medium to become a saturated, confrontational or a passive experience for the viewer. The series will adopt event-based performative practices, sculpture, installation, and virtual space using varying modes of sensory presentation and innovative use of audio and visual technology;  CYcLORAMA will present moving image at the moment of it's destabilisation.
CYcLORAMA's roster of artists include; Jessica Warboys, Laura Buckley, Benedict Drew, Mark Aerial Waller and Angelo Pleassas
An additional 
CYcLORAMA
 solo project, DEM, with the artist Eddie Peake is a month long durational performance with weekly interventions to launch the gallery's new initiative 
CYcLE CLUB
Adjunct to the 
CYcLORAMA
 exhibitions programme, Cell launches
CYcLE CLUB
, hosting a series of supportive events that will draw together artists, film-makers, researchers, and a range of interested groups to collectively explore various economic and social factors that have evolved moving imaging practices. 
supported by Arts Council Of England