Hand Held Lava
Performance Lecture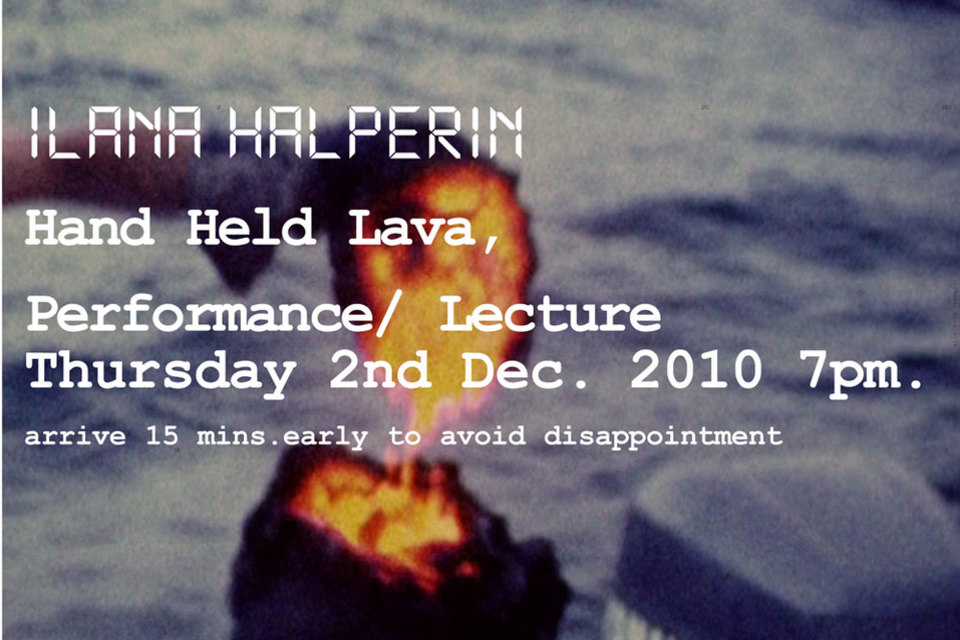 Thursday 2nd December 2010, 7pm.
Initiated by Rachel Entwistle
Last night I woke up in the middle of the night in a panic. We came to this island to spend time with the volcano. Once here, you are 2,500 miles from land in any direction you look. There are no short cuts to get home. - Halperin
Halperin collaborates with archaeologist Karen Holmberg and writer and curator Andrew Patrizio to present Hand Held Lava. The three interweave scientific findings with matter from history and everyday culture, to construct a narrative of changeable landmass. As Halperin performs within Cell Project Space itself, Holmberg and Patrizio will participate via internet connection from New York City 3471 miles away and Edinburgh 332 miles away respectively.
From encountering lava flows in Hawaii with a volcanologist to travelling through arctic ice floes aboard an ecotourism vessel, Halperin's work combines remote field experiences with an active studio and exhibition-based practice. Through drawing parallels between personal events and unexpected geological occurrences, she teases out a narrative re-imagining of our relationship to the natural world. In a current project entitled Physical Geology she has been developing 'physical geological art works in slow time and fast time' - art objects formed within a geological, or deep time context.
The human consciousness may have begun to leap and boil some sunny day in the Pleistocene, but the race by and large has retained the essence of its animal sense of time. People think in five generations – two ahead, two behind – with heavy emphasis on the one in the middle. Possibly that is tragic, and possibly there is no choice. The human mind may not have evolved enough to be able to comprehend deep time. It may only be able to measure it. At least, that is what geologists wonder sometimes, as they have imparted the questions to me. They wonder to what extent they truly sense the passage of millions of years. They wonder to what extent it is possible to absorb a set of facts and move beyond them, in a sensory manner, beyond the recording intellect and into the abyssal eons. Primordial inhibition may stand in the way. On a geologic time scale, a human lifetime is reduced to a brevity that is too inhibiting to think about. - John McPhee, Getting the Picture
In investigating the notion of 'the incomprehensible', Halperin works to find approximations within the real world, which make such ideas calculable - What does 300,000,000 years mean, just like what does 30,000 dead mean? I can't understand the temperature of underground magma; I can however make contact with its cousin – a geothermal pool in which to boil milk. - Halperin
Past projects by Halperin include boiling a saucepan of milk in the crater of an active volcano, and the celebration of the artist's 30th birthday at the Eldfell volcano on the Icelandic island Heimaey, to mark her shared emergence with the landmass in 1973. Eldfell volcano was also of notable interest to Robert Smithson; discussed in one of the artist's last interviews in the aforementioned year.
Hand Held Lava interludes the exhibition Slip Sensor at Cell Project Space.
SLIP Sensor (Part I)
SLIP Sensor (Part 2)
Ilana Halperin (b. 1973, New York) lives and works in Glasgow. Upcoming projects include the solo exhibition 'Physical Geology, a Field Guide to Body Mineralogy and Other New Landmass' at the Berliner Medizinhistorisches Museum der Charité, and fieldwork sessions to Eyjafjallajokull in Iceland to encounter new landmass formed in the recent eruption. Previous solo exhibitions include 'Physical Geology (slow time)' at Artists Space, New York; 'Physical Geology (part one)' at the Manchester Museum and 'Nomadic Landmass' at doggerfisher in Edinburgh. Group exhibitions include 'Volcano', Compton Verney, Warwickshire; 'Estratos' curated by Nicolas Bourriaud, PAC Murcia, Spain; 'Polar Dispatches', Portland Museum of Art, Portland, ME; the 'Sharjah Biennial 8' and 'Experimental Geography', ICI, currently touring.
Karen Holmberg considers herself an archaeologist with a volcanology fetish. She has conducted fieldwork to date in a wide range of volcanic locations including El Salvador, Greece, Hawaii, Panamá and Papua New Guinea as well as non-volcanic fieldwork in Antarctica, Belize, and Brazilian Amazonia. She received her PhD from Columbia University in New York City, completed a post-doctoral teaching fellowship at Brown University in Providence, Rhode Island, and is currently a Lecturer at Stanford University in Palo Alto, California.
Andrew Patrizio is a writer, curator and art historian based in Edinburgh. He held curatorial posts at Glasgow Museums, Hayward Gallery London and Laing Art Gallery, Newcastle. Patrizio's books include Contemporary Sculpture in Scotland, Stefan Gec and Anatomy Acts (winner of Medical Book of the Year 2007). Recent projects include co-editing an artist's book on body stones and geology by Ilana Halperin (Berlin Medical History Museum, 2010, with a show there in 2012) and he is co-curating Human Race: Inside the Science of Sports Medicine, on behalf of Scotland and Medicine: Collections and Connections for 2012. He holds a Chair at Edinburgh College of Art, where he has been Director of Research Development since 1997.
Hand Held Lava was commissioned by Triple Canopy and will be forthcoming on their website at www.canopycanopycanopy.com
Triple Canopy is an online magazine, workspace, and platform for editorial and curatorial activities. Working collaboratively with writers, artists, and researchers, Triple Canopy facilitates projects that engage the Internet's specific characteristics as a public forum and as a medium, one with its own evolving practices of reading and viewing, economies of attention, and modes of interaction.
Triple Canopy is based in Brooklyn, New York, USA