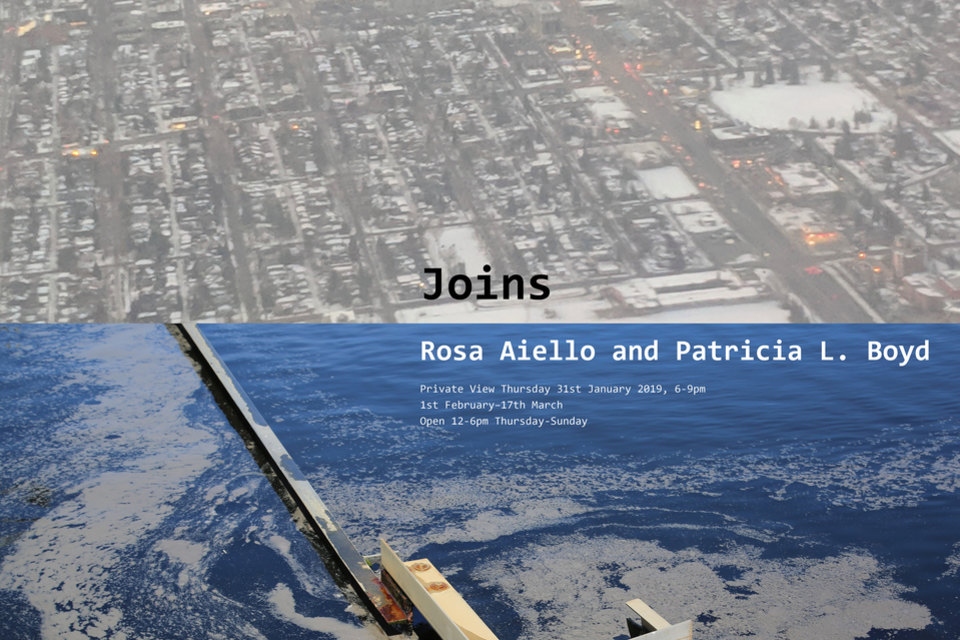 Private View Thursday 31st January 6-9pm

Housing developments are like modular furniture: a system is subdivided into discrete parts that can be arranged according to preference, and modules can be plugged in, removed, recombined. Solutions are found and expectations are satisfied. Discipline equals comfort equals formation.

Joins is an exhibition that brings things together in an attempt to pull them apart. Photographs, sculptures, circuitry, and sounds are installed in relation to two empty, purpose-built corners.
Curator Tim Steer

Rosa Aiello (b. 1987, Hamilton, Canada) lives and works between Berlin and Hamilton. Recent exhibitions include The Coquette, The Prude, at The Southern Alberta Art Gallery, Lethbridge; Builder and Demon, Éclair, Berlin; Fate Presto, at Museo Casa Masaccio, San Giovanni Valdarno; Acoustic Holographic Language, Bureau des Réalités, Brussels. Her writing has been published in Triple Canopy, CanadianArt, Art Papers, and F. R. David. Her video works are part of the public collection of the Whitney Museum of American Art (New York), and of the Centre George Pompidou (Paris). 

Patricia L. Boyd (b. 1980, London) lives and works in New York. Recent solo and group exhibitions include: Other Mechanisms, Secession, Vienna; 1856, Melbourne; Good Grammar, Potts, Los Angeles (all 2018); Operator, 80WSE, New York; Us, 3236RLS, London; Mechanisms, The Wattis Institute for Contemporary Art, San Francisco; Interiors, Front Desk Apparatus, New York; AEROSOL, 500 Capp Street Foundation, San Francisco (all 2017); Metrics, Modern Art Oxford (2015). She has received moving image commissions from EMPAC, The Curtis R. Priem Experimental Media and Performing Arts Center, Troy (2015-16); and Frieze Film, London (2013).


Developed with the generous support of Arts Council England and Canada Council for the Arts.