Rain
Curated by Nicolas Deshayes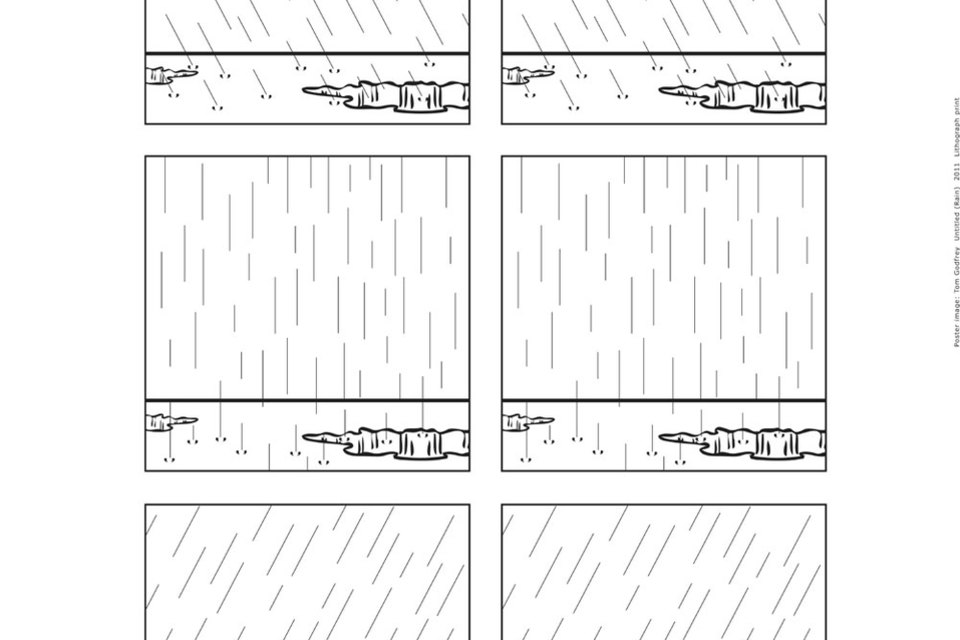 RAIN is an exhibition curated by Nicolas Deshayes that addresses the material slippage between public and intimate experiences of collective space.  Exploring the production of display and the sensuality of its potential erosion, many of the pieces ambiguously break down the materiality of presentation structures associated with the designed environment. For this exhibition, Deshayes chooses to disperse the works in the exhibition space, proposing a stylized hang symbolic of the notion of precipitation.
A precipitation that is interpreted metaphorically as examining the excess of technological diffusion - of imagery and surface - in the grander scheme of consumer culture.
The works brought together are made primarily from what Deshayes calls 'public' materials - ephemera of the everyday - such as glass, plastic and aluminium. The wetness and sheen of these materials become desire-inducing signifiers for a type of processed industrial 'nowness' that links to all of the works on show.
RAIN becomes an environment that is made up of repeated sequences of ubiquitous imagery and familiar surfaces played out in an ambiguous game of cause and effect; from hard edge materiality, to pools of water and their muddy fusion.The flatness of low floor works by Magali Reus and Yonatan Vinitsky are subjected to the pull of gravity catalysed by the weight of Mathew Smith's ribbed black dustbins looming from above.
Anders Clausen's enlarged detailing of the familiar blue scroll from Apple Mac's seductive interface perverts and reflects the wetness and waterproof properties of PVC and plastics that are deployed physically in the rest of the show. There is an abstraction where Clausen's 'Bar Master 17', 2010 and Reus' 'Short Supplies', 2010 could be interpreted as structural technological approximations of water drops, transforming them into ciphers of desire-based economies. Structure and image fuse as technology wrestles with a human dimension.  The body appears absent in the exhibition, yet human dimensions are implied in George Henry Longly's shelter-like glass sculpture or Tom Godfrey's story board lithograph: highlighting the necessary tension between a potential protagonist and this slippery environment.
Born in Copenhagen Anders Clausen graduated from the Royal College of Art in 2007 and now lives and works in Berlin. Solo presentations include Liste, Basel with Hotel, 2011, Hotel, London, 2010 and Galerie Rüdiger Schöttle, Munich, 2009 and 2007. Selected group exhibitions include 'La Surprise', Silberkuppe, Berlin, 2009, 'NUL', at Foxy Productions, New York, 2008, 'Art Supernova', Art Basel Miami Beach, Miami, 2008 and 'Summer SchooI', IBID PROJECTS, London, 2007.
Born in France Nicolas Deshayes graduated from the Royal College of Art in 2009. Solo and two person projects include 'Precursor' at Event Gallery, London, 2011, 'A Killer Whale Breaching in Soft Focus', (with Ed Atkins), Transmission Gallery, Glasgow, 2010 and 'Cultural Wood, Concrete' at Hayward Gallery, London, 2010. Recent group exhibitions include 'GLAZE', Birschoff/Weiss, 'The Shape We're In', Zabludowicz Collection, London, 'Keep Floors and Passages Clear', White Columns, New York (all 2011) and 2010.12, MOT international, London 2010.
Tom Godfrey is currently studying on the MFA program at Glasgow School of Art. Solo exhibitions include 'Orange in Nets', One Thoresby Street, Nottingham, 2010 and The Three Day Week, the inaugural show at Castle and Elephant, Coventry, 2009. Group Shows include 'Not Ready Yet', The Exchange Building, Nottingham in 2009 and 'Indoor Life', Walden Affairs, Den Haag, 2009. As well as co-directing the artist run gallery Moot between 2005 and 2010, curatorial projects include 'Keep Floors and Passages Clear', One Thoresby Street, Nottingham and White Columns, New York, 2011 and the ongoing 'Marbled Reams' print project.
In 2005 George Henry Longly received an MA from Central St Martins College of Art and Design. He is currently taking part in the residency program at Künstlerhaus Schloß Balmoral in Bad Ems, Germany. He has had solo shows at galleries including Galerie Vidal Cuglietta, Brussels, 2011, Galerie Chez Valentin, 2009, Luettgenmeijer, Berlin, 2009, and Dicksmith Gallery, London, 2008 and 2006. His touring exhibition project 'Mass Damper' developed with S1 Artspace, Sheffield in 2007 was also presented at International Project Space, Birmingham, Hatton Gallery, Newcastle and Generator Projects, Dundee. He has been included in numerous group exhibitions.
Magali Reus graduated from the MA at Goldsmiths College in 2008; she lives and works in London and The Hague. Solo exhibitions have been held at Galerie Fons Welters, Amsterdam, 2010, IBID Projects, London, 2010, La Salle de bains, Lyon, 2009 and Plan B, Amsterdam, 2009. She is currently working on her forthcoming solo exhibition at the Approach, London. Reus has participated in numerous group exhibitions including Young London, V22, London, 2011, 'Tactile Gaze', 1/9unosunove, Rome, 2010, 'Verité Tropicale', Circuit, Lausanne, 2010 and 'La-bas', Galerie Crevecoeur, Paris.
Hannah Sawtell was born in London, and currently lives and works there. In 2010 she screened 'Entroludes (1-6) at the Serpentine Gallery Cinema and took part in 'Foreign Glue' at Limoncello Gallery, London. Group exhibitions include 'The Great White Way Goes Black', at Vilma Gold, London in 2011 and 'Display With Sound' (with Simon Denny and Oscar Tuazon), International Project Space, Birmingham, 2009.
Matthew Smith lives and works in London and graduated from Central Saint Martins School of Art MA in 2005. Solo exhibitions include No Means No at Limoncello, London, 2010, As Grey As Those Bends, Lüttgenmeijer, Berlin, 2009; Typical Works, Rivington Arms, New York, White Columns, New York and Mary Mary, Glasgow, all 2008. Recent international group shows include 'Castello di Rivoli' Museum of Contemporary Art, Turin, Galerie Chez Valentin, Paris and Office Baroque, Antwerp (all 2010).
Yonatan Vinitsky lives and works in London. He graduated from the Royal College of Art in 2009 and Goldsmiths College in 2006. Forthcoming solo shows in 2011 include 'The Cruel King', Ashdod Museum of Art, Israel and Limoncello, London.  He has participated in numerous group exhibitions including 'Limoncello Yellow', The Bakery, Annet Gelink Gallery, Amsterdam, 2011 and 'Self-Similar, Seen Somewhere Else, At The Same Time', Galerie De Expeditie, Amsterdam, 2011. His artist book 'The Neglected Genie' will be launched in Limoncello in Septmeber.