Queer Correspondence #4
September 2020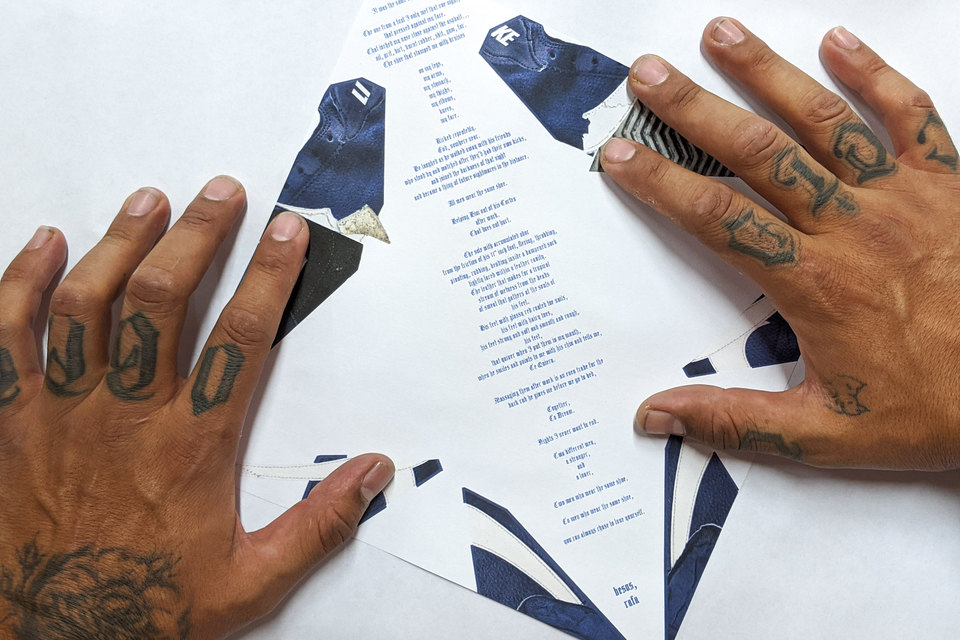 Los Angeles-based artist rafa esparza's Queer Correspondence commission is the first in a series of four projects featuring artists corresponding without a collaborative pen-pal. Comprising exchanges between themselves, the subjects of their dreams, as well as absent addressees, the artists producing forthcoming QC editions further explore the potential of mail-art correspondence to make connections when manifold restrictions continue to change the way that we are able to be with one another. 
esparza's commission extends from the artist's use of Nike Cortez shoes as materials for various sculptural assemblages. For his series of sculptures Love Birds (2011–ongoing), esparza pulls apart and restitches together editions of the famous Nike trainer to give form to pigeons, hawks and fighting cocks, amongst other feathery beings. Named after Hernán Cortés, the coloniser that caused the fall of the Aztec Empire and founded Mexico City under Spanish rule in the early 16th century, the Nike Cortez was the first track shoe by the world-renown brand, and often pinpointed as the reason for its commercial success. 
The shoe was ironically also the preferred footwear of brown gang-affiliated youth in Los Angeles circa mid 1990s. esparza's sculptures combine recognisable elements of the trainer with materials such as bandanas, chicken wire, socks and plumage, dissecting and transforming the trainer into colourful and restorative birds. Many of them carry symbolic value in the cultures of pre-historic Mexico and Central America, as well as into the present-day diaspora where young generations, descendants of these cultures, currently exist. 
Doubling up as a print and an origami sculpture, esparza's Queer Correspondence commission invites the recipient into a similar process of making as healing. However, as much as the artist continues a conversation on "disrupting the genealogies of colonial history", esparza also calls here for a moment of personal –as well as collective– reparation from the pain of violence inflicted by the equally colonising project of toxic masculinity. 
same shoe (Huitzilin – the healer) (2020), a 40cm x 40cm square print, features at its edges a digitally-collaged outline of a blue Nike Cortez shoe, containing at its centre a text that diagonally crosses the surface of the paper. The text is both a letter and a poem to a stranger who gay-bashed esparza on the streets of his native LA, an experience that the artist recounts alongside writing about an intimate moment with a lover, both of whom wear the same Nike Cortez shoe. By following the outlines of the shoe and the careful instructions provided by the artist in a video that can be accessed on Cell's website (the details for which you can find on the accompanying postcard), the recipients of this project can choose to transform this print into an origami sculpture of a hummingbird; a sacred animal of healing which, once constructed, houses and guards close to its paper heart the words of esparza's personal history.
According to Mayan mythology, Huitzilin, the Nahuatl name for hummingbird, is a creature that was made by the Gods after they had already created every living being and assigned them with their purpose on earth. After realising that they had no one to transport their wishes and thoughts from one place to another, they created the hummingbird to "lead from here to there the thoughts of humans". esparza pulls from the figure of Huitzilin as a messenger, but equally as a redeemer, as the Aztecs also believed that warriors were reborn as hummingbirds. 
When domestic abuse cases worldwide are estimated to have gone up by 20% during the Covid-19 pandemic; transgender and gender non-conforming people continue to be abused and murdered; and where in countries such as Poland the LGBT+ community at large is increasingly facing danger by their very presence in public space, esparza's Huitzilin comes as much as a healer as a call to action.
By placing love as being intrinsically bound to the process of healing and being healed, the artist reminds us of the power of compassion and forgiveness as radical tools that might aid the fight against the stronghold of patriarchal oppression and male violence. "The letter is [addressed] to men who feel they have to perform in toxic and violent ways in order to make themselves feel validated" wrote esparza to me in email. "I feel like now is a good time to share this story so that maybe some people don't feel alone in their pain and that they can know that healing is possible, for both victims of hate violence and for those harnessing the hate."
Yours sincerely,
Eliel Jones
Associate Curator, Cell Project Space
Queer Correspondence
is a mail-art initiative at Cell Project Space consisting of monthly commissions, artists and writers have been invited to begin correspondences by mail that will establish connections between queer families: those who are already "in a queer time and place" (following the title of Jack Halberstam's seminal book). By exchanging with peers, friends, loved ones and close community members—as well as with themselves, nature and absent addressees—, through writing, poetry, photographs and other 2D forms, these responses will hope to invoke the intimate and invisible gaps of this moment.
rafa esparza is a multidisciplinary artist who was born, raised, and currently lives in Los Angeles. esparza has had solo exhibitions at MASS MoCA, North Adams, MA (2019); ArtPace, San Antonio, TX (2018); Ballroom Marfa, TX (2017); Los Angeles Contemporary Exhibitions, CA (2015); and Bowtie Project, Los Angeles (2015). esparza has also shown work at art institutions including: Performance Space New York and the Ellipse, Washington, D.C. (2019); Institute of Contemporary Art, Los Angeles (2018); Museum of Contemporary Art, Los Angeles (2018); the Whitney Museum of American Art, New York (2017); Hammer Museum, Los Angeles (2016); and Clockshop, Bowtie Project, Los Angeles (2014).
In 2021, rafa esparza and Los Angeles-based artist Beatriz Cortez will be presenting collaborative work as part of In the House of my Love, a group exhibition at Cell Project Space originally due to have opened in June 2020, and postponed due to Covid-19. 
Made possible with the generous support of an Emergency Grant from Arts Council England.