Queer Correspondence #3
August 2020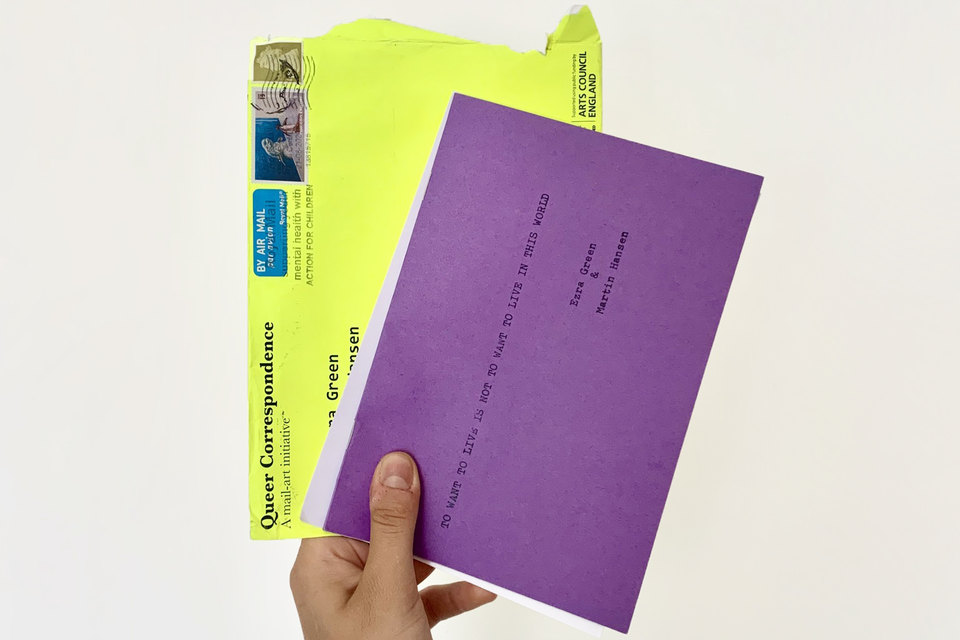 TO WANT TO LIVE IS NOT TO WANT TO LIVE IN THIS WORLD is the title of Ezra Green and Martin Hansen's Queer Correspondence commission, the third in our series of mail-art projects. As much a statement as an invocation, the sentence is also a line in Green's poem, WALLS, included as part of the commission, where he describes a carceral-like deafening room containing nothing but "impossibility". Until he hears another sound: 
[…] a breath rushing through a branching crack in the wall. 
The air tastes of salt and electricity and dust. 
In Jean Genet's first and only film, Un Chant D'amour (1950), it is also through a crack in the wall that two prisoners in adjacent cells manage to subvert their separate confinements and explore their desire for each other without the ability to touch. In this particularly memorable scene, one of the men uses a hollow piece of straw to make way into the other room through the hole, carving out a thin passage to send cigarette smoke. For both Genet and Green, breathing and listening through the cracks conjures the possibility of accessing other worlds; ones in which the unreachable can be reached, and where bodies and minds can be free. 
Throughout Green and Hansen's correspondence, a similar belief propels their conversation forward. Gathered within a booklet, the commission brings together an array of writing exchanged over a period of four months. Nurturing the condition of uncertainty of the present moment as if it was itself the crack in the wall, the artists (Green a writer; Hansen a choreographer; and both of them based in Berlin) attempt to share a nakedness by shedding the fabrication that they know what they mean when they say the words "the world" and "the future". 
Anchoring the exchange are a series of emails sent back and forth within a chain. Here, the artists begin by considering how a vision of the future is made up of a conglomerate of projections that appear as a great heat –"an inconceivable flame." This perception, fuelled by the ills that are currently (and always) facing the planet, finds itself simultaneously accelerated and deaccelerated by the experience of a global pandemic. "What would moving forward mean now?" asks Hansen. The artists go beyond and beside this question by exploring how to be present, ensuing a practice of being vulnerable to one another.  
Accompanying these letters, a series of poems written by Green during this time embody what Audre Lorde defined in her essay, Poetry is Not a Luxury (1985), as "the skeleton architecture of our lives"; which is to say, the potential for poetry to "lay the foundations for a future of change." Evolving with the written correspondence, as well as with events unfolding in real time, Green's poems move from the paralysing anxiousness of the inevitable to the promise that can be found in collective becoming, as he writes in his poem, WAVE: 
Is there not enough room for each person's voice within the wave?
There is.
Is there not enough room for each voice within the person?
There is.
There is a field.
In the middle of the booklet, interjecting both the letters and Green's poems, are a series of action-driven texts produced through simple performative exercises conceived by the artists to embody the act of writing. If the letters and the poems highlight an absence in the very gesture of sending a message out to be received elsewhere in the future, these exercises reveal the process of making presence; one through which the artists can be "in the moment." Paired with their reflections, this work of live-ness and of being with one another begins to outline what it might mean to experience a shared nakedness, revealing within it the potential to "heal communication" through […] "an ability to speak from naked presence to naked presence."
At a time when seemingly universal and stable pillars such as "the world" and "the future" find themselves at the precipice of being shaken, Green and Hansen rein them back to the personal and anecdotal, weighing them up against friendship, forgiveness and togetherness to unearth the hopefulness that can be found in breathing and listening through the cracks in the wall.
Yours sincerely,
Eliel Jones
Associate Curator, Cell Project Space
Queer Correspondence
is a mail-art initiative at Cell Project Space running between June - December 2020. Consisting of monthly commissions, artists and writers have been invited to begin correspondences by mail that will establish connections between queer families: those who are already "in a queer time and place" (following the title of Jack Halberstam's seminal book). By exchanging with peers, friends, loved ones and close community members—as well as with themselves, nature and absent addressees—, through writing, poetry, photographs and other 2D forms, these responses will hope to invoke the intimate and invisible gaps of this moment.
Ezra Green was born in New York and lives in Berlin. As a Place poet, he believes that greater than his own mind is the mind of any place, deeper than his own integrity is the integrity of the world's contours, and truer than the poem that he owns is the poem that he must go to find. He collaborates with people from many fields including most recently the choreographers Martin Hansen and Maria Francesca Scaroni, the musician Mikey Woodbridge and the painter Mollie Hosmer-Dillard; he is a MacDowell fellow and a member of the board at Joon Multidisciplinary Incubator. He is currently working on an album of his poems entitled Book of Threads.
Martin Hansen is an Australian choreographer and dancer. He choreographs bodies, texts, sounds and other material oftentimes as inquiry into economies of time. Martin is based in Berlin and works internationally as a dancer and choreographer – his works have been presented in Europe, Australia and Asia.
In the House of my Love, a group exhibition at Cell Project Space titled after a line in Ezra Green's A Poem to the Nationalist Marcher (For the Queer People of Warsaw), will open in 2021. The exhibition was originally due to have opened in June 2020, but it was postponed due to Covid-19. 
Made possible with the generous support of an Emergency Grant from Arts Council England.