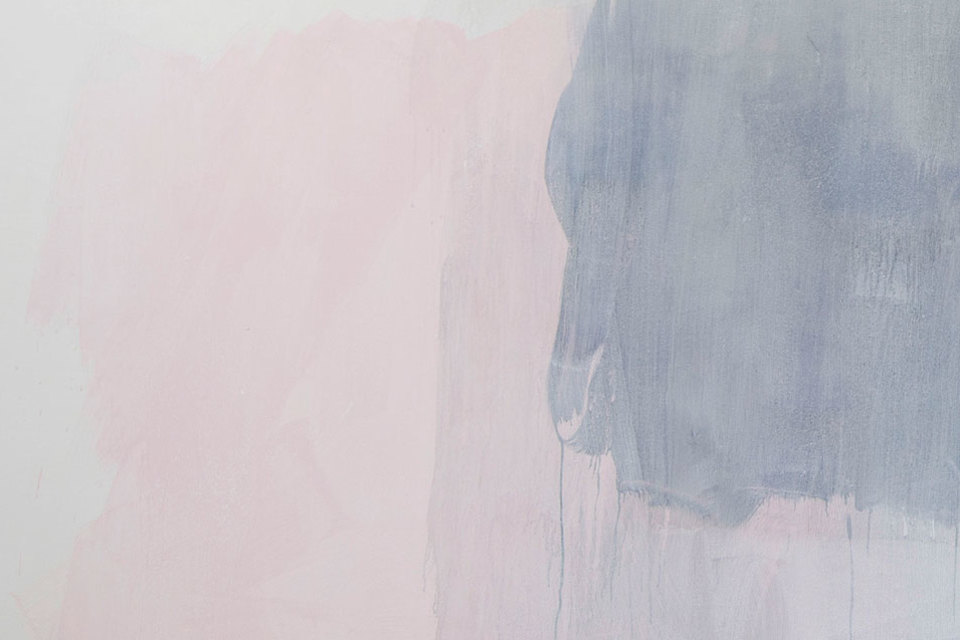 Performance Sunday 8th June
To coincide with the exhibition Katie Cuddon will launch her new publication Without A Sentence, Without A Name, alongside a performative event by the two artists.
In the age of self-design, where everyone is constantly producing an image of themselves for the reception of a global audience Hempton and Cuddon choose the body as subject through quiet aesthetic insubordination. For the past six months the two artists have developed an ongoing dialogue to propose how their works can come together. Pontoon Lip is the result of a unique collaboration for the two artists where they have responded directly to one another and the gallery over an intense three week period working inside the project space. Set up as a series of conversations, works have physical dependency, although discrete and component parts can be read individually or synthesize as one. Wall, fabric and sculptural works to be reimagined as ancient, urban and domestic ruin.
Katie Cuddon makes sculpture with visceral shimmering surface – the result of a modeling process where clay is built gradually creating heavily fingered skins. She celebrates the oddness of clay with limb-like structures becoming amorphous and openly abject as they perch on make-shift furniture or ambivently nestle around the edges of the room.
Celia Hempton's initially painted works expose voyeuristic glimpses of the body in a singular moment. In most instances one on one with male or female sitter in explicit positions, or in online video chat rooms where human exchange is computer-mediated. For Pontoon Lip Hempton transforms her quickly painted snapshots of sexualised exchange into digital print on silk satin. Painting directly onto gallery walls and silk fabric these form a grungy washed out backdrop in contrast to the oscilating RGB tones of computer generated image.
To coincide with the exhibition on June 8th Hempton will incorporate an unfolding element within her practice as a one off performative intervention. Cuddon's interest in words and language, which has strongly influenced her sculptural and drawing practice will provide contextual disturbance for the performance. Bringing together texts with ambient audio, a performed reading will launch Without A Sentence, Without A Name, Cuddon's recently commissioned publication, published by Art Editions North.
Based in London Celia Hempton's solo exhibitions include 'Paintings on Walls and Canvas', Lorcan O'Neill, Rome, 2014, 'VUG', Neuer Aachener Kunstverein, Aachen, Germany, 2013, 'Cur', Southard Reid, London, UK, 2013, 'Tin', Take Courage, London, UK, 2012. Recent group exhibitions include 'Open Heart Surgery', The Moving Museum, London, UK, 2013, 'Abstract Cabinet', David Roberts Art Foundation, London, UK, 2013, 'Ruby', Gallery Vela, London, UK, 2012, 'SV12', Studio Voltaire, London, UK, 2012.
Katie Cuddon lives and works in Newcastle. Her solo exhibitions include 'Waiting For The Cue', Simon Oldfield Gallery, London, UK, 2011, 'Spanish Lobe', Ceramics Fellow, Camden Arts Centre, London, UK, 2011, 'I no longer know what the money is', Alma Enterprises Gallery, London, UK, 2010. Selected group exhibitions include 'The Stone of Folly', Downstairs, Hereford, UK, 2012, 'Studio Voltaire Members Show', London, UK, 2012, 'Friendship of the Peoples', Simon Oldfield Gallery, London, UK, 2011, 'Spazi Aperti', Accademia di Romania, Rome, Italy, 2009.