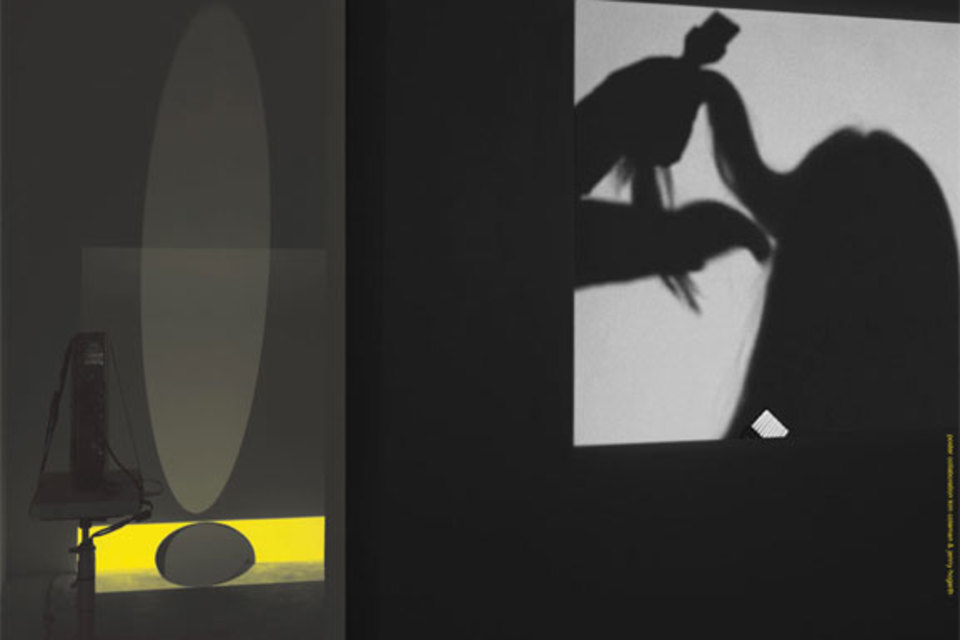 Curated By Milika Muritu
Works about performance made for the camera's moving image or audio equipment's sound. This exhibition explores how performance can be mediated by film and will attempt to question what constitutes a performance, and how a film or recording of this can reach beyond documentary practice.
Athanasios Argianas has been preoccupied with the possibilities and limitations of transferring the structure of language. Elements of one language are separated and used to form the base for another. The structure of a piece of music is taken apart to its constituents, the frequencies of each note encoded into measures of weight, cast in copper and then stacked to form a set of columns, each corresponding to a verse of the same song. In some cases the title of an exhibition can become a new song, resulting later in its lyrics & syntax forming a laser-cut sculpture. Non-linear in his approach his work ricochets between sculpture, painting, text and musical works. For Cell project Space he will construct an installation based on a part-reflected performance of 'Music Sideways' a vocal canon performed and filmed through a mirrored structure, modelled from the form of the song itself.
Athanasios Argianas has had solo exhibitions at Breeder, Athens, Max Wigram Gallery, London, Arcade, London and Arquebuse, Geneva. In 2006 he took part in 'Pale Carnage' curated by Martin Clark at the Arnolfini Gallery, Bristol, which later toured to DCA Dundee Contemporary Arts. In 2008 he presented 'We All Turn This Way' for 'Park Nights' in Frank Gehry's Pavilion at the Serpentine Gallery, London, both solo and in collaboration with Nick Laessing. Argianas is short-listed for the Deste Prize 2009, (Deste Foundation, Athens) and is curated by Diana Baldon in 'Heaven', at The 2nd Athens Biennial 2009.
Kim Coleman & Jenny Hogarth present documentation of their performances and interventions. The artists often use light as a medium and a subject, working with projected video and lighting apparatus to produce illusionistic or theatrical results. The work can highlight ambient events and the creation of visual effects, focusing on the degree of control they have over their surroundings. Their videos address performativity and ideas of the choreographed and non-choreographed, self-consciously opening up the process of making and documentation for dissection and monitoring the mechanisms by which their work is produced.
Kim Coleman and Jenny Hogarth were both founding Directors of the Embassy Gallery, Edinburgh in 2003-2006. They have collaborated since 2002. Recent solo exhibitions and performances include 'Act Natural' at Picture This, Bristol, a performance with the Boyle Family for the Nought to Sixty programme at the ICA, London and 'Time Bank' at Associates, London. From May 21st 2009 they will present an exhibition of new works at S1 Artspace, Sheffield.
Simon Faithfull's ideas can be described as an ongoing investigation into the incomprehensible scale of the earth as an object. Faithfull uses the video camera as a measuring tool to define scale, time, and distance. His performative explorations, which nearly always involve travel and leaving the camera running without him are an attempt to expand our imagination by reinforcing the infinite nature of the sparse subject matter he chooses.
Faithfull will exhibit an early video piece, 'Going Nowhere' 1996, a pivotal work which prefigures camera experiments such as '30Km' 2003 or interventions such as 'Shy Fountain - a fountain that only exists when no-one is there' 2008. Shot in the Oxfordshire landscape it depicts a figure (the artist himself) walking away from the camera through drifting snow. Slowly diminishing to a black dot against the white, the figure finally disappears into the snow covered landscape. It is apparent that the camera has been left on, recording what happens in the figure's absence.
Later this year Simon Faithfull will present his solo show 'Gravity Sucks' at 'The British Film Institute' Gallery, London and his first major public commission for Liverpool's Lime Street station will be unveiled. His work has appeared extensively in international group exhibitions including 'The New Forest Pavilion' at 52nd Venice Biennale 'It Starts From Here' De la Warr Pavilion, 2007 and 'Horror Vacui', Galerie Layrwuestenhagen, Vienna in 2008. He has had solo exhibitions at The Chisenhale, London, and the CCA, Glasgow. In 2006 Faithfull undertook his largest body of work to date 'Ice Blink' following his residency with British Antarctic Survey. This culminated in a publication commissioned by 'BookWorks' together with three solo exhibitions organised by 'Arts Catalyst' held at Stills Gallery, Edinburgh, Parkers Box, New York and Cell Project Space, London.