Lobby
Project initiated by Stefano Calligaro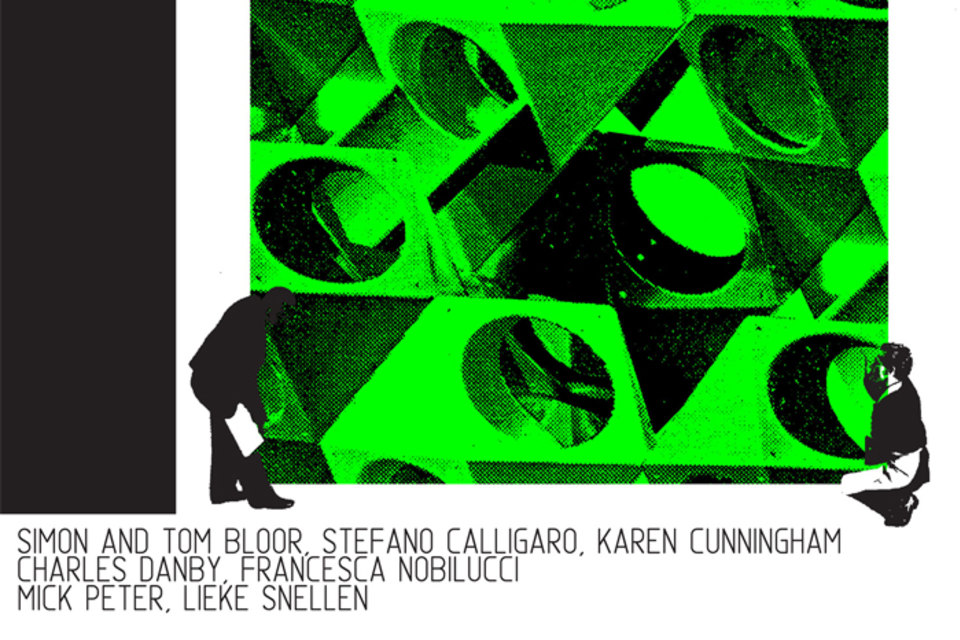 'Lobby' as an exhibition could be interpreted as a collection of makers who support some common cause or sectional interest maybe its the physical entryway to a space, which has been transformed and interrupted by a series of arrangements and compositional elements. The Lobby is an area between the outside that is open to anyone, and the inner sanctum where only the participating artists and the invited public may go.  It is where visitors are 'screened' their hosts are called to display ideas, perhaps there are meeting rooms where the visitor may reflect or view without really entering into any conversation. 'Lobby' is the showcase for ideas and its development a promise of more, or a display for aspiration or folly. 
This exhibition primarily refers to sculpture in a social space in direct relationship to architecture and the built environment. In the way that architecture is imaginative architects invent what is not there and yet must always begin with an idea of something located somewhere. This paradoxical situation suggests that all future projects have a past, just as present and previous ones do. The artists in this exhibition refer to this built environment whether successful or failed. They use the 'established', 'the familiar', or the utopian dream as their starting point. In 'The Lobby' the finished product is not a concern, but rather a project still in the process of being completed. 
Stefano Calligaro's works, function as a means of understanding and navigating, developing compositions that find balance between two and three dimensions. Using the clinical ready-mades found amongst office stationary and utilitarian workplace fixtures his subtle installations hide and secrete ideas associated with modernist form and navigate the given surroundings. His making methods are embroiled in loose compositional arrangement. This instability creates a tension and a purpose for the work. 
Calligaro born in Italy lives and works in Rotterdam. Recent solo exhibitions in 2009 include Secondroom, Brussels and Waldenaffairs, Den Haag, Holland. He has been included in numerous group exhibitions this year ie; 'Beyond', Duende, Rotterdam, NL,' tHEMA', NP3, Groningen, NL, 'New italian epic, Brown project space', Milan, Italy.
Karen Cunningham makes art as hypothesis in which artworks are presented as propositions. Notions of social engagement, free will, and new ageism are overlapping themes within her work and can be summarised as an interest in the possibility of the 'individual' within society. The artworks act as possible entry points for communication or transformation seeking to evoke reciprocity of engagement with the viewer in an attempt to initiate an allegory outside of the work of art. Operating both as relic and as technology the materials used are specifically selected yet also generally available (such as rocks, sand, compact discs) this results in the works having a rudimentary aesthetic and a relationship with the viewer that is both ancient and contemporary.
Cunningham lives and works in Glasgow. She has had solo exhibitions at The Collective Gallery, Edinburgh and The Project Room, Glasgow and group shows in 2009 include 'Preparatory Ways' at Transmission Gallery, Glasgow. In 2008 she was included in 'Glasgow International' alongside Luca Frei and Babak Ghazi and took part in 'The Long Take' at MOOT Gallery, Nottingham. Her work has been presented at Workplace, Gateshead, The National Centre for the Arts, Mexico City and TENT Rotterdam.
Charles Danby's paintings, drawings and constructed objects entertain contrivances of architectural structure and interior display and design, drawing on configurations of marks and materials that become functional across two and three dimensions. The works explore the way in which meanings are constructed and motifs become accepted visual components.
Danby lives and works in London. In 2008 he was included in 'If You Build IT They Will Come' at G39, Cardiff Wales, 'Pyramids' Galleria del Cortile, Rome, and 'Force and Beauty' Yukiko Kawase Gallery, Paris. Past group projects include 'Another Product 'Cornerhouse, Manchester, UK 2006, 'Artist Video Lounge' South London Gallery, UK and 'Conjunction 06' Airspace, Stoke-on-Trent, UK
Lieke Snellen develops her work out of an empirical method, in which material and her direct surroundings play an important role. By assembling objects and material familiar to our daily lives, such as furniture, packaging, and building materials Snellen transforms the original meaning and context into an arrangement that refers to an architectural ideology. Emblematic motifs occur within her assemblages thus exploring and challenging our responses and questions to social and political space, these methods often used to shepherd and organise people. Snellens interventions probe the key function of monumental sculpture within architecture and how political and corporate display takes on an important role within the navigation of our built surrounding. Snellen inhabits a tension between the banal and the spectacular, the historical and the contemporary, constructing works with a sense of the monumental of the everyday.
Snellen lives and works in Rotterdam with a solo show in 2008 'Advocaat coloured blocks in the city', Mart House Gallery, Amsterdam, NL In 2009 she was included in 'All cretans are liars, said the cretan' at Juliette jongma galerie, Amsterdam, NL
Simon and Tom Bloor have had a long running interest in moments of utopian potential and their relationship to specific places. Crossing the boundaries between design, philosophy and social history the work of Simon & Tom Bloor moves beyond art's continued fascination with the aesthetics of Modernism and into the uncertain territory of something more engaged with its social structures. Using a range of media they explore aspects of architecture, design and popular culture, especially in the light of obscure histories and flawed idealism. 
In 2009 Simon and Tom Bloor had their solo show 'As long as it lasts', Eastside Projects, Birmingham, UK. It then toured to Wysing Arts Centre, Cambridge, UK and Leeds Met Gallery, Leeds, UK. They have exhibited widely in the UK and Europe. These include solo exhibitions and projects at Ikon, Birmingham, UK, MOT International, London, UK, SMART Project Space, Amsterdam, NL and Transmission Gallery, Glasgow, UK.
Francesca Nobilucci experiments with text, video, performance, and embroidery and ultimately sound which have been chosen for their immateriality. Nobilucci's concerns are embedded in a desire to dematerialise the art object. In recent works Nobilucci has eliminated the DIY aspect of the process and openly introduced the use of specialists/fabricators to produce the work where possible, in order to explore the concept of simulacrum. Her work extends ideas and notions of artificiality. The results are varied and in some cases there is an attempt to make the artwork either disappear or to transform it into a pseudo-functional object such as Ikea furniture and other times into the vernacular of the ready-made manufactured object.
Born in Italy Nobilucci lives and works in Edinburgh, UK. In 2009 she had a solo exhibition Anthony Blunt Project, West Port, Edinburgh, UK. Group projects include Boneless box Embassy Gallery Edinburgh, UK 2009, and Something to answer for, Viensowski und Harbord Gallery, Berlin, Germany.
Mick Peter's work is derived from his interest in monumental sculpture and emblems of stupidity. The objects in the show propose pairs of personalities as scratchy paradoxes in lumpen matter. Comprised of drawings and sculpture the work adopts the demented impulse driving the fabrication of urban amenities and public sculpture that leads people to choose to congregate amongst dirt, bad smells and every kind of abomination. His more recent works draw on a broad catalogue of literary and theoretical references. Often from European municipal illustration from the 1960's his drawn-like sculptures of iconic motifs and signs often appear heavy and delicate at the same time and play with notions of solidity and lightness.
Mick Peter lives and works in Glasgow. In 2009 he had solo shows at Zoo Galerie, Nantes, France, Galerie Crèvecoeur, Paris, France and Generator Projects, Dundee. He has shown extensively in Europe and The UK including Fortescue Avenue/Jonathan Viner, London, UK, Workplace Gallery, Newcastle, UK, Outpost, Norwich, UK, CCA, Glasgow, UK and Transmission Gallery, Glasgow, UK
Related press