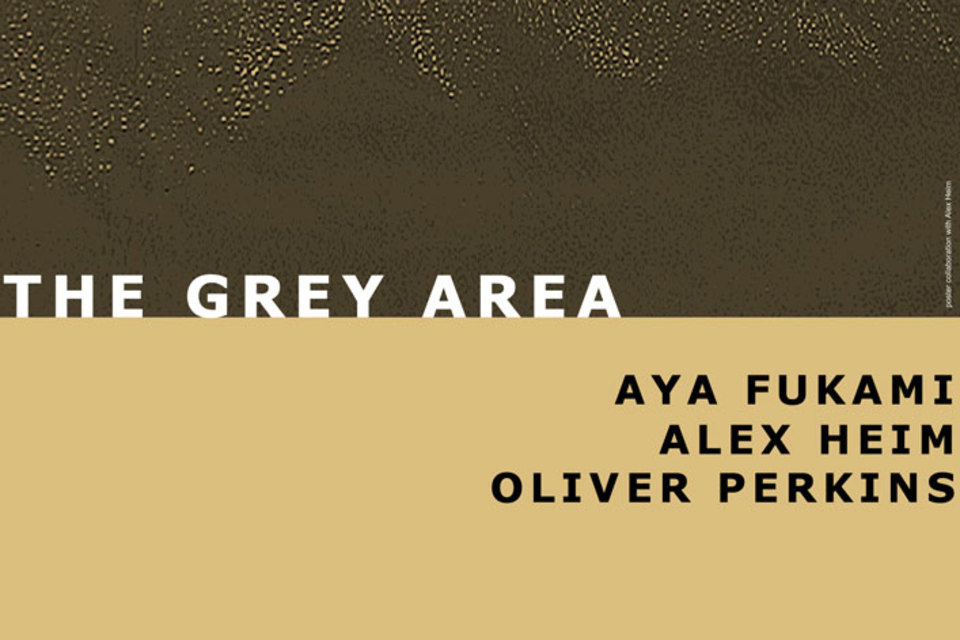 If the universe by its very definition is everything that exists anywhere then its complexity and richness would seem overwhelming as a starting point for any artist. In this exhibition 'the grey area' signifies a problem of sorting this reality and rudimentary stuff, material and experience into clearly defined categories. It draws three London based artists who differ in method and ways of working intentionally conveying a physical sense of something seen or experienced, rather than representing it. Language does not attach itself to any of the works comfortably. Intervention simplified to create works devoid of content other than the shape and colour of canvas or material it is made of. However rather than determining an aesthetic, in 'The Grey Area' artists strip away the literalness of everyday life, revealing mysteries contained in the most commonplace.
Alex Heim will present a new video, continuing his analysis of our perception of the natural environment. By fusing seemingly unrelated recordings Heim deconstructs the relationship between moving images and sound.
'Les Chevaux Vapeur' is a typical depiction of the rugged British rural coastline. The camera pans across the cliffs and vast empty beaches with aerial views of rolling waves, swathes of shingle and inky blue-black menacing water. The film's visual incongruity is heightened by the sound track. Instead of using the original sounds from the sea Heim inserts the sounds of urban traffic. The swooshing sounds of passing cars line up in perfect harmony and in sync with the rhythmical sway of the shoreline as it rolls in and out of shot. A seamless and subtle range of motorway roar is indistinguishable from the expectations of the visual imagery on display. Heard in a new context, the noise of polluted roads and its level-fluctuations go further to feed Heim's curiosity with his world viewed at pavement level.
Alex Heim, born in Hamburg, lives and works in London since completing his MA at Goldsmith College in 2006. He is represented by Galerie Karin Guenther in Hamburg and doggerfisher in Edinburgh, where he had had a solo exhibition in 2008. He was selected for the 'Nought to Sixty' programme at the ICA, London and earlier this year included in 'The Fool' Northern Gallery For Contemporary Art, Sunderland.
Aya Fukami's arrangements draw a line between gesture and form. The representation of low value objects replace familiar modernist gestures and shapes, each testing its' competence to replace or dominate the other. Natural and casual representations are made to relate to the processes of abstract painting and sculpture without actually defining them. In The Grey Area Fukami will present 2 new sculptural works developed with a heightened interest in routine stuff that so often goes unexamined. A subdued pallet of stains, grey buffs, raw linen and familiar eroded objects are intended as a slightly stagnant foundation on which the sculptural dialogue unfolds
Born in Tokyo, Aya Fukami completed her MA at Chelsea School Of Art in 2007. Since graduating Fukami had her first solo exhibition 'Reviving Isolation' at Permanent Gallery, Brighton. Recent  group exhibitions include 'How we maybe late at Tate' at  'Late at the Tate', and 'Halcyon Days', The Drawing Room, London.
Oliver Perkins universe is monochromatic. Colour has been reduced to a logical conclusion and as a result the canvas contains a sense of physicality. Furthermore it has become an object. Perkins manipulates his stretchers to heighten the tension of the object. The canvas, so taut, it reveals the wooden frame underneath contorting the predictable rectangular shape of the work itself. The façade is both an actual and a representational skin, in that its materiality speaks about the way the stretcher is made and how the canvas responds to it. Paint is used as a mark maker to indicate how the work is structurally held together. It emphasizes slight differentiations where the surface has been disrupted. The work becomes a series of reliefs revealing more an interest in materials and process rather than more linguistic or conceptual motivations.
Oliver Perkins born in Christchurch, New Zealand completed his MA in Fine Art at Chelsea School of Art in 2005. In 2008 he exhibited with David Smith 'Begin Again at the End' at Carl Freedman Gallery, London and 'Questions for the Gatekeeper' at Fold Gallery, London. Earlier this year he was selected for the Jerwood Painting Prize..