Comrades of Time • Comrades of Time
Curated by Chewdays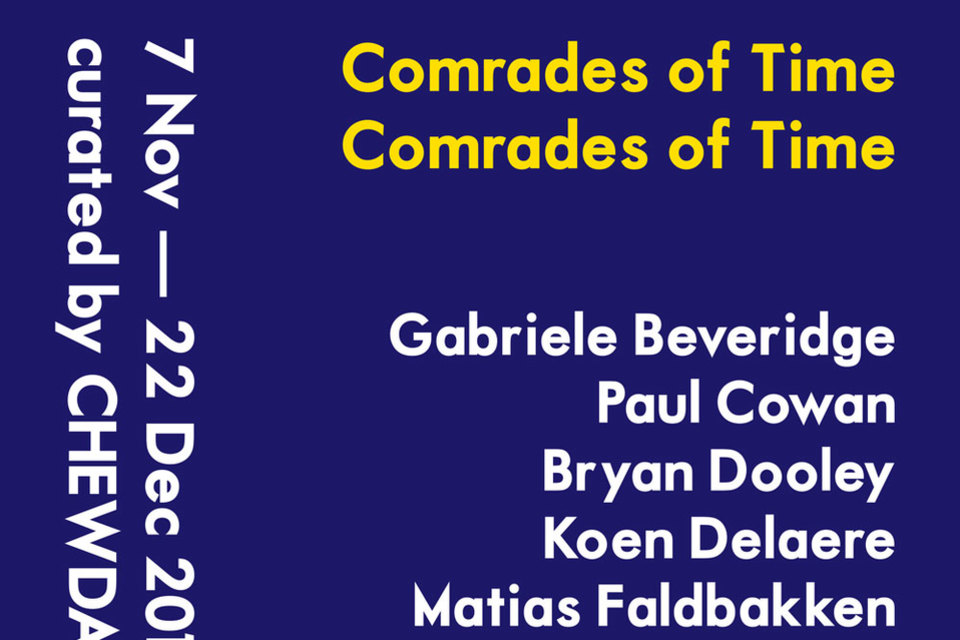 [A firework is lit. A small crowd stands, watching as it shoots upwards into the sky. An explosion. Sparks fly outwards.]
The history of art since the birth of modernism follows the trajectory of a firework. An artwork, once a singular of contemplation in which time accumulates, now functions on a flat horizontal field swapping focused engagement for networked global visibility. The singular switched for omni-directional dispersal.
The second in a series of exhibitions titled after the eponymous essay by Boris Groys [1], Comrades of Time Comrades of Time features emerging and established contemporary artists whose work re-negotiates modernism from a renewed position of globalisation, technological advancement and high-speed communication.
Acutely physical s and everyday references, invite engagement - yet devices of repetition, material manipulation and negation - cause a displacement that defers any ultimate arrival. Transience prevails in an eternal feedback loop. Art for art's sake 2.0[2]
This focus back inwards is brought to the forefront as tactics of institutional critique emphasise the networks of production, distribution and reception that maintain them. Disembodied and shed of much content, these apolitical, asexual, ahistorical works – are prepared for high-speed travel. Like the shrinking of Mike Teavee when transmitted through space in Willy Wonka's television machine[3] – marks of transmission are often wrought visible.
In our era of infinity scrolling[4], where knowledge circulates across networks at an unprecedented rate, Comrades of Time Comrades of Time suggests a renewed confidence in the plastic arts for continued art making.
---
[1] Boris Groys, Comrades of Time. First published by e-flux, 2009.
[2] If Kazimir Malevich's white on white painting was a work of 'pure feeling' these are works of pure transmission.
[3] Willy Wonka and the Chocolate Factory. Dir. Mel Stuart. By Roald Dahl. 1971.
[4] Endless scrolling script (Tumblr, Instagram, Facebook etc.)
With generous support from Mondriaan Foundation