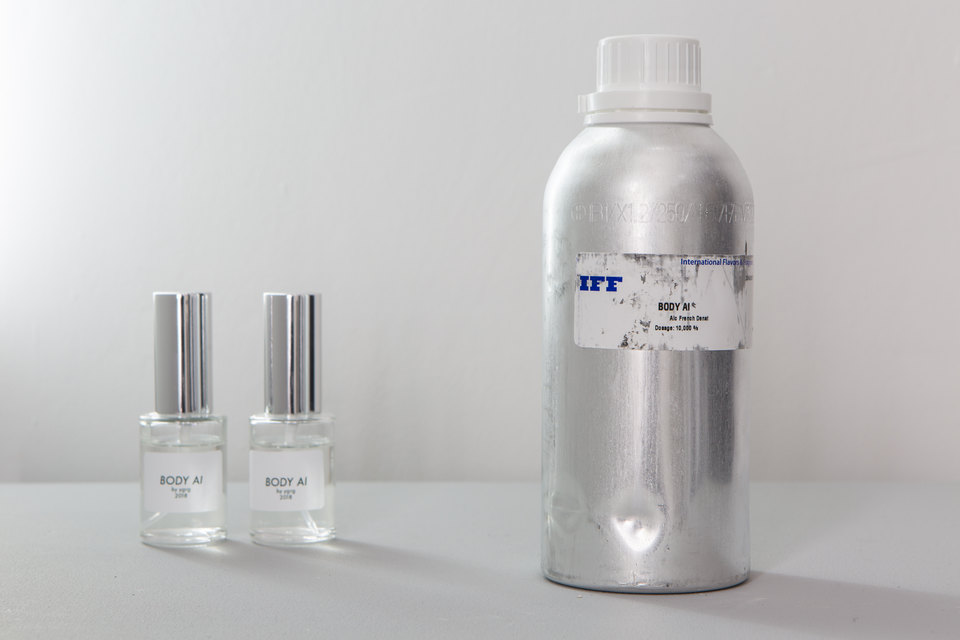 Essential to artists Eglė Kulbokaitė & Dorota Gawęda's output is the increasing technological mediation of YGRG (Young Girl Reading Group)'s activity. As part of the exhibition
YGRG 14X: reading with a single hand
, the artists present 
YGRG Outlet
. The store represents a branded material collapse of production into a gesture of social performativity using their recently patented fragrance
BODY AI
, newly commissioned limited editions and sportswear line. In the same way as the artists' social media interventions, their branded unisex YGRG T-shirts and sweatshirts orientate their activities around collectivity and peer-to-peer circulation. The scent, as with
Young Girl
, embodies a conceptual notion of 'non-place', with or without location, class, or gender signification.
BODY AI is a frangrance developed in collaboration with Caroline Dumur of IFF International Flavours and Fragrances Inc. The scent as a material substance embodies the concept of non-place and therefore Young Girl. Two blocks were modified by Dumur to develop the frangrance linking the human body with material space. In Dumur's words: The first block to create 'non-place' utilises aldehydes to suggest metallic, clean and undefined raw materials, the second block represents the human individual; closer to skin, musk and warm pheromones. A vibrant woody raw material is the link that brings the two together 
"recovering what we have been separated from, from the very separation itself, regenerating what this separation has poisoned".  YGRG
Dorota Gawęda (PL) and Eglė Kulbokaitė (LT) are an artist and writer duo living in Basel (CH) and Athens (GRC). Both are the founders of YOUNG GIRL READING GROUP (2013- ) and Agatha Valkyrie Ice (2014-). Dorota Gawęda and Eglė Kulbokaitė have recently exhibited their work at: Palais de Tokyo, Paris; Amanda Wilkinson Gallery, London; SMC/CAC – Contemporary Art Centre in Vilnius; Kunsthalle Basel, Switzerland; Institute of Contemporary Art, London; OSLO1O, Basel, Switzerland;Kunstverein Freiburg, Germany; SMK- National Museum of Denmark, Copenhagen; Kunstverein für die Rheinlande und Westfalen, Düsseldorf, Germany; Museum of Modern Art, Warsaw; Adult, Copenhagen; 1.1, Basel, Switzerland; Loyal Gallery, Stockholm; SALTS, Basel, Switzerland.
**SOLD OUT**