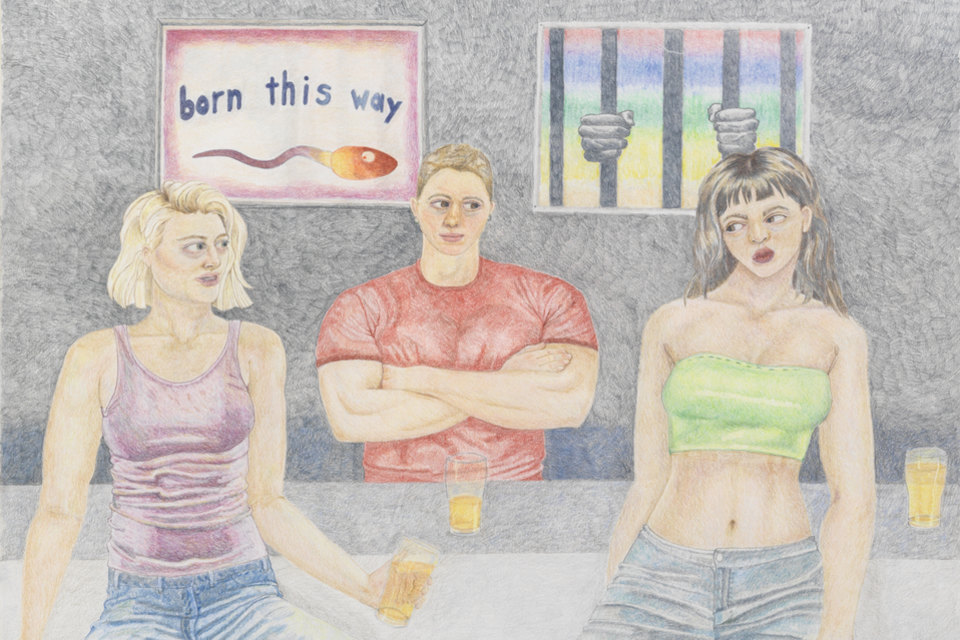 To accompany the exhibition,
Perverts
, Cell Project Space has invited artists, Hannah Quinlan & Rosie Hastings to work with Step Foward, an LGBTQ youth group based in Tower Hamlets. 
Losing the Village draws on Quinlan & Hastings' practice as a vehicle to explore the multi-disciplinary acts of work and a relation to common themes, which surround the exhibition. Working inside the exhibition's new reading room, the workshop will respond to issues affecting LGBTQ youth in London today and the disappearance of the queer space through gentrification. Taking David Wojnarowicz's graphic novel '7 Miles a Second' and a brief history of queer counter culture as a starting point, the artists will introduce the format of graphic novels and comic strips to combine personal/ embodied experience and fictional narrative with a critical perspective.
Framed by Quinlan and Hastings own project, the 'UK Gay Bar Directory', and the artworks exhibited in Perverts, the workshop will incorporate creative drawing and collage to create personal comic strip narratives to reflect upon the groups' relationship with public space. 
Hannah Quinlan & Rosie Hastings live and work in London. They are currently exhibiting their solo show 'Fuck Me On The Middle Walk' at Truth and Consequences, Geneva. Other recent projects include the 'UK Gay Bar Directory', a moving image archive of gay bars in the UK, was commissioned and shown at Somerset House, London as part of the group exhibition 'Utopian voices Here & Now', the work will be shown at the Walker Gallery, Liverpool and Birmingham Museum of Art later this year. The duo's ongoing live event series @Gaybar has been recently shown at Arcadia Missa, New York and at the David Roberts Art Foundation, London. 
Co-ordinated by Rachael Davies.
Image credits: 'Born this way' by Rosie Hastings & Hannah Quinlan, courtesy of Truth and Consequences. 
Developed with the generous support of The Arts Council England.