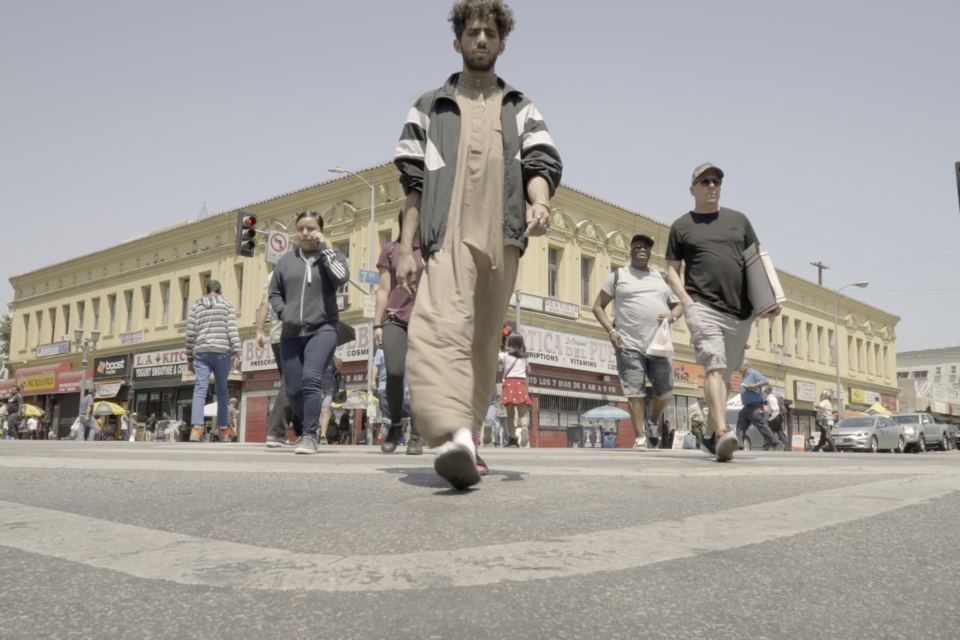 Saturday 5th, 12th, 19th, 26th of September and 3rd of October 2020. 
Cell Project Space presents Leaving is Forever, a new commission by Jordanian/Palestinian Los Angeles-based artist Mohammad Tayyeb, the third in a series of projects as part of Cellular, an experimental Live Art and Media-based programme. Making use of Cell's ground floor event space and study room, Tayyeb has developed a choreographed one-to-one installation for the gallery visitor and an online commission available on the homepage of Cell's website. Drawing from the experience of multi-generational migration, from his family's exile from Palestine to their recent move from Amman to Los Angeles, the artist places the act of walking as a politicized gesture of making presence. 
On Going (2019), one of two video works featured as part of the project, compiles together an array of footage taken by the artist on his phone between the years before and after his departure from Amman. Here, Tayyeb captures moments of walking, dancing, singing, marching, driving and strutting, making connections between past and present scenes of daily life, blurring the sense of what is, looks or feels like home. Edited in seconds-long clips that are looped fast and repeated a number of times, On Going creates a dizzying and disorientating viewing and listening experience, affectively materializing the feeling of being in constant emotional, psychological and physical motion.  
Also presented at the gallery and made available to view online by request, Category Is… (2020) is a performance for the camera recorded in streets of Southern California. Produced in the style of a fashion editorial video, the performance sees Tayyeb catwalk down various busy intersections in MacArthur Park, Koreatown, Santa Monica and Downtown Los Angeles wearing self-made genderfluid clothing inspired by traditional Arabic dress. Responding to the vulnerability of walking in urban public spaces, where the safety of passersby is paradoxically both assured and compromised by their invisibility, Tayyeb reclaims the hyper visibility of his body as queer, Arab and Muslim, placing queerness as protest. Set to the backdrop of a heavy rhythmic Sufi chant, where the very act of breathing contains within it the name of Allah, the artist further nods towards what is often hidden or invisible yet wholly and divinely present. 
Thinking through this invisible presence as being akin to a coded language, in Walking Manifesto (2020) the artist pulls from Arab poets and his personal history and ancestry to reflect on the ways that walking has defined his existence. Written and presented on Cell's homepage of the website and on a digital surface in the gallery, each sentence appears as part of a set of programmed commands, here freed of any specific outcome. By highlighting the contractions embedded in walking as a tool of access and restriction demarcated by social, political and bodily borders, Tayyeb creates an adjacency between struggles, pointing towards radical individual and collective movements that demand change by taking up space on the streets. Accompanied by a brainwave frequency that stimulates the mind into entering a focused state, Walking Manifesto, as throughout this commission, invites the visitor into a space of mediation and action. 
Audiences can make an appointment to visit the gallery for a 30-minute slot. Tayyeb's video works are presented as a two-channel installation, with a duration of 16 minutes, followed by a 5-minute meditation and reading experience in the study room. Each appointment adheres to government guidelines in regards to social distancing. Staff at Cell Project Space will be wearing face masks and visitors are also required to do so. Hand sanitizer will be provided.
Mohammad Tayyeb has written, produced, and performed four solo works: MY MUSK, MY WAIST (is burning), The Box, Los Angeles (2019); The Liminal Space and I, REDCAT, Los Angeles and Daret el Funun, Amman (both 2018); Awakening, Al-Balad Theatre, Amman (2015); and Nothing Can Come of Nothing, 3elbt Alwan, Cairo (2014). His video and performance work has recently been shown at Human Resources, Los Angeles; Ordet, Milan; Dubai Art Week; and National Gallery of Fine Arts, Amman. Tayyeb has participated in projects and residencies in various art institutions in Jordan, including: Makan Art Space; MMAG Foundation; Taghmees; and Spring Sessions. He has also collaborated and worked with various artists, including Alex Baczynski-Jenkins, Susu Attar, Rotana, and Ola Alkhalidi.
Launched in June 2020, 
Cellular
 is a new experimental Live Art and Media-based programme comprising a multi-purpose ground floor event space at Cell Project Space and an online platform on Cell's website. Originally conceived to run alongside the exhibitions programme at the gallery,
 Cellular
 launches six pilot commissions of on-site and digital works to be delivered with and without physical audiences between June - December 2020. To find out more, please 
click 
here
.

Cellular is made possible with the generous support of an Emergency Grant by Arts Council England.

Related press