Hurakan Caress
A pedagogical resource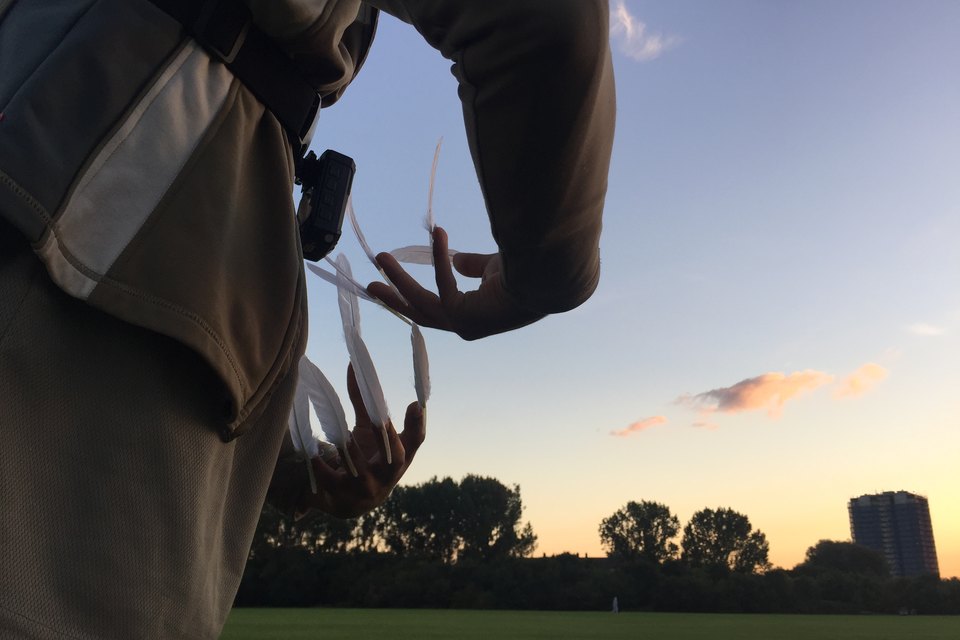 Hurakan Caress is an an evolving project with the purpose of developing tools to empower bodies most affected by the legacies and current ripples of colonisation, starting with us. At its core is an enquiry into the emancipatory powers of self-intimacy and communality. This enquiry manifests as an interconnected and polydirectional flow of artistic and educational research encompassing: 
-Somatic exercises nourished by Caribbean music and dance 
-Affirmative, self-determining, exploratory pedagogical frameworks, that foster awareness and agency 
-The creative and critical use of technologies of the gaze (mobile phones, body cams) to problematize and counter the ways in which we have been historically looked at, depicted and commodified, as well as the ways we have internalized these systems of exploitation and control
This page provides examples of some of the tools and outcomes of our residency at Cell Project Space, where we have expanded on Hurakan Caress as an artistic practice. 
We have produced five short videos that thread together the interconnected strategies and results of our research process. Using footage in which the camera is strapped to a hip or manipulated by the body, they consider how the medium might be utilised to create sensorial and embodied knowledge, expanding on the ways that audiovisual technologies can sit in conversation with dance and performance research. 
Each video is three to four minutes long. They are there to not only to look at, but also to look with. We encourage you to rehearse the decentering of your eyes as the only site for receiving data and initiating the production of knowledge, and instead to transfer awareness to what happens on the skin and hair, the ears, the digestive tract, the gut, the bones, the muscles, the erogenous zones, the spine and the pelvis. We ask you not to consume these videos, but to stay with them to activate thought; to listen to your body while witnessing them and to enter in conversation with what is being asked/proposed to you. Understand them as halfway between a guided movement or dance practice and the witnessing of a performance.
Viewing suggestions: To improve the quality of viewing we suggest turning up the sound, using external speakers or headphones and double clicking on the image to make the video full screen. 
The footage that we have produced is captured through use of a body cam that recalls those used increasingly and ubiquitously by Police and security forces in recent years. As such, we take the body cam as an embodiment of the gaze as a perpetrator of state violence, and a gaze that disproportionately targets black and brown bodies. This sits in relation to the long legacy of the ethnographic gaze as a perpetrator of imperial violence and theft. Through these moments of encounter we hope to teach such a gaze tenderness, love, affection – transferring the wisdom of the body to the capacities of the lens. 
Reclaiming agency through processes of offering and denial, through display and obfuscation, visibility and interiority, the videos' poetic considerations and somatic tools propose embodied portraits of ourselves that also allow the viewer to reconsider their own positionalities in relation to the material. 
These videos do not serve the viewer an easily categorised image of ourselves for easy consumption. Instead they are a confrontation with our presence as multifaceted sensual beings who may or may not wish to play with, act within or undermine the stereotypes and the expectations put upon our bodies.
Perspectival movement exploration (above)
During the residency we considered back-to-front dancing, a distinguished choreographic format practiced in Dancehall and Reggaeton movement (also in Bounce and Twerking) known also as Sandungueo or Perreo. Presenting muddled dualities of vulnerability and power, submission and agency, the typically gendered roles of this couple dance format have themselves been queered through queer-feminist discourses of sex positivity as well as anti-hegemonic political actioning in Latin America. Conducting somatic spinal explorations with familiar forms of social dance, we considered the micro and macro political implications of offering cameras and surveillance apparatus our back - declaring presence whilst upholding relative anonymity, finding empowerment and self gratification through the act of serving the behind.
Combined movement and audio visual explorations (below)
(1) Using feathers to caress the body cam which is located on the chest.
(2) Experimentation with mobile phones located on the body (here, the hip). Inhibiting the capacity of the gaze to capturing and categorise, the body's image is only traced by its movement and shadow. 
Online Movement Workshop for the Queer Caribbean Diaspora. 
"This is an invitation for those who refuse to be alienated from their bodies by the historic project of white-supremacist, capitalist patriarchy, and the violence of a colonial project enacted across oceans. Together we will explore how the generative beats of Dancehall and Reggaeton harbour queerness in their syncopated accents, as a counterpoint to the heterosexualist and misogynistic lyrics that can accompany them. Unlocking the queer and feminist potential of these music genres, we will affirm our own desire for living a life of self-sustained joy without the need for external validation."
"Sabrosura" (tastiness) is a quality to aspire to in one's life, and is central to Caribbean culture. Delicious fruits and food are devices that exemplify on an everyday basis the necessity to be devoured and consumed in healing, relaxation, recuperation and replenishing processes on a personal and societal level. 
In the videos we have used a unique font inspired by the project, designed in collaboration with Mirko Joao-Pedro, from Basel-based graphic design collective No Harmony. Summoning ocean weavyness, voluptuous curviness and sharp but tender caressing strokes in an organic aqua-dynamic calligraphic trace, the font plays with its own legibility and slows the eye to find sensuality within the act of reading.
We have put together a playlist of the songs we use for the practice. They are from the Caribbean islands and coasts. The genres from which they stem are Afro-Centric in their cultural rhythmic origin and structure but with the influence of native cultures and in some cases, also of European dance cultures. They are mostly of the last 20 years, with some classics from the previous two decades. We included Dub Reggae, Raeggaeton, Dancehall and Dembow artists, with some Soca, Merengue, Merengue Hip-Hop, Reggae, Zouk and Punta examples too. We reference these Caribbean music and dance cultures ("somas") and some of the artists in order to reclaim and affirm the emancipatory capacities, the queer potential and the pleasure produced by their syncopated and sinuous rhythms. Within this framework we look for a queer feminist space that counters heterosexualist and misogynistic lyrics that can at time appear.
Joseph Funnell is an interdisciplinary artist, dancer and activist of Afro-Caribbean and British descent. Working with movement, text, images and film their research-based practice considers the emancipatory potential of performing agency within contexts of historic negation. They have presented solo performance work at: Steakhouse Live, Slow Sunday, 2020; Slap Festival 2020; The Albany, London, 2019; CLAY, Leeds, 2019; and Centrum Sztuki Współczesnej Zamek Ujazdowski, Warsaw, 2018. As a dancer, Joseph has also collaborated with and performed for artists, including Adham Faramawy (Tate Britain, Somerset house, London Science Museum), Alex Baczynski-Jenkins (Whitechapel Galley, London; Palais de Tokyo, Paris; Stedelijk Museum, Amsterdam), Pan Daijing (Tate Modern), and Ula Sickle (Center for Contemporary Art Ujazdowski Castle, Warsaw).
Carlos Maria Romero aka Atabey Mamasita (Barranquilla, 1979), is a Colombian Caribbean multidisciplinary artist whose practice concentrates on embodied, edifying, caring, pleasurable technologies and strategies of reclamation and resistance to hegemonic and historical violence and dereliction. They work with dance, performance, visual arts, pedagogy, activism, cultural engineering and occasionally music and curating. Maria Romero developed in 2016 Vogue-Chi, a movement practice for people aged 50+ that evolved into a multi-generational queer and allies safe space for self-expression; in 2018 A House of Ecstatic Virality, a dance and conversation practice, in collaboration with Latinx and Polish volunteers, creating a life affirming environment for people to explore HIV related issues; and in 2019 Like a Ghost Dance/The Heartbeat Spiral, a dance meditation to harness constructive aspects of the dying process. They are also a founding member of SPIT! - Sodomites, Perverts, Inverts Together!, who has taken on the legacy of queer manifestos to respond to contemporary pressing issues of sexual and gender oppression; and Vividero Colectivo, whose projects seek to reclaim marginalised social practices and architectural sites as cultural heritage. 
Developed by Carlos Maria Romero & Joseph Funnell during the months of August and October, 2020. Commissioned and produced by Cell Project Space as part of Cellular, made possible with the generous support of an Emergency Grant by Arts Council England. With thanks to Metro Charity for funding the initial research and development; Adelaide Bannerman and Phytology, Bethnal Green Nature Reserve; Sam Causer; Dan Ward, Tommie Introna and Blackshuck for the video and audio editing work; and Mirko Joao-Pedro, No Harmony, for the design work.

Launched in June 2020, Cellular is a new experimental Live Art and Media-based programme comprising a multi-purpose ground floor event space at Cell Project Space and an online platform on Cell's website. Originally conceived to run alongside the exhibitions programme at the gallery, Cellular launches six pilot commissions of on-site and digital works to be delivered with and without physical audiences between June - December 2020. To find out more, please 
click here
.

To find out more about Funnell and Maria Romero's Cellular commission, please click here.