Cajón Remix | Latin American Youth Forum
Ópera De Balcón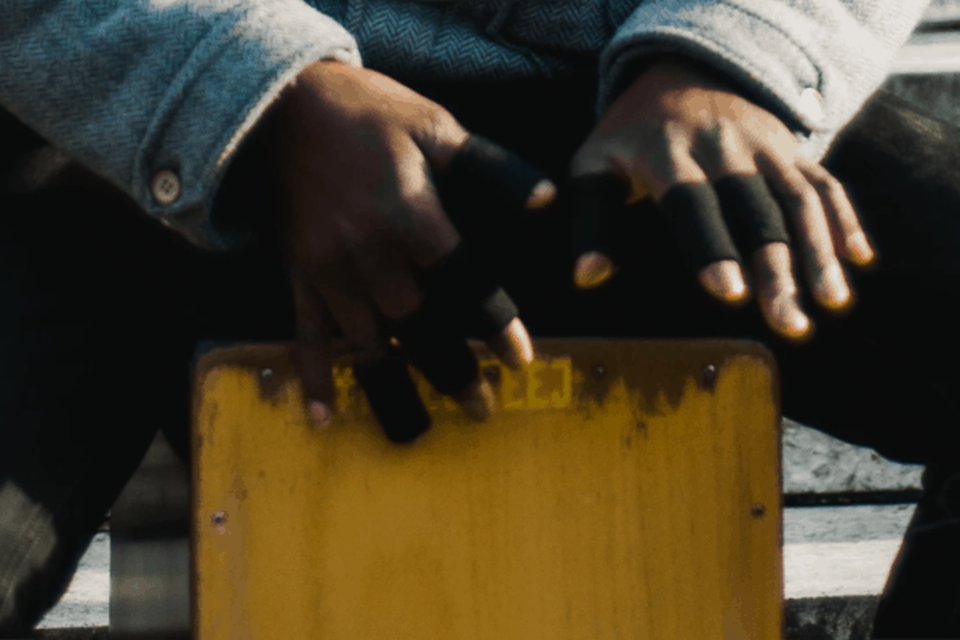 London based, Afro-Peruvian artist Bryan Giuseppi Rodriguez Cambana leads a vocal and instrumental workshop for young musicians and members of the Latin American Youth Forum as part of an ongoing conversation around his solo exhibition, Ópera De Balcón. Using the exhibition as a point of departure the workshops will learn about morse code and its potential relationship to a musical score, and explore the agency of art and percussive sound, and it's ability to express experiences of joy, sadness and loss in the experience of migration.
During this event Rodriguez Cambana will invite participants to decode his work in his exhibition; 'Love Songs' 2022 written in morse code and to translate it's series of dots and dashes into percussive melody. Using Cajóns (handheld traditional Afro-Peruvian drums) members of the Latin American Youth Forum will interpret and improvise drum beats inspired by the morse code message. In alliance with the young musicians the final renditions will be recorded as a collaborative remix of Rodriguez-Cambana's  Track 2022  along with lyrics and a cajón beat.
Cajón Ópera Remix is not open to the public. To find out more information about the project and our public programmes and how to be involved please contact Gallery Manager, Jessie Krish: jessie[at]cellprojects.org
The Latin American Youth Forum is a youth-led group based at the Indoamerican Refugee Migrant Organisation (IRMO). 13-19 year olds learn English, are encouraged to be creative and make friends in a trilingual space (Spanish, Portuguese and English) to find a safe and supportive environment whilst they settle in the UK.
Bryan Giuseppi Rodriguez Cambana has exhibited in galleries, museums and festivals internationally, including the 'Festival of The New Latin American Cinema Havana', Cuba (2013); 'Performeando 2015' at Queens Museum, NYC; 'Encuentro XI', Hemispheric Institute at NYU, D.F, Mexico (2018), and '37th Kassel Documentary Film and Video Festival', Kassel, Germany. In 2018 Cambana was a recipient of the 'Engaging Artists Fellowship' at More Art, NY, New York and presented 'Waiting for the Session to Begin', a Public Artwork, Coney Island, Brooklyn. He is currently the recipient of 'Goldsmiths ACME Studio Award'. Cambana was selected for 'Bloomberg's New Contemporaries 2021' exhibiting at First Site, Colchester and South London Gallery (2021).
Generously supported by Arts Council England