Daring Dreams / Ateitys ateis 24 Hour Screening
Agnė Jokšė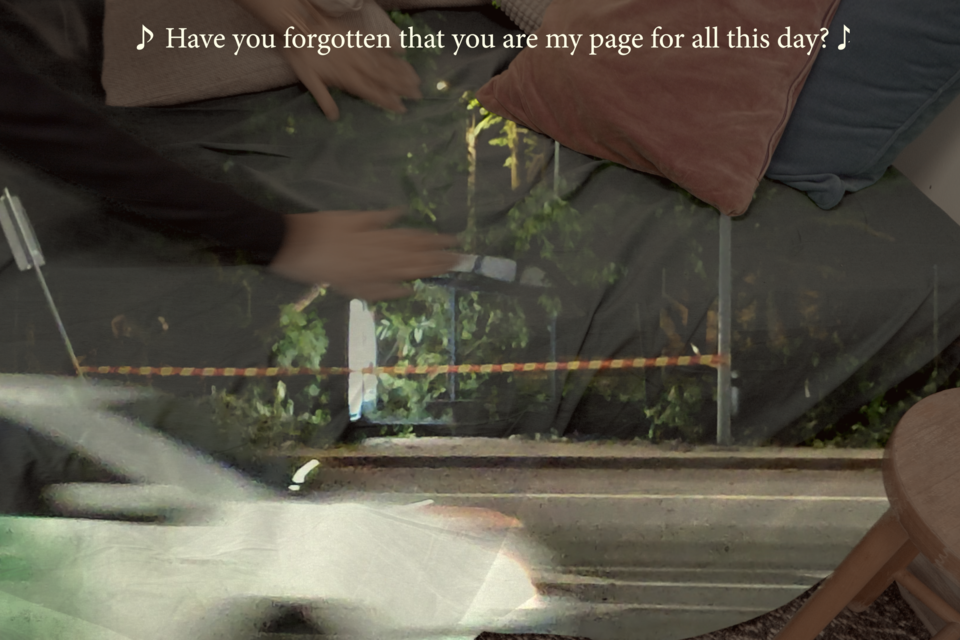 Sunday, 26 February noon – Monday, 27 February 2023 midnight (GMT) 
A 24 hour screening of
Daring Dreams / Ateitys ateis (2022)
by artist, writer and filmmaker Agnė Jokšė  goes live on our
homepage
from noon, Sunday, 26th February to midnight, Monday, 27th February and will mark the last day of the exhibition
Dance As You Wrestle
, the first major presentation of works by Agnė Jokšė and Anastasia Sosunova in the United Kingdom.
In Daring Dreams / Ateitys ateis, the young protagonists, a group of friends, or perhaps lovers, find themselves in time out-of-joint, enclosed by the partially translucent outlines of a nondescript city-apartment. Dreams and daydreams project themselves on bedsheets and mirrors as an unstable yet impersonal past. Archival imagery of helicopters, abstract movement at speed, and national banners momentarily puncture the confines of frozen time.
In the short film – shot on the eve of Russia's invasion – the past and future appear to be undecided, inert. As if chasing the swaying, unrelenting flows of Onutė Narbutaitė's opera The Cornet, the cast chooses to spend their unticking time learning anew to move, touch, tell stories, talk to each other, and look.
'There is nothing that could be against them: no yesterday, no tomorrow; for time has fallen away. And they are blossoming out of its ruins', writes Rainer Maria Rilke in The Lay of the Love and Death of Cornet Christopher Rilke. Loosely based on this wistful early poem by young Rilke, the opera's libretto rings out as it rises and falls again into the backdrop, telling a story of lovers experiencing their last night before the break of the Austro-Turkish war.


'When it was time to decide, we didn't want to live in a museum', recalls one character, speaking in a non-binary form of the Lithuanian language (developed and proposed for general use by Agnė Jokšė), a vocabulary the group of companions fluently share. The palpably claustrophobic enclosure, the film's uneasy space-time suggests, is as much material as it owes to an overseeing institutional, archiving eye.


Wandering, Daring Dreams / Ateitys ateis wonders about the limits of socio-political imagination: what if human relations were established queerly? What if language was queer, if time was queer? A tomorrow might not yet exist precisely because it yearns to be called by a new, unuttered, name.
Agnė Jokšė (b. 1993, Vilnius, LT) lives and works between Vilnius and Copenhagen, where she recently concluded her MA degree at the Royal Danish Academy of Visual Arts. She has shown work at Editorial, Vilnius (2022); the Artists' Film International, Whitechapel Gallery, London (2021); Swallow, Vilnius (2021); Baltic Triennial 14 (2021); Mimosa House, London (2020); Publics, Helsinki (2020); NAC, Nida (2020), and Contemporary Art Centre, Vilnius (2020). Jokšė's work 'Dear Friend,' was awarded the JCDecaux Emerging Artist Award in 2019.