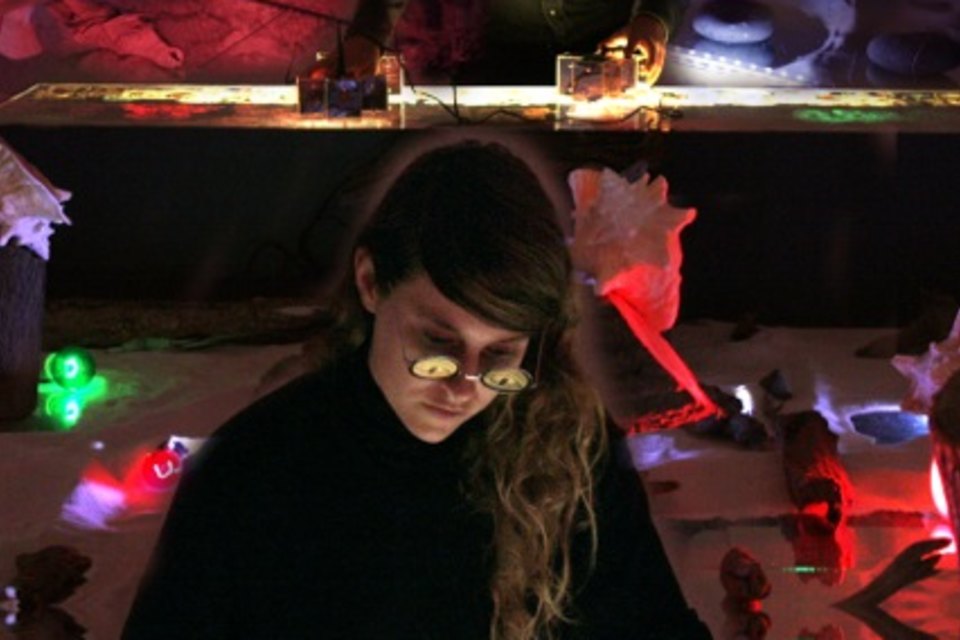 Thursday 27th February, 7–9pm
Interactive installation ongoing
Performance starts 7.30pm
With electronic sound, organic material, light, and reflective surface, MSHR merge technology with the more primal and intuitive aesthetics of folk art and spiritualism. Engaging in improvised action within constructed landscapes of organic and technological debris they have developed methods of manipulating physical material to conjure transformative psychedelic experiences. Their performances immerse the audience with sound from hand-built electronic instruments and visually bombard with an incessant repetition and gridding of manipulated digital image.
Brenna Murphy and Birch Cooper are visual artists and musicians working in digital media, sculptural installation, electronic instrument design, sonic recording and performance. The duo has worked collaboratively under the name MSHR since 2011 and previously in the art collective Oregon Painting Society. The artists live and work in Portland, Oregon, USA.
Recent collaborative exhibitions include "Liquid Hand" at Upfor, Portland OR; "Liquid Vehicle Transmitter" at Yerba Buena Center for the Arts, San Francisco CA; "Binary Lore" at ThreeWalls, Chicago; "Ceremonial Chamber" at Kunstverein Dusseldorf; "Solar Helix~ Terrestrial Sensor" at Pacific Northwest College of Art, Portland OR; "Earthly Door" at Appendix Project Space, Portland OR; "MSHR" at Le Dictateur, Milan; Oregon Painting Society in "No Soul For Sale" at Tate Modern, London.