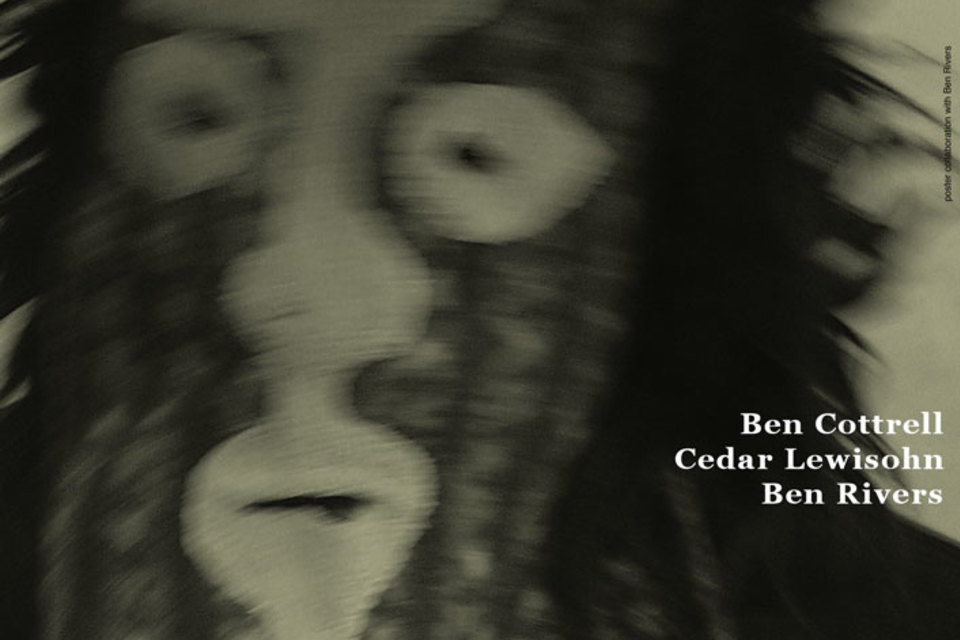 For the artists in this exhibition the yearning for a raw depiction of the world has taken president. Working under the constraints of traditional techniques they have a preoccupation with craftsmanship, although the rules are broken as the title suggests. Exploring the  complicated relationship between humankind and nature, its  disorder and abandonment is an aspect that these artists enjoy. The interplay of the human and 'the wild' is the thread that ties these artist together.
Cedar Lewisohn's practice utilises the physically laborious techniques of wood block printing, both for the performative qualities of its intensive process and its poetic and timeless aesthetic. He allows the natural grain and rustic nature of the material to dictate his primal neo-expressionist gestures. Often inking up and overlaying onto 'hacked' rather than carved panels Lewisohn creates unique artists editions with misappropriated narratives, leaving the activity of his process apparent and raw. Mainly depicting figures in classical poses Lewisohn mischievously infuses his subject matter with more deviant traces of sexuality and debauchery offering a glimpse into a nocturnal world of drunken hobos, swarthy celebrities, and alluring degenerates. Subverting and abusing the rules of craftsmanship Lewisohn works directly onto large wooden panels, embossing his images by hand rather than using a print bed. The ink leaves its grubby traces and his figures defy their author, taking on a life of their own.

Cedar Lewisohn is an artist, curator and writer based in London. He was included in 'Songs of Hate & Love' at Ancient & Modern and recent solo exhibitions have been held at Five Years, London 2007 and Institute Andrew Gilbert, Berlin 2008. Lewisohn is currently a curator for Tate Media  and recently curated  'Street Art  at Tate Modern in conjunction with his recent publication of of the same title. He was curator of The 'Busan Biennale Sculpture Project' 2008 and contributes a regular diary blog for the Saatchi Gallery's web magazine.
Ben Rivers shoots on 16mm film, often black and white, and processed in the kitchen sink, giving the appearance of ageing, archival footage. The artist shoots on an old Bolex wind-up camera, which can only offer a continuous shot of 30 seconds. This arduous process has limitations turned to the artist's advantage to accumulate fragments of situations. For 'Wild Shapes' Ben Rivers will present his new film 'Ah Liberty!' 'depicting an extraordinary family who inhabit a rural and sublime landscape'. Rivers builds a strong bond and friendship, following the family's three boys who live in this isolated territory. Free from the constraints of modern life and its influences the boys are able to create their own fictional world, using imagination and role-play to perform their impish and mischievous rituals. Rivers charges this menace, further, by inter-dispersing sound bites from thriller, b-movies and horror to great effect. During the process the artist collaborates with subjects by offering them props, thus breaking down the conventional rules of documentary film making to capture a more sensory and emotional depiction reminiscent of Scottish filmmaker and poet Margaret Tait and American photographer Ralph Eugene Meatyard. Rivers' films are not primarily documentary or ethnographic in style, despite referring to these genres. Rather, his work is personal and fragmented.

Ben Rivers born in Somerset lives and works in London. He has screened his films in International Film Festivals and Art Spaces worldwide and received commissioning awards from The Arts Council of England, London Artists Film and Video Awards and The Netherlands Film Fund. His two recent works 'This is My Land' and 'The Coming Race' were included in 'if' at Bloomberg Space in March this year. Rivers' on going project 'The Brighton Cinematheque', which he co-founded in 1996, is a regular screening programme of recent and historical works, which highlight his interests in dealing with the complex strategies to convey cinematic histories within film making. Included in the ICA's Nought to Sixty programme Rivers held a unique screening drawing from his own ideas and fellow artist film-maker friends.
Ben Cottrell's work ranges from collage, painting to sculpture. His process of making demonstrates his interest in polarities. It is both conscious and unconscious, improvised and decided; constructing layered fictions or mythologies which are both physical and psychological. Cottrell uses 'the cut' to produce shards of dramatic tension within his work, both physically and metaphorically. He cuts into paper, wood, surface and image to reveal and evoke a more ambivalent force such as a spirit or myth. Elements, which are derived from horror and fantasy are projected onto ideas of nature to create visible fictions that retain an element of belief. He sources from fantasy and images of nature, often describing landscapes or epic hyper-real spaces making reference to a more overdriven heightened colour in contrast to nature´s heavy earthiness. As a result expressionism and other existing cultural contexts such as horror and fantasy are simultaneously explored and undermined.

Ben Cottrell was born in Cornwall and lives and works in Berlin.  He has exhibited extensively in Europe, taking part in 'Right On, Write Off' at Chapman Fine Arts, London and 'La Boum II' Sies + Höke Galerie, Düsseldorf in 2006. In 2007 he had a solo exhibition at 'Galerie Ben Kaufmann', Berlin and he was included in 'Kommando Giotto di Bondone', 'Gió Marconi', Milan in spring this year. For the past six years Cottrell has been co-running 'Forever and a Day Büro' an artist run space based in Berlin with artist, Mariola Groener.
Related press