Wassail
Jimmy Conway-Dyer | Oliver Robb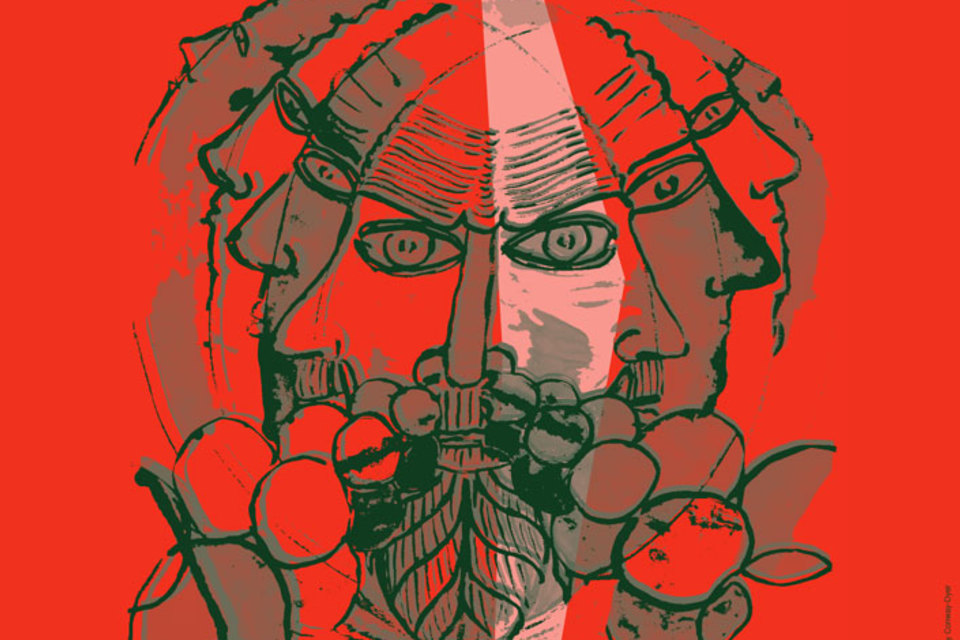 The title 'Wassail' is an Anglo-Saxon toast and is associated with wishing somebody 'good health'. How far the tradition dates back is unknown but it has undeniable connections with Heathen ritual. The artists in this exhibition all share remnants of the past that prompt much darker digressions. Some use folk tradition as a starting point others explore more evolved aspects of history.
Ryan Mosley's paintings have been described as 'at once innocent and disturbing, seductive and repulsive'. Clumsy gentrified buffoons play within his narratives and are often caught in traditional Morris dance-like formations. Despite the happy tone of the paintings the faces are grotesque, gorilla-like and ugly, appearing to be gently mocked by the artist. Mosley's influences are from the subject matter of early Flemish painters such as Bruegel & Boshe to the gestural mark making of Luc Tuymans and his transformation of form. Mosley's soft and transparent gesso hues give an apparent aging of the canvases surface mimicking the remnants of historic works found in early century church murals.
Ryan Mosley graduated from the Royal College of Art earlier this year. Since then he has been selected for the Celeste Art Prize Exhibition 2007 and took part in 'Summer School' at Ibid Projects. In 2008 he will be included in 'A Host to Strangers' at Bolte & Lang, Zurich and 'Unreal Altered Perspectives in Painting' at the new Saatchi Gallery, London.
Darkly humorous Jonathan Baldock utilises traditional home-craft to produce his work. By employing techniques from knitting, weaving, and home economics he antagonises the perceptual reading of the work as his assemblage of objects and image are often drawn from high art or classical antiquity. Strange arcane correlations are made by dematerialising the work into socially scathing comments or ironic tensions between the choice of material and subject matter.
Jonathan Baldock graduated from the painting school at the RCA in 2005. In his graduation year he was selected for SVO5 at Studio Voltaire and appeared in 'The Invasions of Piquancy' at Kenny Schacter, ROVE. Since then he has made appearances at I-cabin & Transition Gallery, London and Colony Gallery, Birmingham. He has been selected to for the 'The Shape Of Things to Come: New Sculpture' at the Saatchi Gallery, London later in 2008/9.
Previously Jimmy Conway-Dyer built his sculptural works using panels of freestanding fabric & ribbon by utilizing elaborately constructed frameworks. Construction was at the heart of this work with a celebratory enjoyment of form, without weight or solidity. For his new body of work, Conway-Dyer's use of fabric continues, although narrative has now seeped into the choice of material and its construction. Heavily influenced by the make-do culture of the village vernacular, and appropriating the fabric of the domestic and the every-day his sculptures suggest a more ritualistic function representing the traditional and ironic mixture of festivity and folklore. These awkward assemblages present new territory for Conway-Dyer and a new confrontation with the viewer.
Jimmy Conway-Dyer has been living and working in London since 1992. Conway-Dyer has regularly exhibited in London and Krakow, Poland. More recently his success has been in the USA. In 2006 he took part in 'Ebb & Flow' with artists Mike Stubbs and Phyllida Barlow at 'Raid Projects, and in the exhibition 'but not as we know it' at Kontainer Gallery, Los Angeles in 2004.

Oliver Robb celebrates material and traditional techniques extracted from the artisan. Although much of Robb's works look elaborately hand -crafted he combines metaphorical objects with a combination of semi-abstract forms, which frequently are derived from found objects. For 'Wassail' he has produced a three and half metre glass screen, which will be hung centre stage diagonally, slicing the gallery in half, but creating a stage and backdrop for the works and the people in it. The screen will occupy real space but will always remain as image; an elaborate frieze in fact, depicting an illustrated triptych of borrowed and found imagery suspended in space.
Oliver Robb originally from Tampa, USA studied at Grays School Of Art, Scotland and graduated in 2001. Since then he has been living and working in London.