Straylight Cavern
Jonathan Baldock | Michael Bell-Smith | Rick Buckley | Aisling Hedgecock |Ian Monroe |Takeshi Murata | Milika Muritu | Angelo Plessas | Richard Priestley | Rafaël Rozendaal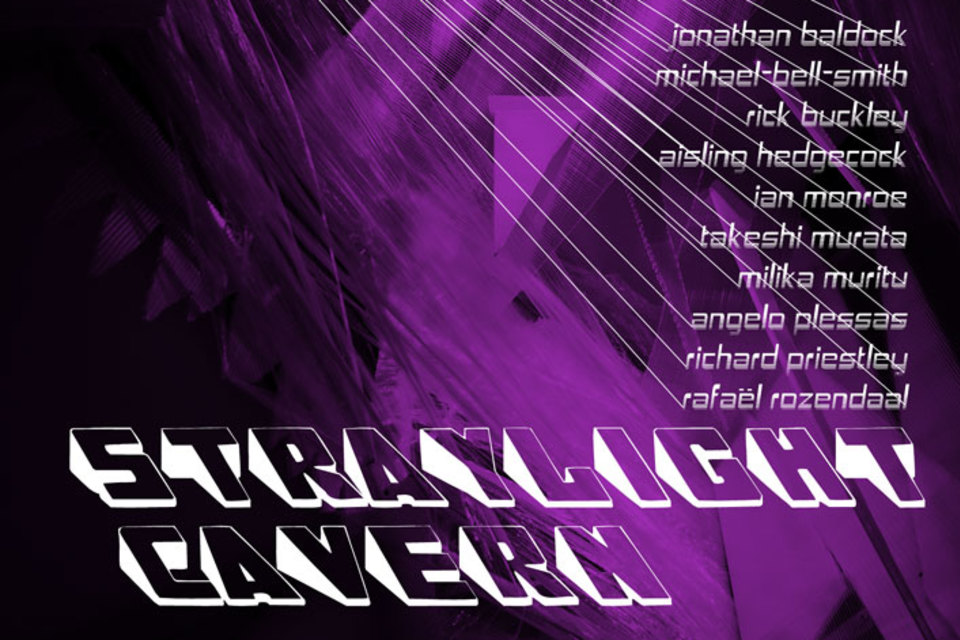 An initial collaboration with The Cooper Gallery, Exhibitions Dept. Duncan of Jordanstone College of Art and Design, Dundee 
The title of the exhibition 'Straylight Cavern' is derived from cyberpunk author and sci-fi visionary William Gibson's Villa Straylight in his novel 'Neuromancer'. The Villa Straylight is a cyber-chateau of sorts, inhabited by cyber-diegheties where anything and everything is possible. Straylight Cavern offers the viewer a realm of possible other worlds and dimensions, inspired by memories of Villa Straylight and it's inhabitants, but goes on to refer to other science fictional situations where mankind has colonised natural rock or ice formations in order to survive, such as the rebel bunker, 'Echo Base', on the ice planet, 'Hoth', in Steven Spielberg's 'The Empire Strikes Back', or the androids cave in Michael Anderson's film 'Logan's Run'. From the exterior, only a streamline, almost computer generated graphic interpretation of glacial or rock formation is visible. The interior of the cavern encounters the amalgamation and communion of various artists works and interventions.
The genre and subject matter have been selected due to their potential as a vehicle for this collaborative work. A selection of artists invited to participate practice within the field of video animation and online platforms, which, in the context of the installation, offer portals into other worlds.
The cavern will exhibit a selection of artists, Murata, Bell-Smith, Plessas and Rozendaal who are part of a new generation of artists who use the techniques, skills and aesthetics of the internet and its digital transformation.
Takeshi Murata's landscapes float and metamorphosise slipping in and out of perception. His colour saturated animations alternate and cascade into melting and condensing pixels. The screen constantly shifts from fixed form to fluid movement, in hallucinatory manipulations that are digitally organic drawing the viewer in and out of Murata's psychedelic distortion.
Takeshi Murata born in Japan lives and works in New York. Solo exhibitions include The Reliance Gallery, London 2007, Gallery.Sora, Tokyo, Japan 2007 Hirschhorn Museum and Sculpture Garden,Washington DC 2007. Group Exhibitions and Screenings include 'Solar Set', Foxy Productions 2007, 'Take It to the Net', Vilma Gold, London (2006); 'Cosmic Wonder', Yerba Buena Center for the Arts, San Francisco, CA 2006; 'Deconstruction', Gladstone Gallery, New York, NYC 2006
Michael Bell-Smith operates in the gaps between animation and painting, utilizing short digital loops to interrogate art-historical, cultural and technological forms. For the work in Straylight Cavern, Bell-Smith portrays the familiar landscapes of the city, figures reflecting an oblique social commentary, however, Bell-Smith's main concerns are with the language of representation amplified by digital technology and restrained animation. His work lightly depicts a journey on the edge of abstraction and figuration, creating an impression of inter-galactic travel, skimming over the surface of the earth or soaring over electrified city-scapes
Michael Bell Smith lives and works in New York City. Selected exhibitions in 2008 include Liverpool Biennial, The 5th Seoul International Media Biennale and The New Museum, New York, Musee d'Art Moderne de la Ville de Paris and MoMA, New York.and a solo at Foxy Productions NYC.
Angelo Plessas and Rafaël Rozendaal both work within the realms of interactive media. Their work exists live on the internet, but also has infinite applications to be displayed on screens and projected into the real world.
Angelo Plessas creates simple interactive animated drawings that exist on the internet in their own right. His practice negates the pumped up hyperactivity of today's computer animated games technology to offer a more fragmented abstract experience. Utilizing simple shape and subtle electronic sound to represent landscape and characters offers a more contemplative play. Inspired by Steven Lisberger's sci-fi movie 'Tron' Plessas exhibits an animated version of his interactive work, which also exists in cyber-space.
Plessas lives and works in Athens. He has had solo exhibitions at 'Sketch' 2005 ,Yama project, Istanbul, Turkey 2007 and has been included in Valencia Biennial 3, 2005 and 'In Present Tense: Young Greek Artists', National Museum of Contemporary Art, Athens. Earlier this year he was awarded a 'Rhizome commission' for 'New Museum', NYC.
Rafaël Rozendaal refers to the computer as a space, a world, a landscape. He describes the virtual window of a browser being richer than a window in the real world. Working with transient and disposable media reminiscent of Warhol's consumable art practice Rozendaal seeks inspiration from art movements of the past such as Surrealism and Pop deriving images and flat colour from retro comic books from the 60s and 70s.
Rozendaal lives and works between Amsterdam, Berlin and Tokyo. He has had solo exhibitions at Sketch, London 2005 and Stedelijk Museum in Amsterdam in 2006. Group shows include, The Whitney Biennial 2002, NYC, Neen Demo, Benaki Museum, Athens 2006, and Existential Computing, 2007 at The Hayward Gallery, London. Last year he was awarded a 'Rhizome commission' for 'New Museum', NYC.
Ian Monroe's cavernous cyberspace is created by his rigorous compliance with the physical laws of linear perspective and logical dimension. Monroe presents architectonic space devoid of people depicting post-human wastelands and futuristic utopias, both inviting and disorienting. Using his distinctive crisp vinyl laminate for Straylight Cavern Monroe will intervene with the interior space, working directly onto the cavern walls manipulating the interface to produce a built virtual environment.
Ian Monroe born in Cooperstown USA lives and works in London. He has had solo exhibitions at Haunch of Venison in 2007 and 2005 in Zurich and London. Selected group shows include 'Teaching An Old Dog New Tricks' Den frie udstilling, Copenhagen 2008, 'Existencias' Musac Museo de Arte Contemporáneo de Castilla y León, Spain 2007 and 'Slider', Cell Project Space, London 2006. Monroe's work is held in countless international collections including Saatchi Gallery and Frank Cohen.
Jonathan Baldock makes theatrical and darkly humorous sculptural busts, which are often influenced by traditions of folklore and ritual. At times sinister and unattractive, and often socially scathing, Baldock's heads look at the nature of beauty and celebrity memorialising his fictional deities with elaborate hair styles and costumes. Choosing sour dough for his modeling material he mocks the more established classical ideals of portraiture and takes on neglected notions associated with fantasy and myth.
Jonathan Baldock graduated from the RCA in 2005. In his graduation year he was selected for SVO5 at Studio Voltaire. Since then he has exhibited at Cell Project Space in 'Wassail'2007 and 'The Brotherhood of Subterranean' selected by Ben Judd for 'Kunstbunker',Nuremberg. Baldock has been selected for 'Newspeak British Art Now' at the Saatchi Gallery, London to be scheduled for 2009. Baldock lives and works in London.
Rick Buckley's smokey distopic works in black & white digital film explores the vanishing line between reality and fiction. He refers to an incidental virtual-ness where the construct of an environment occurs through his manipulation of a given view point. Buckley transforms everyday objects into towering monoliths or disaster landscapes panning his camera closely across gem-stones and navigating through labyrinths of carefully constructed material. It's fragility emphasised by its transformation from micro to monumental.
Rick Buckley born in UK lives and works in Berlin. He has had exhibitions at Alan Cristea and Union Gallery, London. Major presentations include 'Drawn by Reality-Encapsulated in Life' Wood Street Gallery, Pittsburgh, USA in 2004 and 'Zeichnungen 15 Künstler', Galerie Martin Kudlek, Cologne in 2000.
Aisling Hedgecock's sculpture is produced by simulating the building techniques of bacterial growth or accelerated clustering. Using micro poly balls as her material these forms take on the appearance of crystalline coral formations. However due to the nature of the material the effect is synthetic and toxic in its nature utilising the day glow colour of early science-fiction B movies or fantasy planet landscapes. As particles are the chosen material Hedgecock pushes the boundaries of the object in space. Her interest lies in edges not being defined but only hovering within infinity.
Graduating from the RCA Sculpture School in 2006 Hedgecock has just completed a two year Sainsbury Scholarship at The British School In Rome. Hedgecock is currently living and working in Dorset.
Generously supported by The Cooper Gallery Exhibitions Dept. Duncan of Jordanstone College of Art and Design, Dundee