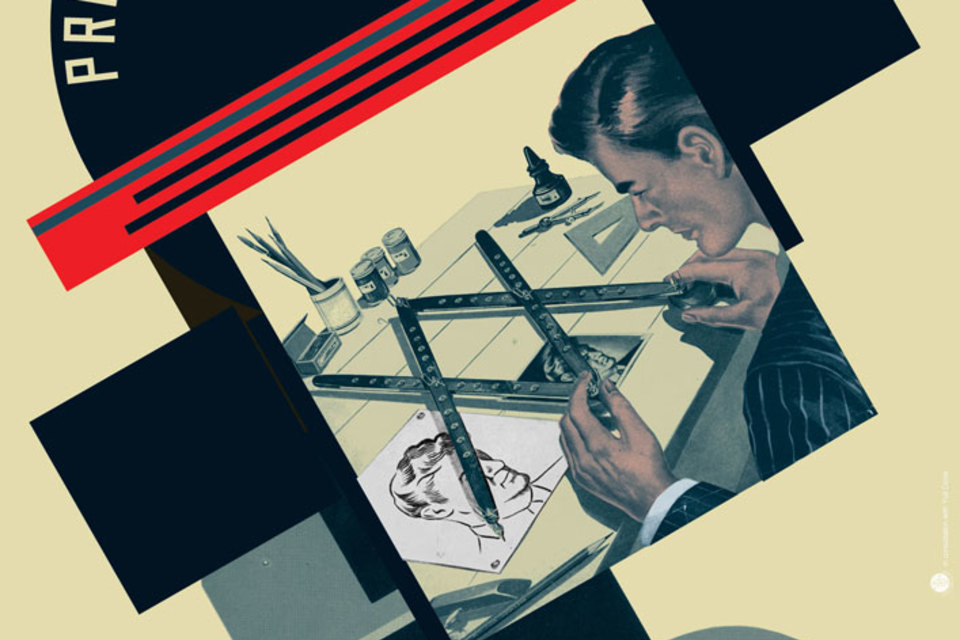 For Ben Cove's first solo show at Cell Project Space, he presents the work 'Decoy'. Neatly wrapped skulls with rainbow striped woolen twine. The work can be read as a starting point for the exhibition as Cove's choice of handmade material and intervention becomes a political gesture against the forces of ideological progress.
Cove's newly commissioned work will involve hand crafting an oversized pantograph. The pantograph is a drawing instrument that has existed for centuries for the purpose of reproducing images. Though it exists in many states, the basic tool of four hinged arms can be used to copy 1:1, enlarge or reduce an original. Ben Cove's interest in this tool stems from its function as an imprecise method of reproduction in that by tracing an image with a scriber the second image produced is a record of the users movements and consequently their errors. The copy that is produced is always an approximation or poor reproduction of the original.
Prosperous and self-satisfied after a decade of post-war reconstruction, architecture became part of the European tradition of a well-mannered practice that had absorbed the label Modernism. Cove has taken this starting point to challenge the power of 'the manifesto', particularly in its drawn form, questioning its desire to promote concepts and advance others' thinking. His pantographic reproductions of idealised, municipal buildings and plans add to the absurdity of a somewhat defunct attempt to radicalise people's lives. Within Coves choice of context he focuses on the self-assured and 'the universal style' of illustrated 20th century design and architecture. Squares, rectangles and primary shape all carefully orchestrated with familiar linear perfection. With this monstrous tool Cove manages to create work that is as carefully structured as it is colossal in its mistake.
Alongside this work Cove will present video. He has filmed a record player from an aerial view and then digitally rotated the film at exactly the same speed as the record plays, which produces footage of an apparently stationary record with the turn-table and its surroundings rotating at 33.1/3 rpm. In effect the needle circumnavigates the record allowing the centre of the record to be read. The LP's title is 'Conversations Regarding the Future of Architecture' interviews with leading American architects from 1956 (includes Mies Van Der Rohe, Walter Gropius, Philip Johnson etc). The relationship between an outdated audio analogue technology and a modern digital visual one is important. This LP has been selected in part because the foretelling of the future from a 50 year old perspective highlights the optimism that existed before Modernist ideals were fully re-evaluated. This manipulation attempts to emphasise the time gap and consequently the shift in thinking in the last half-century. In effect the message is clear and consistent but the context and the medium changes.
Cove's interest in exploring social expectation through architecture is central to his work. Earlier works have focused on fantastical schemes and proposals, influenced by Archigram, the Italian group Superstudio and the architect Lebbeus Woods going far beyond everyday perceptions of environment and social order. Within this newly commissioned body of work Cove follows two conflicting urges: the one to create a consistently seductive representation of utopia and the other is to indulge in the rebellion and rejection of it. Humanised individuality struggling against the smooth imposition of too much order. Other works will be displayed around the framework of the rooms within the gallery, all referencing Cove's contemplative relationship with the plastic environment.
Ben Cove was born in 1974 and currently lives and works in London. He studied Architecture at the University of Nottingham (1993-1996) and Fine Art at Sheffield Hallam University (1998-2001). Since his graduation he has taken part in numerous exhibitions around the UK. In 2004 he had a solo exhibition 'New Plastic Universal' presented at Castlefield Gallery, Manchester and more recently he was selected as a finalist for 2006 Celeste Art Prize earlier this year. Cove is presently taking part in ACME Studio's Fire Station residency programme; a research and development placement for 2.5 years.
Funded by Arts Council England as part of "Adjustments" a series of exhibitions and critical debates to creatively address transitional thinking on disability equality and inclusion