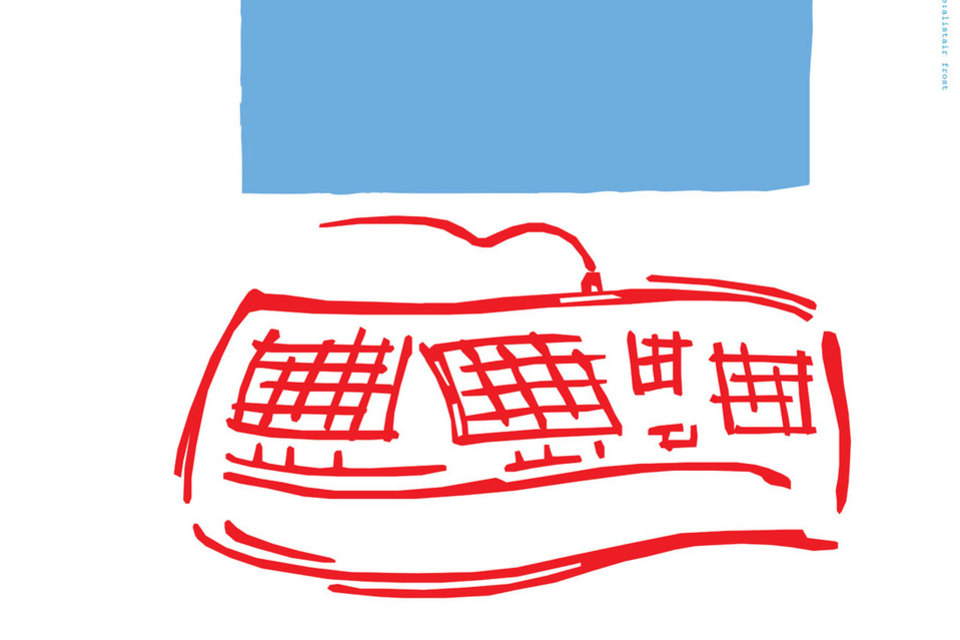 Taking its cue from the world of the corporate workspace, the title loosely defines decision-making and strategy in order to communicate more effectively.  The exhibition pitches the logic and efficiency methods of post -industrial communication against artists' intentions for image and object making. With office management in mind 'Managing Bounces' refers to the artists' aspirations; 'to successfully get a message across relies on cleaning up the delivery'. 
(GHL) George Henry Longly's initials become the insignia cut through marble slab held by a support structure where his signature motif and date (2013) is incorporated into the design, branding the artwork a sense of authorship and a moment in time.  His interest in fashions coming and going, of past relevancies coming in and out of focus are explored in this work.  He presents an alternative to the bespoke gesture of an artisanal piece or an artist's signature the manufactured mark making offers an infinite potential to mass-produce rather than to reach a final artifact. By adopting the materials and industrial processes of product design Longly considers familiar modules of display from our built environment. He often presents materials commonly used to delineate space, structure and use but strips them of their utilitarian programme.  The high gloss and polish of marble, steel and chrome have the scale of department store displays which hold a palette associated to the realms of décor. This anchors the artist's interest in sullying modernist purity with charged references to now-passé aesthetics of postmodern design and domestic interiors.
Marianne Spurr's fluid practice explores materiality and the relationship between process, familiarity and place. Recently she has been developing a new series of works entitled 'workstations', which are loose edited assemblages or layouts of made objects and found materials arranged on protective plastic sheeting, lino and vinyl matting. The surfaces of the individual objects and the spaces between create the whole – everything becomes the 'material'.  Flatness becomes a form of compression, a means of concentrating potential into a single surface. Specific materials motifs and exclamations reoccur in these works; grids, holes, gauzes, transparent plastics – all reinforcing varying degrees of flatness. The porous quality of material is revealed as the 'see through' and the 'translucent' are layered, pasted and overlapped to produce ordered and precisely calculated design. 'Workstations' take the form of a desktop, or a carefully ordered circuit board as the artist adds subtracts and regenerates the material she sources. Spurr's language is one of cut, copy, and paste, where all components are part of the artist's ongoing exercise in collapse and renewal.
Alistair Frost's purposefully flat and anonymous works are in line with the title's reference to automated online function. Using imagery derived from making generic searches for 'ClipArt,' Frost's work presents pictures of pictures. Choosing subjects that relate to leisure, particular styles, lifestyles and emotions, which often are associated with aspirations in the corporate work place; i.e. emblems of a contemporary bourgeoisie. Frost takes source material that is used essentially as a symbol, a stand-in for something else or 'the real thing'.  For this exhibition the artist heightens the corporate energy in his methods by presenting a Gatorade cocktail in water-coolers, set against text works, office message boards and paintings; some on canvas the rest directly onto the walls. Signage or frieze the definition is blurred as Frost presents a type of branding and codification, which locates the work within the historical genre of art. Allied with an apparent speed of making we see the artist pitching contemporary methods of image making alongside a historically layered medium. 
Alistair Frost lives and works in London and will have his first solo exhibition at Bolte Lang, Zurich in March –May 2013. Solo Exhibitions in 2012 include 'Out of Office Auto Reply', Christian Andersen, Copenhagen and 'Image coming soon', Mary Mary, Glasgow with selected solo exhibitions including 'Schhh. Hieroglyphics', HOTEL, London, 2011 and 'Airplane Mode', Zach Feuer Gallery, New York, 2011.  Selected group exhibitions include 'DOVBLE TROVBLE', Center for Contemporary Art, Glasgow, 2012, '2-3D Abstract', Bodson-Emelinckx Gallery, Brussels, 2011, 'Studio Voltaire presents, BolteLang', Zurich, Studio Voltaire 2011, 'Feint Art', Kunstverein Freiburg, Marienbad, Freiburg, 2010, 'Europaisch-Amerikanische Freundschaft: Ida Ekblad', Gavin Brown's Enterprise, New York, 2009, and 'London, Signs and Messages from Modern Life', Kate MacGarry, London, 2007.
George Henry Longly is based in Margate and London. Solo exhibitions include 'Pushy Kisser', Luettgenmeijer, Berlin, 2012 'Decades', Galerie Vidal Cuglietta, Brussels, 2011, 'CHIP FOAM' at Valentin, Paris, 2009 ' It must be a garbled version of another explanation'  Dicksmith Gallery, 2008 and London and the UK touring exhibition and publication 'Mass Damper' commissioned by S1 Artspace , 2007.  He has been included in the following selected group exhibitions; 'Vanille', George Henry Longly and Nicolas Deshayes, Valentin, Paris, 2012  'Rick Owens: New Work & George Henry Longly: Mirrors', Brooks Mews, London, 'AKTIV AUS', 2011. 'The days are long. The years are short' Schloß Balmoral, Bad Ems, Germany, 2011 'Outrageous Fortune' - A Hayward Touring/Focal Point, Gallery exhibition, 2011 'Minimalism and Applied II', Daimler Contemporary, Berlin, 2011 'Boom', Hotel, London and 'Games and Theory', The South London Gallery, 2010 
Marianne Spurr lives and works in London and graduated from the Royal College Of Art last year. In 2012 she exhibited with Samara Scott at Seventeen Gallery, London and alongside Oscar Murillio in 'Boomerang' at Hilary Crisp Gallery, London in 2011. Recent group exhibitions include 'Seb Koberstädt, Marianne Spurr, Bryan Dooley' at fiebach-minninger, Cologne, 'Plenitude', curated by Stephan Tanbin Sastrawidjaja at Carl Freedman Gallery, London, 'LOT' at Cul de sac gallery, London and 'Performing surfaces', CASS gallery, London, with Marie Lund, Damien Roach and Magali Reus.