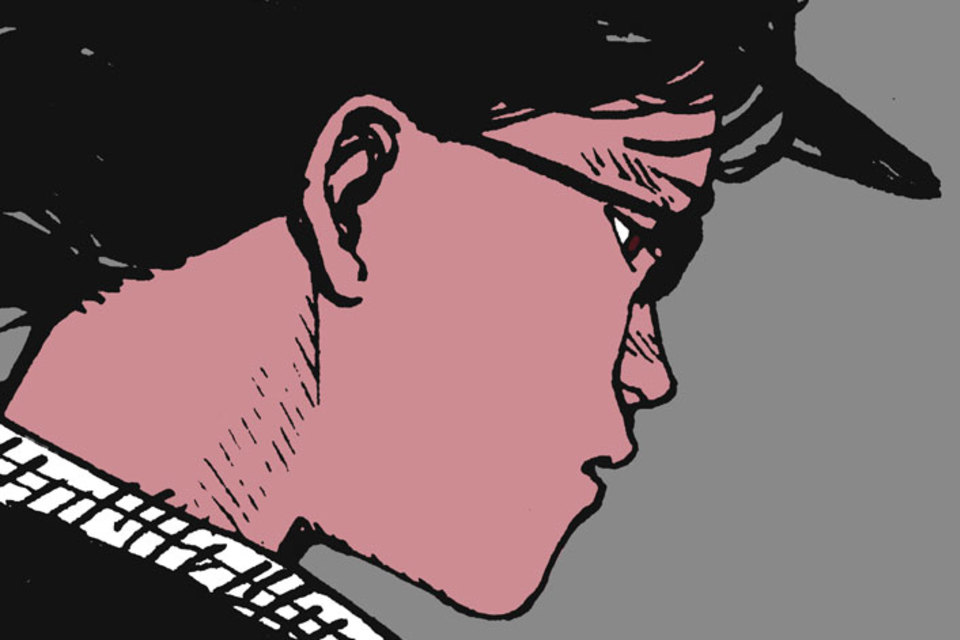 Free comic for first 1,000 visitors!
David Blandy's first major London solo exhibition, as part of the Jerwood Artists Platform, is presented as a library of his video works, comics and personal influences.
In the main gallery at Cell Project Space visitors will be able to thumb through Blandy's personal collection of classic comics, groove to a fine selection of rare Northern Soul vinyl before settling down for a session on his PS2. At listening posts stationed throughout the library viewers can self-select any of Blandy's backlog of artist's videos from early humorous, musical, lip-synching works to his more recent 'Barefoot Lone Pilgrim' trilogy. Echoing the 70's TV classic, in Blandy's version we follow the orange Kung-fu robed artist cum pilgrim as he undertakes a journey of self-discovery from the expanses of the Lake District to the commotion of North London, guided only by hip-hop from his portable record player and brief encounters with heroes Bruce Lee and Kaine.
Throughout Blandy's work there is a questioning of the extent to which the self is formed through the ubiquity of mass media - records, film or TV. In his library, Blandy lays bare his appropriation, sampling and referencing of hip-hop, soul, kung-fu and youth culture in an attempt to reveal his rambling thoughts and cultural confusion.
The exhibition includes three new commissions. 'The Man from Elsewhere: Fortress of Solitude', a short video, in which a this time a suited and booted Blandy, lives the mediated existence of The Man trapped in a world where filmic reality slips in and out of virtual and animated worlds. In the accompanying comic 'The Man from Elsewhere: Issue 2' we continue to follow our eponymous hero, in print, as he is confronted by multiple visions of reality. In the third video, presented in a plush and gilded cinema space, Blandy takes on the persona of the 'White and Black Minstrel', investigating his cultural identity and the contemporary position of minstrelsy and the artist as entertainer. Echoing an earlier work, Blandy lip-syncs to Syl Johnson's underground soul classic, 'Is it because I'm Black', but this time presents it as a vaudeville performance by an inverted minstrel/clown/image of death, filmed in vast Art-Deco Cinema, mixing soulful grunts and yelps with air guitar on his plastic cane. 
Advance copies of his catalogue with essay by Tom Morton are available on request