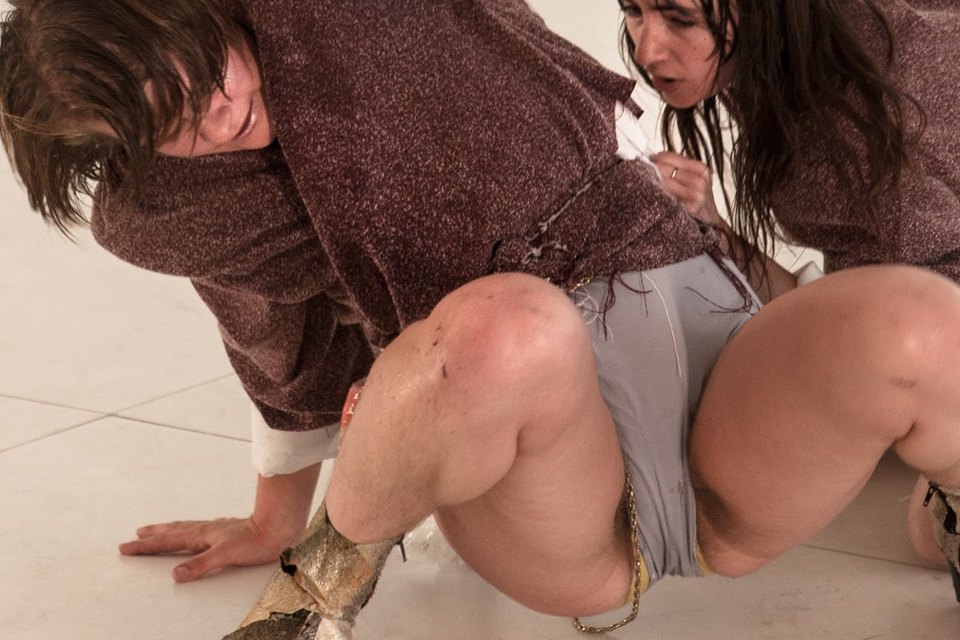 Thursday July 21st, doors open 7pm
 
Sound collaboration with Vindicatrix
Costumes by Xenab Lone Jamil

Incorporated into the gallery space, New Noveta's performance will leave a permanent mark for the remaining part of the exhibition until 7th August, is it rude or polite to leave the room? with works by Nina Cristante, Caspar Heinemann, Leslie Kulesh, New Noveta, Camilla Wills.
 
New Noveta are the performance artist duo Keira Fox and Ellen Freed. Earlier this year they presented performance and works for their first solo exhibition, Zene Zelmje, at Sandy Brown Gallery, Berlin. They were included in Glasgow International 2016, performing 'Chauteaux double wide- 3 Women', a collaboration with Amy Stickland at Avante garde space and 'No Nahadou' with installation at Transmission Gallery alongside Sidsel Meineche Hansen. Alongside club venues, bars and performance festivals New Noveta have performed inside artists' projects including 'Strodor Sychan Levon' a collaboration with Louis Backhouse at Lima Zulu Gallery, London, 'Fig 2' part of Oreet Ashery's 'Revisiting Genesis' at ICA, London, and 'Chavalia Abutak Amethyst, The Museum as Performance programme', Serrlaves Contemporary Art Museum, Porto; all in 2015.
 
This event may be over subscribed. Please arrive promptly to avoid disappointment. The current exhibition continues until 7th August open Thursday- Sunday 12-6pm.