CEED Feminisms 3: Labour, diasporic experience and 'East' to 'West' migration
With Lina Džuverović, Sanja Iveković, Tanja Ostojić, Darija Radaković and Selma Selman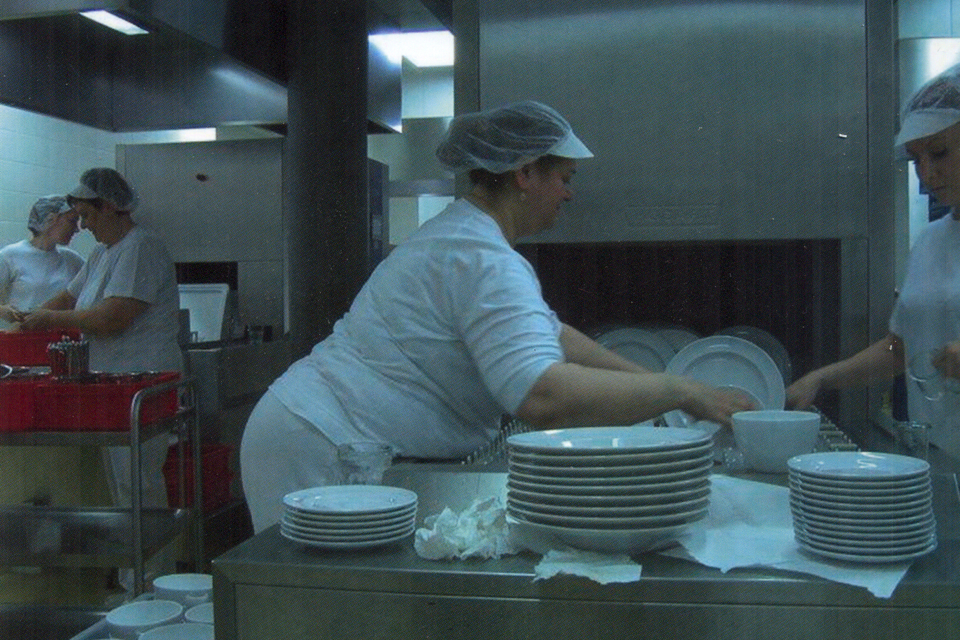 Saturday 11th November 2023, 3-6pm
Cell Project Space

The third CEED Feminisms session brings together screened performance and moving image works by feminist artists Sanja Iveković, Tanja Ostojić, Darija Radaković and Selma Selman, whose practices address labour, diasporic experience and 'east' to 'west' European migration.
These artworks are the texts for this special reading group session, grounding a conversation moderated by curator and Feminist Duration Reading Group member Dr. Lina Džuverović, whose research focuses on feminist art histories and contemporary art as a site of solidarity and community-building, drawing on her connections to the former Yugoslavia. The session will be split into two halves, featuring approximately 75-minutes of artist film and performance documentation, followed by a discussion of the artists' works. 
Croatian artist Sanja Iveković's The Invisible Women of Erste Campus (2016) is a filmic portrait of the staff who clean Erste Group bank's Vienna headquarters and staff its cafeteria and kitchens. Attending to the 'exclusively migrant' cleaning womens' experiences of work, the artist unravels their connections to Central and Eastern Europe, where Erste Group provides financial services.
Documentation of Romani Bosnian artist Selma Selman's Mercedes Matrix (2020), depicts the artist and her family members breaking down a Mercedes into scrap metal. Intervening with fluxuating value in the circulation of goods and labour, the artist strategically repurposes work usually performed in a Bosnian scrap yard for a German art festival.
Yugoslav-born, berlin-based artist Tanja Ostojić's collaborative performance project Mis(s)placed Women? (2009-2022) explores how the figure of the migrant woman is invisible, or conversely viewed as a threat, in public settings. Since the breakup of Yugoslavia, where Ostojić was born, the artist has refused to claim a nationality. Her performance Mis(s)placed Women? Dedicated to the Missing and Murdered Indigenous Women in Canada (2016), asserts global solidarity with displaced womxn.
Bosnian-born artist Darija Radaković's responsive performance Misplaced Woman (2015), which hinges on the artist's decision to wear a niqab to her Canadian citizenship ceremony, expands on the control and weaponisation of female migrant bodies to divide publics.
Further events in the
CEED Feminisms
series will be announced in the New Year. Find out more about the programme delivered in partnership with Feminist Duration Reading Group 
here
.
This event will take place in Cell Project Space's ground floor Event Space, for full details about access follow the link
here
. If you would like to discuss your access needs or request support via our access and mobility budget, which can support childcare and travel for a limited number of participants who live outside of London, please contact Jessie Krish: jessie [at] cellprojects [dot] org.
Curator Jessie Krish
Dr Lina Džuverović is a curator and  Course Leader on the MA Curating and Collections at Chelsea College of Art. She is a support group member of the Feminist Duration Reading Group. Her research focuses on feminist art histories and contemporary art as a site of solidarity and community-building, often drawing on her connections to the former Yugoslavia. Her research and exhibitions include And Others: The Gendered Politics and Practices of Art Collectives (2019 - ongoing); Monuments Should Not Be Trusted, Nottingham Contemporary (2016), Sanja Ivekovic - Unknown Heroine (2012/13), South London Gallery and Calvert 22 Foundation, London and dozens of projects with Electra commissioning agency (2003 - 2011).
Born in Zagreb, Croatia (formerly Yugoslavia), Sanja Iveković is a photographer, performer, sculptor and installation artist. The first artist in Yugoslavia to actively engage with gender difference, tackling the commodification of women's roles with the onset of consumerism in the country, themes including the representation and status of women in society continue to be central to her current work. Iveković has received numerous prizes and awards at film and video festivals, including Locarno and Montreal. She has participated in several biennials including documenta 8, 11, and 13 in Kassel and Manifesta 2 in Luxembourg, as well as in exhibitions at the Museum of Modern Art, New York; Taxispalais, Innsbruck; Museu d'Art Contemporani, Barcelona; Van Abbemuseum, Eindhoven; Museum moderner Kunst, Vienna; Fundació Antoni Tapiès, Barcelona, and Museum of Contemporary Art, Los Angeles. 
Tanja Ostojić is a Yugoslav-born, Berlin-based performance and interdisciplinary artist, researcher and educator, and creator of the project Mis(s)placed Women? (2009-2022). Ostojić uses diverse media in her artistic research, thereby examining feminist issues, power relationships, social configurations, racisms, economy, and bio-politics between others. Since 1994 she has presented her work in solo and group exhibitions and festivals worldwide, including Brooklyn Museum, New York; Venice Biennale in 2001 and 2011; MUMOK, Vienna; Ludwig Museum, Budapest; Museum of Contemporary Art, Zagreb, and 7a*11d – International Festival of Performance Art, Toronto. 
Selma Selman is from Bosnia and Herzegovina and of Romani origin, currently living and working in Bihac, BIH and New York, USA. In her art works, the ultimate aim is to protect and enable female bodies and enact a cross-scalar approach to collective self-emancipation of oppressed women. Selman founded the organisation "Get The Heck To School" which aims to empower Roma girls all around the world who faced ostracisation from society and poverty. She graduated from Rijksakademie in 2021 and recent solo exhibitions include Don't Look Into My Eyes (2021), Kasseler Kunstverein Museum Fridericianum, Kassel; Selma Selman (2021), National Gallery, Sarajevo, and Superposition (2021), KUK Gallery, Cologne. Selman has exhibited works at Kunsthalle Wien, Vienna, Austria; 58th Venice Biennale, Italy; Queens Museum, New Yοrk, USA; Villa Romana, Florence, Italy and Museum of Contemporary Art, Banja Luka, Bosnia and Herzegovina. 
Darija Radaković is a Bosnian-born, Canada-based, internationally recognized artist whose work is predominantly conceptual, whether performance, ready-made sculpture, textual work, assemblage, or installation. Radaković's experiences as a refugee and migrant are reflected in her art which questions issues of identity, equality, social conflict, and freedom of expression. Recent solo exhibitions include I Like When You Feel Uncomfortable (2022), NGVU, Belgrade and I Don't Think Art Is Good For You (2022), Herringer Kiss Gallery, Calgary. Radaković's work has been selected for group exhibitions at Contemporary Calgary, Calgary; Kulturstiftung des Bundes, Dresden; Museum of Contemporary Art of Vojvodina, Novi Sad, and Historical Museum of Bosnia and Herzegovina, Sarajevo.
CEED Feminisms is a Research Group of the British Art Network (BAN). BAN is a Subject Specialist Network supported by Tate and the Paul Mellon Centre for Studies in British Art, with additional public funding provided by the National Lottery through Arts Council England. CEED Feminisms is additionally supported by Cockayne Foundation.