Home Brew
Anna Colin, Cédric Fauq, Sean Roy Parker, in conversation with Juliette Desorgues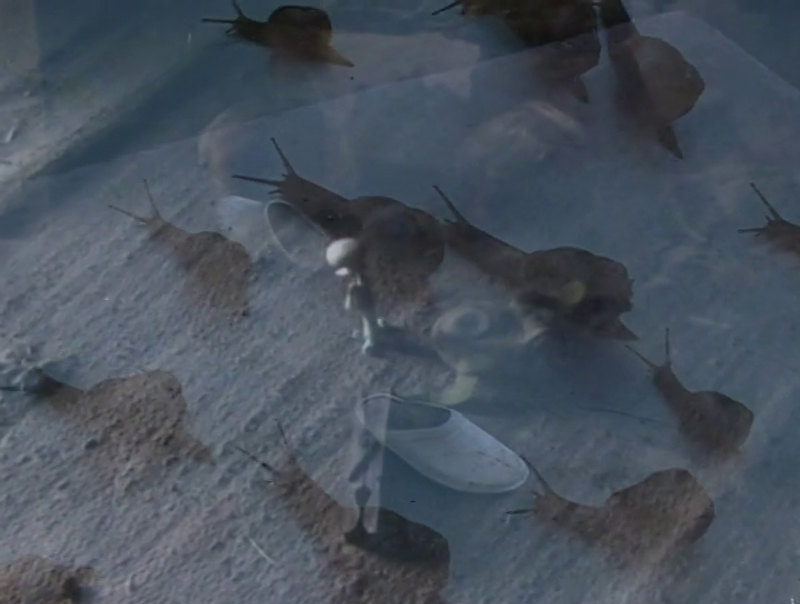 Sunday 5th November, starts 7pm promptly
Cell Project Space invites Anna Colin, Cédric Fauq and Sean Roy Parker to join chair Juliette Desorgues in conversation on the occasion of Pulsion Potion, solo exhibition by Mimosa Echard.The event will be held in the building adjascent to the gallery through the yard entrance.
Central to the exhibition and a point of departure for the event is Echard's film 'The People'.  Shot over five years in the community and village where the artist grew up in the Cevennes mountains, France, it was rebuilt entirely in the 1970s as the result of a community wanting to extract itself from the complications of modern life. The slow pace of the villagers is portrayed as a colony of snails layered and disappearing beneath the pervading flood of consumables and technology.  Nearly thirty years later, the questions of what is left of the dream, the idyll isolation and the organisation of labour for the common good go beyond the image of Echard's captured memories of utopian youth. 
In the wake of today's political climate artists need to respond to increasing development and growth in the capital and find ways to deal with its resulting cultural polarization. Questioning whether escape is really an alternative or can provide true relevancy, discussions will focus on a quieter resistance that uses bolder strategies to move away from established modes of education, labour and workplace. The three invited speakers all share a common momentum; to transfer and share knowledge, adopting communitarianism to combat the isolation of the city, and nurture realistic economies for artists to work in. The event will examine these various modes of autonomous zones using the panel's first hand knowledge. Drinks will be served and doors open at 6.30pm with an opportunity to view the exhibition before and after the event.
Juliette Desorgues is an independent curator, researcher, writer and editor. She previously worked as Associate Curator at the Institute of Contemporary Arts, London, where she curated a number of exhibitions, commissions and events including 'in formation' (2017); Helen Johnson: Warm Ties (2017); The Things that Make you Sick: Loraine Leeson and Peter Dunn' (2017); 'Everything is Architecture: Bau Magazine from the 60s and 70s' (2014); 'Bloomberg New Contemporaries' (2016 and 2015), 'Yuri Pattison: mute conversation' (2014).  Prior to this Desorgues has held curatorial positions at the Barbican Art Gallery, London and Generali Foundation, Vienna. 
Anna Colin is a curator and writer based in Margate. She is a co-founder and co-director of Open School East, a non-fee paying study programme and communal space, which launched in 2013 in East London and moving to Margate in 2016. Currently she is associate curator at Fondation Galeries Lafayette, Paris. In 2015 she curated the 'British Art Show 8' with Lydia Lee and has curated exhibitions at the Whitechapel Gallery, London, Galleria d'Arte Moderna, Turin, CIC Cairo, The Women's Library, and Gasworks, London
Cédric Fauq is an independent curator based in between London and Nottingham. He is co-founder of clearview, a North London based residency and project space, launched in 2016 and has recently been appointed as Assistant Curator at Nottingham Contemporary. He is a member of the curatorial bureau for the 'Baltic Triennial 13' (Vilnius, Tallinn, Riga / 2017 - 18) and works closely with South London Gallery on several projects. He previously worked at David Roberts Arts Foundation, Kunstraum, Lafayette Anticipation and Galerie Crèvecoeur.
Sean Roy Parker is an artist based in London and St-Leonards-On-Sea. His work has been included in 'Systems for Sharing', Deptford X, London (2015); 'POLYMYTH X Miss Information', Auto Italia, London (2015) and 'Pleasure, Balance, Devotion', Eastside Projects, Birmingham (2015). Parker is an associate of School of the Damned, an MFA alternative, and recently programmed 'Common Room', a week-long free school at Guest Projects E8. As the founder of PEFA Projects he co-ordinates creative workshops across London and the South-East.