A Faggot at Sea. Nothing We Could Build Would Be As Impressive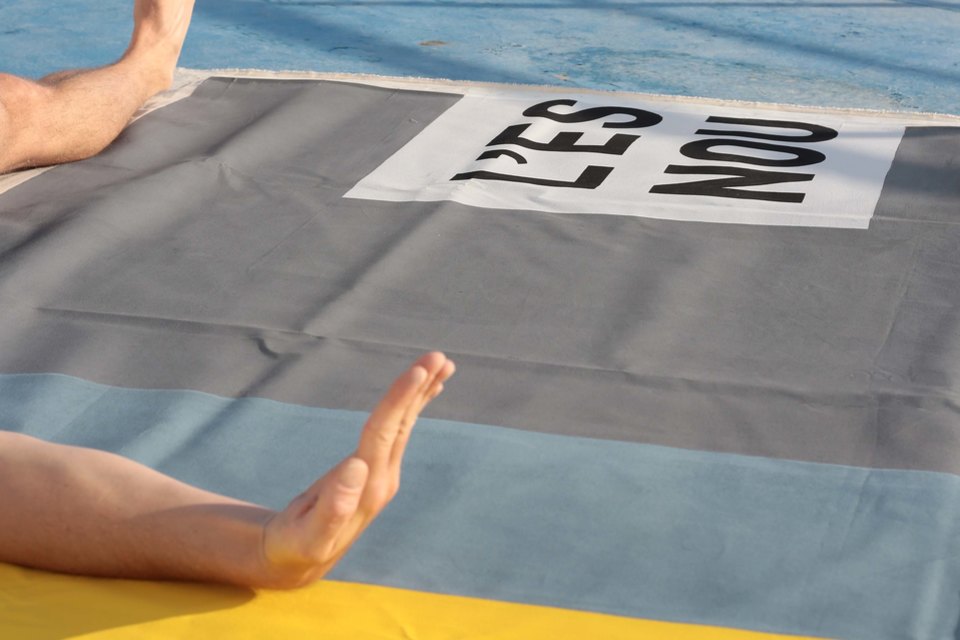 Performance inside the exhibition YGRG14X: reading with the single hand V , Weds. 11th July, 6pm promptly
Garrett Nelson's recent body of work questions the parallels between modern architecture and the construction of masculine identity. They reference Le Corbusier's little known text The Law of Ripolin which called for a whitewashing of buildings and the removal of decoration and links it to the contemporaneous Canadian invention of the hard shell male genital protective cup. The exterior wall text murals of Corbusier's Pavillon L'Esprit Nouveau (1924) painted on found curtains by an Argentine sign painter serve as a stage setting for the performance A Faggot at Sea. Nothing We Could Build Would Be As Impressive, a one person multiple character piece that addresses the impulsiveness of decoration, the absurdity of fascism in design and attempts to offer a desacralised view of one of Europe's most celebrated architects. 
Garrett Nelson is a Swiss and American artist living and working in Basel and Mexico. Recent exhibitions and performances have been presented at Kunsthalle Zürich, Le Commun Geneva, Museo de la Ciudad Mexico, Taylor Macklin, Oslo10 Basel, Kunsthalle Basel, Museo Tamayo, Centre PasquArt Biel, SALT Galata Istanbul, Les Urbaines Lausanne and Sinop Biennial Turkey. In June 2018 Nelson performed at The 14th Performance Project LISTE, Art Fair Basel curated by Eva Birkenstock
Invited by Dorota Gawęda & Eglė Kulbokaitė, Garrett Nelson will perform inside the current exhibition 
YGRG14X: reading with the single hand V. 
Extending across the seven-weeks of the exhibition Gawęda & Kulbokaitė return to their ongoing collective activities that shape the Young Girl Reading Group's manifesto by hosting a programme of selected readings, contributed texts, workshops and performances.
Developed with the generous support of the Swiss Arts Council Pro Helvetia