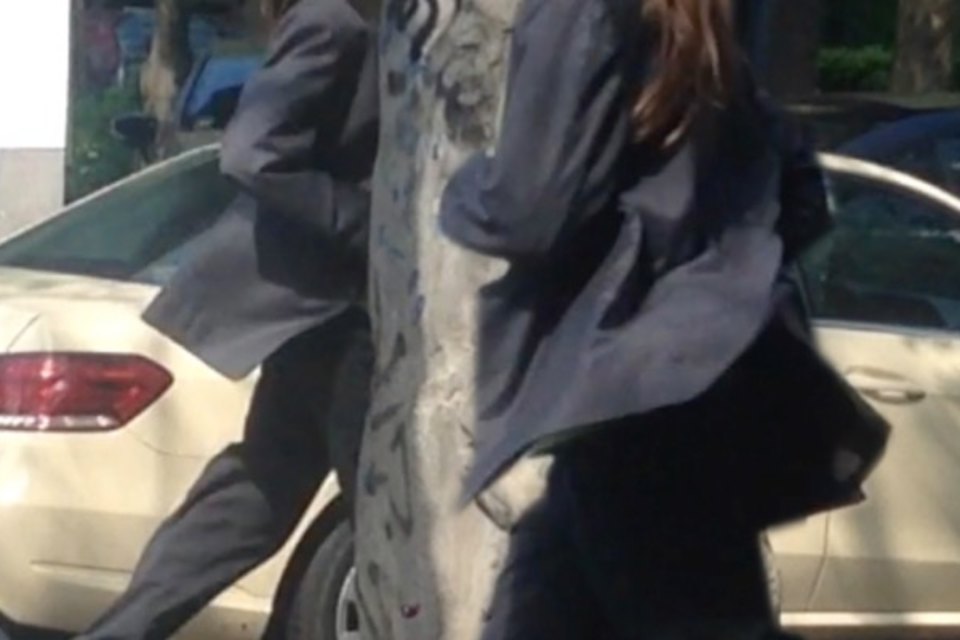 Parallels
, a new performance work by Sanna Helena Berger and Shade Théret - originally conceived as a public event to take place in conjunction with the exhibition
 X6 Dance Space (1976-80): Liberation Notes
 – is restaged as a video work, performed and filmed at Cell Project Space in isolation and without an audience. Berger and Théret's new work marks the launch of 
Cellular
, an experimental Live Art and Media-based programme at Cell Project Space.
Working through a moment of change, Parallels stages a series of interdependent movements, sounds and text that are part choreographed, part improvised. Through a process of collaboration and communication, two independent bodies come together to form a third collaborative body, existing through the work itself. Drawing on the philosophies of the X6 Collective, and addressing the ongoing urgency to place dance within its social context, Parallels exposes properties of the personal, subjective and circumstantial; methods that change with motherhood; and the process of making work as a matter of work. 
Parallels' responsive and continually developing form not only adapts to the conditions of its environment, but importantly also to the language of an-other, as Berger describes: "We encounter from afar someone whom we now relate to in a circumference. The margins of distance which we keep from others have grown, and so gesticulation becomes broader as our small and simple gestures lose weight in conversation." 
You can read an accompanying text to
Parallels, 
by Sanna Helena Berger, 
here
.
Parallels will be staged in two parts, the first video available to view from 18th June to 1st July, and the second going live on Thursday 2 July. 
Video, sound and text by Sanna Helena Berger
Choreography by Shade Théret
Sanna Helena Berger is an artist based in London, Berlin and Sweden. Working with installation, performance, text, sound and sculpture, Berger's practice operates on the axis of these definable mediums and resists commodification. Previous solo exhibitions include 'SALE', PS120, Berlin (2019); 'A stock-take', Super, Berlin (2019); 'Vienna', Cordova, Vienna / Barcelona (2017); 'Agency', Sorbus, Helsinki (2016) and 'A Range', Jupiter Woods, London (2015). Recent group exhibitions have been presented at 1.1, Basel, PiK, Cologne, Shore, Vienna and Le Bourgeois / 3236rls, London. Recent publications include 'Speed of Resin' (2019) published by Dispersed Holdings, New York and 'Domestic Manifesto' (2016) published by Las Injurias, Caracas. 
Shade Théret is a dancer and choreographer. Her work currently explores the relationship between movement and the everyday tactile musts we incorporate into our lives- the external landscape in which we find ourselves and how that impacts tertiary movement while also discovering how it shapes identities within movement. She explores movement through literal mimicry, figurative gestures, abstract and impulsive indications. Improvisational and scored methods of working are used to play with our notions of truth, time, and the in between. She has presented her choreographic work at Galerie Weisser Elefante, Berlin, 3hd Festival, Berlin, Pollution #4, Berlin, Odyssey Theatre, Los Angeles, among others.
Launched in June 2020, 
Cellular
 is a new experimental Live Art and Media-based programme comprising a multi-purpose ground floor event space at Cell Project Space and an online platform on Cell's website. Originally conceived to run alongside the exhibitions programme at the gallery, 
Cellular
 launches six pilot commissions of on-site and digital works to be delivered with and without physical audiences between June - December 2020. To find out more, please click 
here
.

Developed with the generous support of ArtFund, Cockayne & London Community Foundation, Arts Council England. Cellular is made possible with with the generous support of an Emergency Grant by Arts Council England.