Artist & Curator Tour | Money for Nothing
Felix Melia with Jessie Krish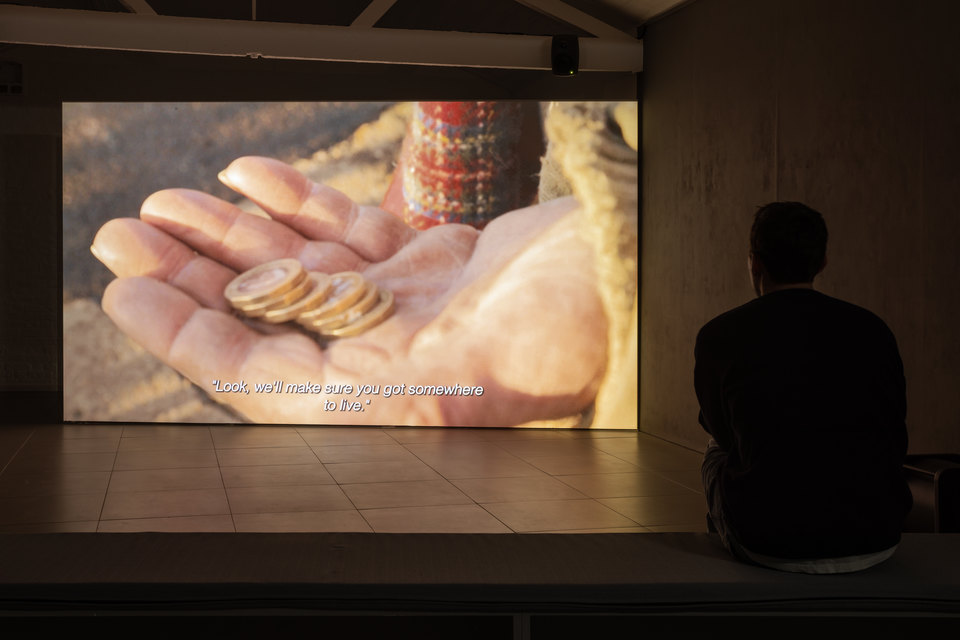 Sunday 14th May 2023, 3pm
Join artist Felix Melia and the exhibition's curator Jessie Krish for a tour of the exhibition
Money for Nothing
.
Melia will elaborate on the impetus for his film Money for Nothing and his distinctive approach to storytelling, leading from the activities of looking and finding – a ground zero connecting his artistic practice to the film's protagonist Tim Akister.
Expanding on recurring motifs and themes across Melia's film and series of cyanotype patchworks Stages, Krish will discuss her inclusion of archival materials from MayDay Rooms' collections, and research around archival materials mapping UK housing policy changes and Tower Hamlets community-led housing mobilisations between the mid-1970s and early 1990s.
The tour will last 30-40 minutes, followed by an audience Q&A. For full details about access follow the link here. If you have any additional access needs or questions about the tour, please contact Jessie Krish: jessie [at] cellprojects [dot] org.
Felix Melia combines moving image, writing, installation and performance to address notions of public and private space, intimacy and agency. He explores the ways we perceive, move through and dwell in our environments. Selected presentations include Money For Nothing (screening), TOWNER Eastbourne, 2022; Public Displays of Affection, Jupiter Woods, London, 2017; Moving Sickness, De Ateliers, Amsterdam, 2017; Writer in Residence, Whitechapel Gallery, London, 2016; Ozu's Arsehole, Interstate Projects, New York, 2016; The Inhalation Show, ANDOR Gallery, London, 2016; Shoulder Blades (commissioned by Serpentine Galleries), Hackney Picture house, London and Govett Brewster, New Zealand, 2016.