Artists & Curator Tour | Dance As You Wrestle
Agnė Jokšė and Anastasia Sosunova with Adomas Narkevičius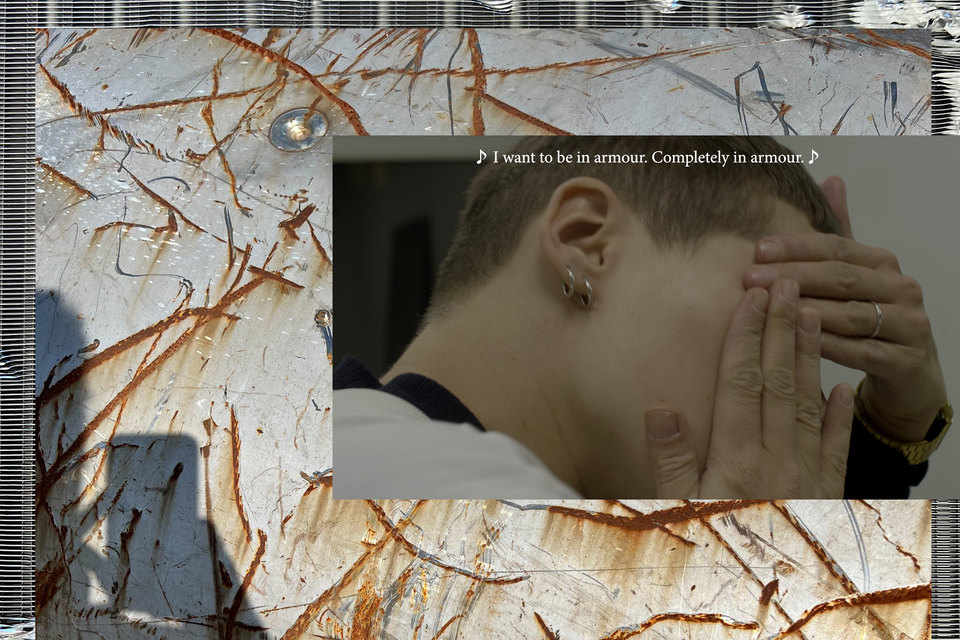 Saturday, 10th December, 3pm
Join artists Agnė Jokšė and Anastasia Sosunova, with the exhibition's curator Adomas Narkevičius for a tour of the exhibition Dance As You Wrestle. Sosunova will expand on her distinctive material processes, providing insights into the queer iconographic vocabulary present in her works. Jokšė will elaborate on her approach to narrative, and the 'sincere' mode of address conveyed through her moving image works addressing care and love, both queer and between generations of her family scattered between UK and Lithuania. 
The tour will last 30-40 minutes, followed by an audience Q&A. For full details about access follow the link here. If you have any additional access needs or questions about the tour, please contact Jessie Krish; jessie [at] cellprojects.org.
Agnė Jokšė (b. 1993, Vilnius, LT) lives and works between Vilnius and Copenhagen, where she recently concluded her MA degree at the Royal Danish Academy of Visual Arts. She has shown work at Editorial, Vilnius (2022); the Artists' Film International, Whitechapel Gallery, London (2021); Swallow, Vilnius (2021); Baltic Triennial 14 (2021); Mimosa House, London (2020); Publics, Helsinki (2020); NAC, Nida (2020), and Contemporary Art Centre, Vilnius (2020). Jokšė's work 'Dear Friend,' was awarded the JCDecaux Emerging Artist Award in 2019.
Anastasia Sosunova (b. 1993, Ignalina, LT) graduated from the Vilnius Academy of Arts with BA in Graphic Arts and MA in Sculpture. Notable solo and two-person exhibitions have been presented at SixtyEight Art Institute, Copenhagen (2022), Britta Rettberg, Munich; Screens Series programme, New Museum, New York; Swallow, Vilnius (2021); Kogo, Tartu (2019) and Editorial, Vilnius (2018). She has exhibited work at the National Gallery of Art, Vilnius and Kunsthalle Osnabrück (2022), Prospectif Cinéma programme at Centre Pompidou, Paris; FUTURA Contemporary Art Centre, Prague; the 14th Baltic Triennial, Vilnius (2021). Sosunova won the JCDecaux Award in 2018.
Generously supported by Lithuanian Culture Institute, Embassy of Lithuania in the UK & Danish Arts Foundation.