In queer correspondence with fluent gallery, Santander
A virtual conversation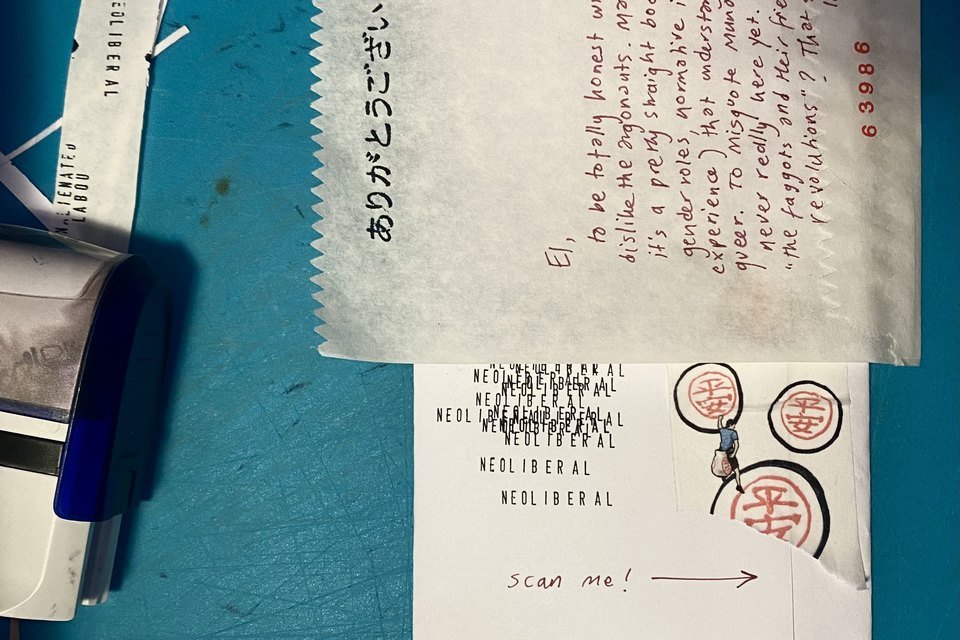 Saturday 13 February 2021, 5pm (GMT) 
Zoom Webinar – SOLD OUT
Jointly commisioned by fluent in the context of lengua(S) their current exhibition in their new gallery, Alex Alonso hosts Berlin-based artist Jesse Darling and Associate Curator at Cell Project Space, Eliel Jones, will be in queer correspondence –an opportunity to exchange thoughts on the offerings and limitations of mail-art.
Drawing from their experience of making and distributing correspondence via the mail system during the COVID 19 pandemic, the artist and curator will reflect, amongst other things, on art and art-making as a gift economy, and the vulnerable but generative potential for community in the act of addressing and being addressed.
This event will take place online, via Zoom. Attendees will be able to submit questions in advance, or throughout the conversation, which will be read out by a moderator and discussed as part of a Q&A session at the end. 
If you encounter any issues booking a ticket, or if you have any questions that you'd like to submit in advance, please email us at 
info@cellprojects.org
.
Jesse Darling is an artist working in sculpture, installation, video, drawing, text, sound and performance. They live and work in Berlin. Their work is broadly concerned with what it means to be a body in the world, which is both politically charged and culturally determined. To be a body is to be inherently vulnerable, which extends to the "mortal" quality of empires and ideas as a form of precarious optimism - nothing and no-one is too big to fail, and this for JD is the starting point for a practice in which fallibility and fungibility are acknowledged as fundamental qualities in living beings, societies and technologies.
Queer Correspondence
was a mail-art initiative at Cell Project Space, London, that initially run between June – December 2020 as a response to the COVID 19 pandemic. Consisting of monthly commissions between June and December 2020, artists and writers were invited to begin correspondences that would establish connections between queer families: those who are already "in a queer time and place". Delivered during a time when manifold restrictions have continuously changed the way we were able to be with one another, the use of mail-art as an offline form of artistic and discursive production sought to underscore, as much as to bridge, the distances between us; connecting us, while also disconnecting us. Across seven months,
Queer Correspondenc
e distributed over 4500 letter-sized artworks to more than 800 subscribers worldwide, including projects by: Alex Margo Arden & Caspar Heinemann, Beatriz Cortez & Kang Seung Lee, Ezra Green & Martin Hansen, rafa esparza, Gelare Khoshgozaran, David Lindert and Atiéna.
This event has been organised in collaboration with fluent, Santander, Spain, as part of their current exhibition
lengua(s),
11 Dec 2020 – 19 Feb 2021.
Queer Correspondence
was made possible with the generous support of an Emergency Grant by Arts Council England.